Whether you prefer racking up the miles on a treadmill or taking your training into the great outdoors, your work out gear, needs to work for you.
For this Autumn and Winter season, Tiso are stocking the new The North Face Mountain Athletics range. Clothing and footwear that is fashionable enough to wear in the gym and technical enough to wear on the trails. This clothing makes you want to run, jump and get active.
We recently tested this range in the Pentland hills close to Edinburgh with four female runners, exploring 'Why I run?' Read more...
Our The North Face mountain athletics range includes footwear for the trails, moisture wicking t-shirts and vests, breathable midlayers, four-way stretch leggings and cosy jackets to warm up in after a big run. Explore this new and exciting range below…
Mountain Athletics
The North Face - Endeavor Thermoball Jacket - £145
The North Face Women's Endeavor ThermoBall Jacket is both sleek, stylish, and practical. This jacket is designed with The North Face's patented ThermoBall technology which ensures optimum insulation, however this jacket has the addition of a soft fleece on the sides and sleeves for extra warmth and comfort.
The adjustable hood and tapered cuffs allow for a perfect fit and additional protection from harsh elements. The North Face Endeavor ThermoBall Jacket for Women is the perfect finishing touch to any workout outfit, and can even keep all your essentials safe thanks to the secure zipped pockets.
SHOP NOW
The North Face - Reactor Hoodie - £45
The lightweight and breathable women's hoodie is made from a soft yet thin cotton feel fabric that allows for good mobility and breathability. The bright navy fabric has its own FlashDry technology to keep sweat off the skin so you feel comfortable through our your activities.
The thumb loops and tailored fit keep the body streamlined, which also helps for insulation during winter workouts. The North Face Reactor hoodie for women is the perfect option for active wear, but also works perfectly as a mid layer alongside waterproof jackets for more extreme conditions.
SHOP NOW
The North Face - Reaxion Amp T-shirt - £25
The Reaxion Amp T-Shirt is breathable and lightweight and an ideal T-Shirt for your training sessions.
It will wick away moisture from the skin and keep you comfortable as you work harder and harder.
SHOP NOW
The North Face - Headgehog Fastpack Lite GTX - £110
The Salewa MTN mid is a great midweight boot for all mountain terrain. It is fully waterproof with a Gore-tex lining as well as a robust suede upper.
The Salewa MTN mid has a very stiff mid and outsole, making it as much at home scrambling on rock as it is hiking up Scottish mountains.
SHOP NOW
The North Face - Pulse Leggings - £60
Make an impact on your next trail run or circuits class with The North Face Pulse Trainning tighs in monochrome print.
The soft and stretchy fabric is comfortable and offers a superior freedom of movement while the Flashdry technology moves sweat away from the skin to keep you dry throughout the workout.
SHOP NOW
The North Face - Play hard Vest - £20
This functional vest top is made to keep you cool when your training hard. The loose fit gives you excellent freedom of movement when stretching, lifting or climbing.
The FlashDry™ fabric will keep you dry when your sweating or in light rain. This makes the play hard vest top the perfect chioce for running, climbing, trainning and more.
SHOP NOW
The North Face - Motivation 1/4 Zip - £60
This lightweight and breathable pullover top for women is designed to be the perfect streamline fit to avoid limited mobility and improve performance. The flat locked stitching helps encourage the active fit, as well as the addition of thumb holes.
Although a perfect top layer for fitness, this women's quarter zip fleece is also perfect for layering with other jackets for a higher level of insulation and water protection for more extreme adventures.
SHOP NOW
The North Face - Pulse Capri Legging - £40
Made from a four-way stretch fabric that gives you excellent freedom of movement, the Pulse Capri leggings have flatlock stitching to reduce friction against your skin and provide you with the best comfort.
The FlashDry™ technology will keep you dry and fresh for longer.
SHOP NOW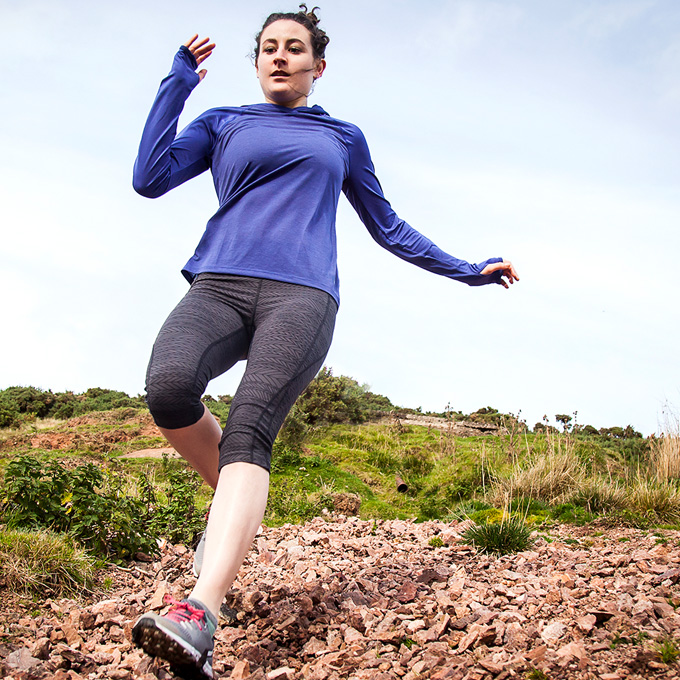 All images by the talented, Rachel Keenan photography
Shop more active wear online