Alpine Rides

The Failed Overnighter

Tiso, Alpine and Blues staff tend to enjoy exploring Scotland in a variety of ways: on the water, on two wheels or on foot, to name a few. We love hearing their adventure stories regaled over a coffee (or a whisky) and we thought you would too (whisky optional)!
by Gav Robbins
Gav works in our Edinburgh Rose St store and is aiming to climb the highest mountain in every country in Europe.
Remember what it was like, back in the day before cars and modernity, when to visit a friend could mean walking for days? The fear of the unknown, the perilous conditions and not to mention the brigands!
Yeah I don't remember that either, but apparently it was a thing. People would spend their whole lives and barely leave their village or town, as travelling just wasn't really a thing. But then came along people like Marco Polo and Ibn Battuta, dare I say even Richard Burton. People who were happy to take a chance on faith and go visit the world. People like this helped awake our sense of adventure and connected us all on a huge scale.
So with some of those humbler notions in mind, me and a good friend set off to go see another friend, just the way you would do when you were a kid, before it all became so...convenient.
Ryad's home is in Blair Atholl, a very picturesque part of Scotland, with plenty to be getting on with from hiking, biking, rafting, anything you can shake a stick at out outdoors really. Grant's home is somewhere in Glen Feshie, not entirely sure where, but reckon there's not that many homes in the Feshie, so we figured we can just go door to door until we find him.
Visiting a mate growing up was simple, you went round to his or her house and you knocked on the door, simple. You would sometimes be crouched ready to run in case their mum opened the door first and hadn't forgiven you for breaking her washing line the week before, but this added to the drama of calling on a friend. The only difference this time was the 60km distance, not to mention the Cairngorms, that we had to navigate first. So here's how we went about it.
Myself and Ryad finished work and jamp on a train (for anyone who doesn't know what jamp means, it means jumped). Not literally of course, this was Edinburgh, not New Deli and we also had our bikes. Ryad was riding gravel and I had my hard tail. Ryad had opted for the 'pile everything into the massive handlebar pack', while I used my usual set up of 'velcro strapping everything to any part of my bike that I could'.
The train ride was pleasant enough, passed by with discourse and cards. Arriving at Blair Atholl around 8pm, Ryads mum met us at the station so she could give Ryad his climbing shoes, naturally, as you can't ride a bike without your stickies! We then headed up Glen Tilt, a fairly sizeable glen and once you're about half way up it, you get this amazing view of the hills on either side, sweeping down and away into the distance, makes you feel very small. As the sun went down we rode into the night, arriving at the Falls of Tarf. We had noticed that about every hundred meters you would cycle through a big cloud of insects, mainly of the midgie variety. Well, by the time we got to the falls, which are well worth a visit in their own right, these clusters had joined together to form one supercloud of midgie. It was similar to what the great dust bowls of America would have looked like. Ryad was planning to bivy, I was planning to let him, but I relented and shared my tent. Although what good it would ultimately be, you shall see.
By the morning there were just as many of the little biters inside as well as outside, I unfortunately had to get up to pee in the night a couple of times, pesky rum, and there was just no stopping them coming in. So a super fast decamp and then we headed up the valley for a place to have a better start to our day. We found it shortly after. From here on in it was nothing but fun. Well, if you think pushing heavy laden bikes over a moor is fun, then you are in for a treat! The weather was amazing, the bugs had dissipated and the tunes were on. Just at the end of the moor crossing that would take us to the Feshie river and on towards that great expanse of beautiful highlandry, the moor held a little cheeky surprise. It was in the shape of a very large impressive waterfall, as soon as we saw it we just wanted to jump in, but we also wanted to get off the moor proper first, as it wasn't exactly fast going and we could make up loads of time on the next section. So saying goodbye to our hidden gem, we got down to the Feshie river and treated ourselves to a dunk and a cleanse and some scran and a roll up, it was pretty blissful to be honest.
The next section is wider paths, ideal for pinging along on your bike and that we did with style. Many many river crossings, each as good and enjoyable as the last and when the sun is raining down heavily on you, river crossings are a great way to cool off. The Feshie, by the way, is stunning. I hadn't been through this particular part of it, but it put us in the mind of central midwest America, big walled valleys, sparkling rivers, white rocks and wild horses running around, but very little inbreds, so I will definitely be back that way again.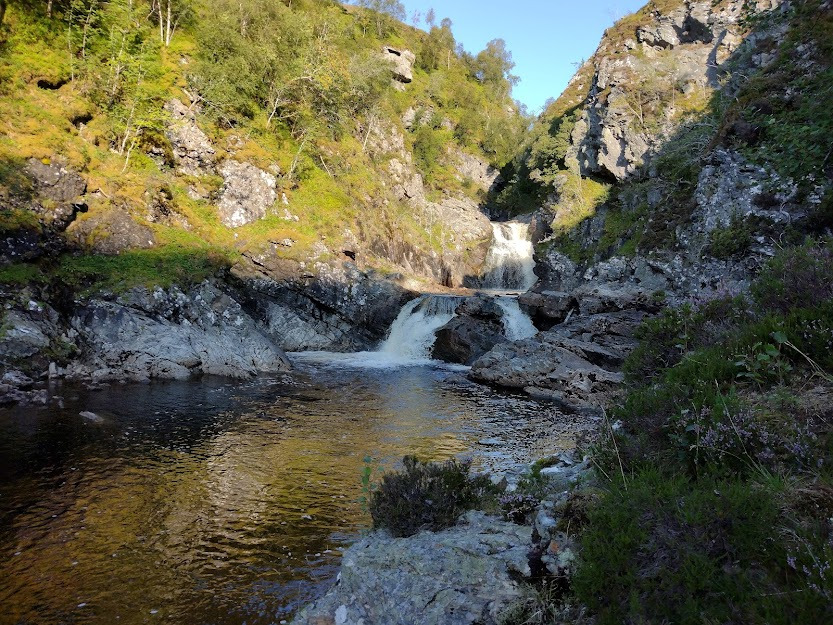 We then followed our little GPS route to where we guessed our friend might live and you know what, turns out where we ended our route was exactly where he lived, who knew three small grey boxes on an O.S. map would be your mates house? We got through the gate and up to the door, we knocked and luckily his mum wasn't home, just our good friend Grant.
It felt like being back at school visiting old friends, we all then went rock climbing at a great wee sport crag at the back of Kinguisse (hence Ryads mum dropping off the shoes, see, you thought we were just daft!), followed by dinner on Loch Inch as the sun set. Finally back at the house for beers and catch up over a fire pit. We were glad he was in, otherwise we would have had to just go back to Blair Atholl.
The next day we got back on the bikes and followed the East Highland Way to Aviemore, where Grant very kindly let us put our bikes on the work van which would get them back to Edinburgh for us, meaning we could take the bus and save a little cash, nice. Until we realised I booked the wrong bus and had to kill an hour before the next one in the pub, oh well, worst things could happen. So I implore you, go find out where an old friend is living and go visit them, old school style, you might just get a good wee adventure out of it.