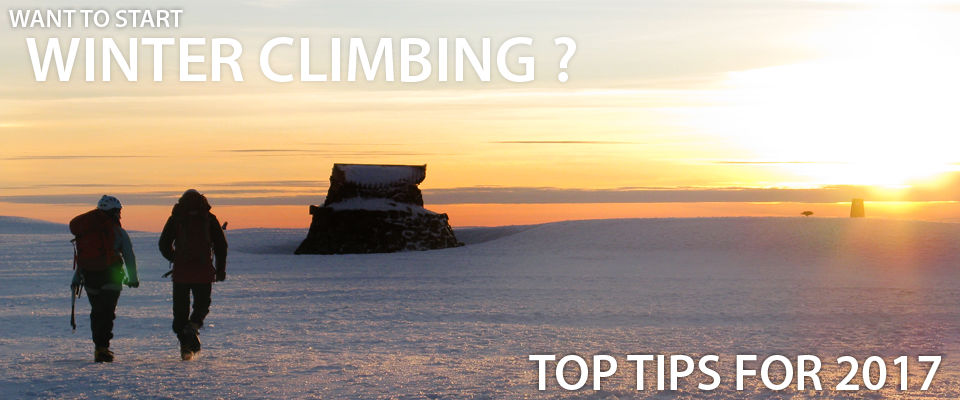 Believe it or not, the UK has some of the most challenging winter climbing conditions around. Exploring the mountains of the UK in winter isn't for the faint hearted; fierce winds, bone chilling cold and unpredictable weather patterns all add to the challenge. But, when you overcome these external conditions, the rewards are there, the UK is home to world class winter climbing.  
1. Get the skills
To venture out over winter you need the appropriate skills. If you are an experienced summer rock climber then many of your gear placement and rope skills are directly transferrable, but there are some essentials you will need to learn. These skills include movement on snow; in winter, instead of just walking into the base of the crag you are now approaching on snow, you will need to learn how to effectively use your crampons for both ascent and descent. How to use your ice axe for keeping your balance when walking, but most importantly how to use it for self-arrest. A small slip in winter can lead to a serious accident, it is therefore important to always have your axe in your hand when on steep slopes and know how to stop yourself from sliding.
In winter, it is important to be confident in your navigation skills. It can be the ultimate test of your abilities. Often you will experience white out conditions, there may be no visible features to work from, you may not be able to see your hand in front of your face, it can be incredibly disorientating. Having the confidence to walk on a bearing, count your steps to know the distance travelled and interpret the contours is of upmost importance.
If you are not confident that you have the appropriate skills to venture out in winter, don't worry, they can easily be learnt. Check out our winter skills and navigation courses available at Tiso, led by mountaineering instructor Stuart Johnston MIC http://www.tiso.com/courses
2. Get the Gear
When starting out winter climbing you will need a few essential bits of kit to get you started.
Mountaineering boots – Choose between a B3 rated boot and B2 rated boot. If you have ambitions to climb steep ice and mixed routes go for the stiffer soled B3 boot, or if you think you will be sticking with easier angled gullies and ridge lines, go for the more flexible B2 boot.
Crampons – The choice of crampon is again dependant on the type of climbing you are planning to do. If you have a B3 boot and are planning to climb steep ice and mixed routes, go for a C3 crampon such as the Grivel G14. C3 crampons are more aggressive than C2 crampons, which are more suited for less steep ground, such as the Grivel G12.
Ice Axes – For winter climbing you will need a pair of technical ice axes. The higher the grades you are planning on climbing the more technical the axes you will need. A great first pair of technical axes are the Petzl Quarks, an excellent Scottish all round axe.
Helmet- A must in winter climbing, you will be showered with snow, ice and sometimes rock. Pick a helmet that you can fit a hat under and a jackets with a helmet compatible hoods.
Belay Jacket – A warm, insulating jacket that you can keep at the top of your backpack and easily pull out when standing on a freezing belay. 
3. Check the forecast
When venturing out into the mountains of the UK in winter there are several key bits of information you need to know before leaving the house. These include the weather forecast, the avalanche forecast, the freezing level and the amount of hours of daylight. The Mountain Weather Information Service www.mwis.org.uk is an excellent forecast to use when heading out in the UK, this forecast helps you to find out exactly what the weather conditions are going to be like in the mountain area you are heading. The MWIS forecast tells you how windy it will be on top of the mountain, not just at the nearest town. This forecast also tells you key information such as how cold it will be at 900m, what the visibility will be like and the freezing level.
Climbers are particularly vulnerable to getting caught in avalanches. Most people caught in one will have actually triggered it themselves. The weather information along with the avalanche forecast from the Scottish Avalanche information service www.sais.gov.uk will help you build a picture of what the avalanche conditions are going to be like in the area you are heading, this then gives you the ability to plan your approach and route choice accordingly.
The last thing to check is when the sun sets. In the depths of winter the days are incredibly short, in December you will have less than 7 hours of daylight, walk-ins can be very long and pitches very slow. It is highly likely that at some point you will finish your route after dark. Therefore it is important to always be prepared, pack a head torch, plan your descent ahead of time and why not leave those longer climbs until February when you get a little more daylight? 
4. Racking up
A lot of your summer rack can be transferred to your winter one, but be aware of a few key things. Cams don't work well in iced up cracks and can be prone to slipping, but if the crack is dry or just frosted they can work fine. Karabiners and quickdraws need to be large enough to clip into and unscrew with large gloves on. Hexes are a great addition to your winter rack, they can be easily placed with the help of your ice axe and are far less likely to slip than cams and don't bother taking you nut key, your ice axe will do better job.  You will also need to think about adding some specialist winter protection to your rack, such as;
Ice screws – Essential on pure ice routes and very handy routes with patches of ice, make sure they are sharp and get yourself a ice clipper karabiner to speed things up.
Abalakovs threader – For pure ice routes, giving you the ability to abseil with the ice as your anchor.
Pegs - Important on big winter routes that may not be climbed in summer, sometimes the only reliable bit of gear to get in when full ice conditions. 
5. Understand the grades
Winter climbing routes take on a whole new grading system to rock climbing. Winter routes are graded with Roman Numerals from I to X.
I : The easiest climbs, straight forward snow slopes and easy ridges.
II : Steeper sections where technical difficulties are short.
III : Increasing long sections of steep climbing.
When climbing above grade III, individual crux pitches are also graded. For example Aladdin's Mirror Direct in the Northern Corries is graded IV 4, a grade IV climb with the hardest pitch a technical grade 4. While a climb that is hard mixed terrain but has good protection could be graded V6 such as, Turf War on Douglas Boulder on Ben Nevis. 
Wondering where to go winter climbing in Scotland? Check out our blog on Scotland's Top Five Winter climbing destinations.
Suggested Products