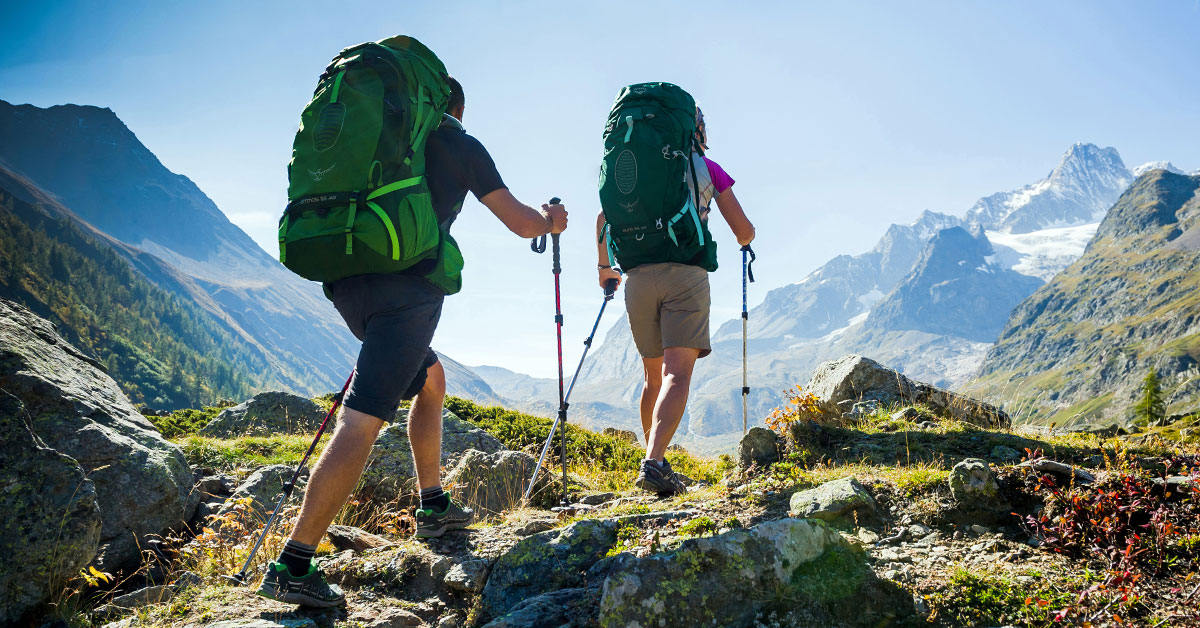 When you're looking to get out there for new adventures, it's essential to make sure that you've got all the gear you'll need to tackle the challenge, the first thing on the list to help you make sure you're well prepared, should be a rucksack to hold the rest of your kit. Keep reading to see our list of the top five rucksacks you should be looking to purchase this spring.
If you're someone who likes to be prepared for any change in weather or tougher terrain on your walking adventures, then making sure you have a high quality, durable and well fitting rucksack is essential before getting out to explore. We know how difficult it can be to find something with the right capacity and fit for your needs, but with our wide range of options for everyone from the weekend Munro bagger, to those on longer expeditions, we've got plenty of choice when it comes to finding the perfect rucksack. As a proud supporter of the Duke of Edinburgh award, and with more people tying walks such as the west highland way, we put this list together to help point you in the right direction when selecting your next medium to large rucksack.
With advanced performance and innovative technology built into many of of our summer 2017 rucksacks, now is the perfect time to look into buying yourself a new rucksack. We want all of our customers to seek their own adventures this season, so choosing a functional, tough and well designed rucksack is the best way to start! Read our guide and then visit us online or in store for more advice and help, where we'll be happy to provide you with the expert knowledge to help you find the right rucksack at a great price!
We've picked our favourites from the new season's options, with selections from our biggest and best brands, but it's not just the most aesthetically pleasing ones we've chosen, it's those that stand up to the test of the outdoors!
Lowe Alpine - Alpine Ascent - £99 (Men's & Women's)
Designed to be the perfect companion to take on a variety of tough climbing trips, and ready to help you tackle difficult conditions. Ready for anything from high alpine peaks to winter climbing and summer rock routes, the Lowe Alpine pack builds on over 50 years of innovation, with the company making backpacks since 1967. Coming in both a men's and women's specific design, the harness compatible rucksack is a great choice for those who take their adventures further up the mountain. The moulded back system is tested to ensure a comfortable wear, as well as being supportive for every user. Completely versatile, with technical features to help you take all the essentials no matter what the season, the Alpine Ascent is fully equipped with specific attachments for ice axes, an exclusive 'daisy chain' accessory strap feature, expandable capacity and compatibility with a wide range of hydration products. The Alpine Ascent is our top choice for the new season, with so many different features as well as being a really nice looking addition to your kit!
Acting as the newest update to the decade old, yet iconic Talon series, the Osprey Talon 33 features a sleek and modern design, with unique performance features to help you get the most out of your rucksack on your next adventure. The Osprey AirScape mesh covered accordian foam backpanel provides superb comfort and allows for an added value of breath-ability that you don't get from some other brands. With an adjustable torso length, seamless lumbar to hip body wrap and stretch mesh pockets, the Osprey Talon 33 is just as versatile as our high end variants, with great air flow and plenty of storage features and adaptable attachments for trekking poles and hydration products. Both lightweight and versatile, the Talon 33 is a great choice for a medium capacity daysac.
Providing ventilation and comfort throughout, the Atmos AG 65 rucksack is a great option for those longer treks and weekend adventures! Award winning design features combine with a unique look, that means you're bound to look great on the hill with everything packed away securely and comfortably. Featuring Osprey's innovative AntiGravity back system, with suspended mesh allows for the first fully ventilated hipbelt in the rucksack industry. Almost fully adjustable for the best fit, the Atmos AG 65 features a BioStretch harness and a 'fit on the fly' hip-belt, meaning that this rucksack can be adjusted to be a great fit for anyone in even the toughest climbing conditions. Weighing a little over 2kg, but with a capacity of 65 litres, this is a great compromise between being lightweight due to the peripheral frame and ready to be filled with your adventure essentials so you're not struggling to get everything stowed away.
Salewa - Alptrek 45 & 50 - £130
Designed specifically for longer-distance, multiple day treks across alpine terrain, the Salewa Alptrek 45 & 50 are lightweight packs made from abrasion resistant nylon, with a fully adjustable carrying system, and a range of features packed into the urban and slimline design. Salewa's Custom Fit Pro carrying system includes anatomically shaped and padded shoulders and hip-belt for a close ergonomic fit with great weight transfer on the hips. Great for ventilation and durability, the Salewa Alptrek 45 & 50 have excellent storage capacity and compression to make carrying your kit seem effortless. The extra thick padding helps to provide comfort for longer, and dual access means that you can easily get to your essential kit quicker. The Salewa Alptrek rucksacks are a great option for those looking to tackle their first weekend wild camping adventure!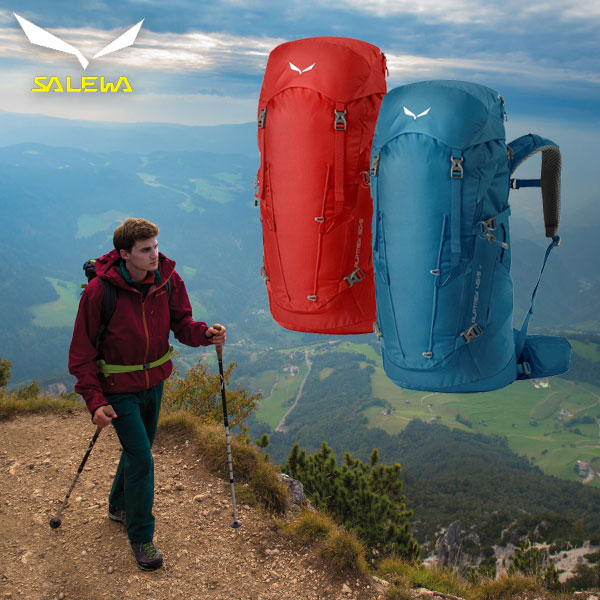 Similar to the Osprey Atmos AG 65, the osprey Aura AG 65 features the same excellent support, comfort and ventilation, this time in a women's specific design. Featuring the ground breaking AntiGravity suspended mesh back system, this rucksack is a great option for all women in adventure, looking to get out there more and experience slightly longer adventures! Weighing in at just over 2kg, the rucksack is a good compromise between space and weight, with excellent storage options, and expandable compartments, the Osprey Aura AG 65 rucksack is highly recommended by a host of outdoor and adventure publications, with awards from Trail Magazine for achieving their 'best in test' status.
Take the plunge, get out and about and get yourself one of our great new season rucksacks! We've got plenty of product experts in store to help you find the right one for you, and don't forget, you can share your photos and adventures with us using #MyTiso!