'If you're a serious guide, this is the bit of kit that you need.' Polar explorer Craig Mathieson puts his Elliot Brown Bloxworth watch to the test in numerous expeditions to Norway and the Arctic. How did it handle the rigours of temperature, timekeeping and training?
---
How have you tested this watch?
I've been testing the Bloxworth for a few months now. It's been with me on endurance training, a hard exped in Norway and it's just spent two weeks in the Arctic at minus 25.
Why is a watch a crucial bit of kit for you?
My watch is my navigation aid. It's not just a watch. When I do polar expeditions, I mainly navigate using shadow and time. So I need a watch that's going to be wholly accurate and not give up on me. I usually take two watches and come back with them in bits (even the MOD issue ones). So the performance of a watch is incredibly important.
What makes the Bloxworth stand out?
The main thing for me is that it's robust. It's got to take the punishment it gets 24 hours a day and – especially when you're dealing with children on Polar Academy expeditions – you can't have kit smashing on you. Once I set off on an expedition, I don't take this watch off.
It's also got a proper strap with military grade webbing. This means it can deal with water, heat, ice… and I know it's going to work. Not having a proper strap is a mistake lots of watch manufacturers make... but Elliot Brown have got it right.
How did the Bloxworth handle the Arctic?
It's a brilliant watch. It was totally punished in contrasting temperatures: freezing cold, to the warmth of the tent and heat of the stove, to straight back out into minus 25. And it's not stratched at all. The Elliot Brown guys have used 2.8mm crystal on the watch face and it can take a battering. If you're a serious guide or mountaineer, this is the watch that you need.
Is there anything you would change?
It would be good if each user could customise their watch. For example, I'd have the buttons on the other side. The EB guys wouldn't have to modify anything – the face is interchangeable so they'd just flip the facing round. I navigate with my left hand, so when the buttons are on the right I knock them. When you're on expeditions, skiing or putting gloves on, you don't want to accidentally press the buttons.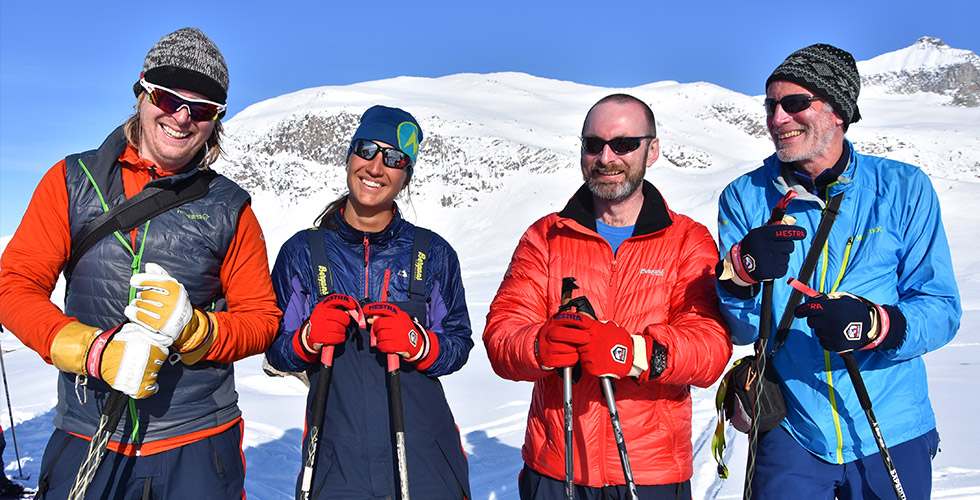 Any final comments to the Elliot Brown team?
I would love them to make a Polar Academy version for our guides. The watch would be the same, just without the chronograph – we don't need it for what we do – it would have a blue face. And 'Polar Academy' inscribed on it!
It would be also great if there was a women's version. My female guide, Jess Ridgeway, is the toughest person that's ever walked the planet. She's the female terminator! But the watch face covers her wrist. She's incredibly strong but she's so small that everything gets in the way. Having a watch designed for her would be fantastic.
Read more about Elliot Brown on our blog here.