Cycling Footwear & Pedal System Buying Guide
Being new to the cycling shoe game can be rather overwhelming with new terminology to get your head around and working out what system works best for you.
But that's what we're here for! Keep on reading for your comprehensive guide to cycling footwear and pedal systems plus the why and when you might pick different styles.
What Are Cycling Shoes
It is absolutely possible to wear any kind of shoe whilst riding your bike, but with 'cycling shoes' we're talking about shoes that are designed specifically to make your pedal stroke more efficient, the movement more comfortable or to protect your feet from the environment. Apart from flat bottomed mountain bike shoes, 'cycling shoes' also refers to a shoe that pairs with a bike pedal system which click together – but note that different systems are not cross-compatible (more on that later). There are a few different styles of pedals and hence different styles of cycling shoe which we'll run through in this guide.
First, some quick terminology:
Clipless pedals: This is where a lot of confusion lies when you get started with cycling pedal systems as you do 'clip in' to a pedal so how can they be clipless? Well, in the early days of bike racing, riders used toe straps called 'clips' which were like cages for the front of your feet. It meant that you could generate some extra power on your upstroke as well as your downstroke. In fact, you'll still see them on gym spinning bikes or some hybrids. Once these cages were taken away and the new cleat systems introduced, they were clip-less. The pedal systems we talk about below are both clipless systems and cleat systems. They are one and the same thing. This is an example of a toe clip: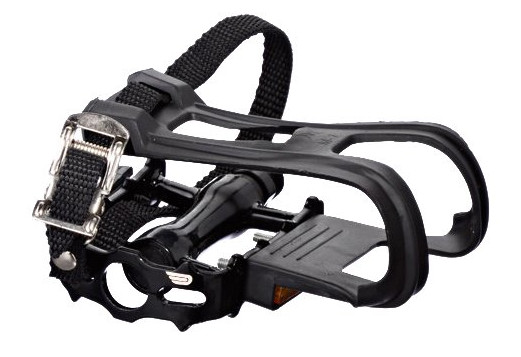 Cleat: A piece of metal or plastic which attaches directly to the sole of your shoe and clicks into a compatible pedal.
Two-bolt cleat: A cleat which attaches to your bike shoe using two fixing points.
Three-bolt cleat: A cleat which attaches to your bike shoe using three fixing points.
Four-bolt cleat: At the time of writing there is only one pedal/cleat system which uses four fixing points and that is the Wahoo Speedplay. However, because this is so unusual and to help keep their market broad, Speedplay pedals and cleats come with an adaptor which allows you to attach a Speedplay cleat to a three-bolt compatible shoe. All information in this article related to a three-bolt cleat is also relevant to a four-bolt cleat.
Broadly, cycling shoes can be categorised into two types: on-road cycling shoes and off-road (or mountain bike) cycling shoes.
Road Cycling Shoes
The aim of on-road cycling shoes is to make your pedal stroke as efficient as possible. This happens by having an extremely stiff sole so the power you're outputting will transfer directly to turning the pedals and push your bike forward. You're not losing any energy or power in shoe flex. The outer body will be smooth and rigid to hold your foot solid in place and engage with the entire pedal stroke and will have varying degrees of ventilation. These shoes aren't just for the racers though; lower end shoes will use materials that keep the shoe comfortable, affordable and efficient so you can still enhance your experience and improve your riding.
Cleat Compatiblity: The biggest feature you'll notice with on-road cycling shoes is that the cleat sticks out from the bottom profile of the shoe. When you see this, you'll know instantly that it is a three-bolt cleat and they're compatible with 'road style' clip-in systems. The biggest brand names here are Shimano SPD-SL and Look so you'll need to be sure that the shoe and cleat you choose is compatible with the pedal you choose. At Alpine, we will always tell you the compatible cleat you should get when buying a pedal or a shoe, and vice versa.
Sole Stiffness: We've already mentioned that road shoe soles are so stiff they're almost unbendable, but it is worth noting that some brands have their own scales of stiffness. For example, Bontrager work on a scale of 1 – 14 but across brands these scales are not directly comparable so on its own it can be meaningless. However, very stiff soles are more likely to be made from lightweight carbon fibre which will make them more expensive and less comfortable on all-day rides and are more appropriate for short and fast races or club rides. A less stiff sole is more likely to be made from nylon or fibre-glass making them more affordable and comfortable. If you're new to wearing cycling shoes, start somewhere in the middle of any stiffness scale and you'll start to learn what works for you.
Fastenings: New fastening methods have developed quickly over the last 5-10 years though laces are making a resurgence with their retro look. The negatives with laces are that you can't adjust while riding and they can loosen slightly under pressure. Velcro fastening or ratchet straps tend to feature on lower end shoes as they're cost effective, lightweight and stay put. The most popular way of tightening a road shoe now is with the BOA Fit system. This is a circular dial which tightens or loosens lightweight laces which zig zag across the shoe. There can be one or two BOA dials to make micro-adjustments making any shoe fit very specifically to your foot. The BOA dial works by pushing the dial in to engage it, twist it to tighten and pull the dial all the way up to quick release. This shoe uses both a BOA dial and velcro fastenings: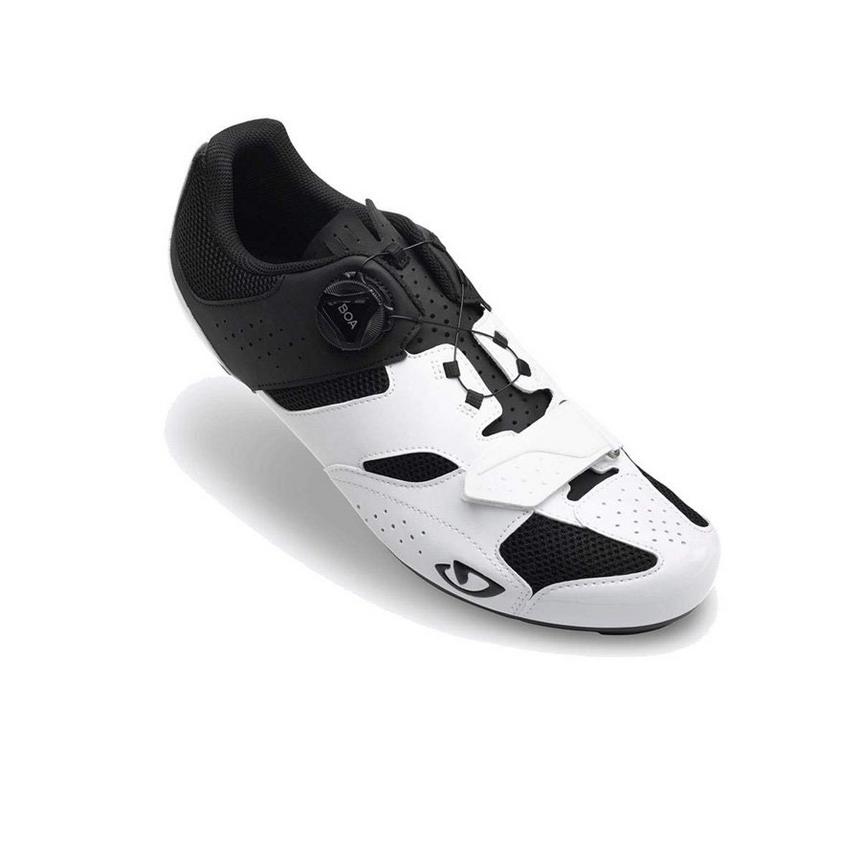 What To Expect from:
Entry Price Point: An entry level pair of shoes can be around £50 and you're likely to get Velcro closures and a plastic sole. This balances lightweight fastenings with a slightly heavier sole but will give you a great starting point and taste into riding with a clipless pedal system.
Mid Price Point: Shoes around the price range of £90 – 150 probably give some of the widest choice. The soles might be a carbon composite or nylon material which is lighter weight and stiffer than plastic. You'll also find Velcro, ratchet, some dials and perhaps some retro lace closures that all give a difference performance and aesthetic.
Higher Price Point: £150+ is the realm of carbon soled, multiple BOA dialled, high quality material and finish shoes likely to be used by the professionals. They're likely to be some of the lightest shoes available.
Off Road Cycling Shoes
Off road cycling shoes are more commonly called 'mountain bike shoes' primarily because they're designed to be tough and durable, but also intended to be walked in. They focus more on protection, ankle support and all-day comfort over power and efficiency performance. Within this category, there are also two types: those with cleats and those without.
Flat vs Cleat: Flat bottomed shoes without cleats will still aim to keep your foot firmly on the pedal and they do this by being extremely grippy with rubber knobbly bits that will stick to a pedal. This is surprisingly effective, especially if the pedal has protruding pins on them that will imprint into the rubber sole. Not every mountain biker will want to be clipped into a pedal, especially if they're keen on tricks or just a beginner. Here your priority should be comfort and foot support.
If you're not into technical trails or you're stepping up your mountain bike skills game, you might want to venture into the realm of cleated mountain bike shoes. The key thing about these cleats is that they work on a two-bolt system (remember, road bike cleats are three-bolt) and are recessed into the shoe and made of metal. This makes walking much easier and the style of cleat sheds mud much better so you're not constantly looking for a twig to clean out your shoe. Shimano SPD two-bolt cleats don't have many big competitors, so more often you'll hear of a two-bolt cleat system simply referred to as SPD.
Sole Stiffness: Mountain bike shoes won't be as flexible as a trainer but not as stiff as a road shoe, they sit somewhere in the middle. The sole can be made from rubber or nylon or even carbon fibre at the very high end of the spectrum and this will produce a stiffer sole and not for the everyday rider. You'll get the grippy lugs on the sole even with a cleat system, but they are more about gripping mud when walking than keeping you on the pedal.
Fastenings: With power transfer to the pedal on the upstroke of less importance, you're more likely to see shoelaces and Velcro on mountain bike shoes. This can help keep the cost down but also keeps a certain style about these shoes. You will find the BOA Fit systems too but there is generally far more variety on offer.
Pedal And Cleat Systems
So we've talked about two-bolt and three-bolt cleats, but what pedals do these match with? Because they're so drastically different in size, the difference between the compatible pedals is obvious.
Both of these pedals are compatible with the SPD two-bolt cleat. The pedal on the left is purely the mechanism for holding the cleat in place, while the pedal on the right has an additional plastic casing and reflector surround which gives a broad platform you can use comfortably with normal shoes.
Compare these SPD two-bolt cleat pedals to three-bolt pedals and you can see how different they are:
Since the three-bolt cleat is bigger, the platform is bigger and the mechanism for release at the back of the pedal is chunkier. While these broadly look the same, not just any three-bolt cleat will work with both of these pedals. Here's where brand choice comes in. The pedal on the left here is a Shimano SPD-SL pedal meaning it can only be used with a Shimano SPD-SL cleat. The pedal on the right here is a Look pedal meaning it can only be used with a Look three-bolt cleat. They are not compatible with each other.
What's the difference? Essentially, the Look cleat is a few millimeters smaller, but that's it!
Cleat Float And Release
Here's the final bit of terminology you need to know.
To release your foot from the pedal, you need to twist your ankle outwards away from the bike. The amount of tension you have to put on this twist is adjustable with a dial on the back of the pedal.
If you Google for SPD-SL or Look cleats (both three-bolt), you'll notice that they come in different colours. These colours denote the amount of 'float' you'll get.
'Float' is simply the degree to which you can move your ankle outwards before you trigger the release mechanism to release your foot. Some people prefer much less float, some people prefer more and with three-bolt cleats you do get this choice by picking a different coloured cleat.
With two-bolt SPD cleats there isn't a choice for float. They already come with a bit of lateral float but this isn't adjustable. However, the choice that you DO get with SPD cleats is whether the release trigger is one sided or multi-sided. With 'SH51' cleats, the only way to release your foot is to twist your ankle away from the bike. But with 'SH56' cleats, you can twist your ankle away from the bike, towards the bike, or indeed upwards to release your foot. They are easier to get out of and may be the choice of mountain bikers to disconnect if the trail gets rocky or you're about to fall.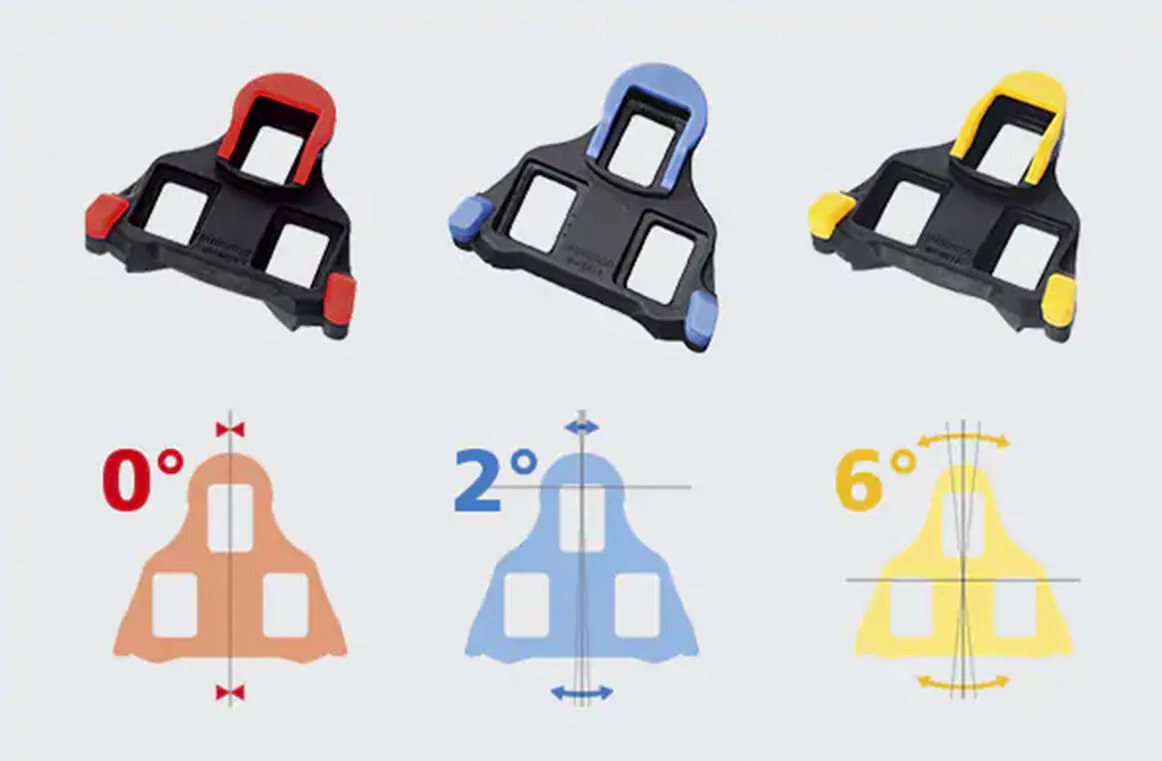 Which Shoe Style and Cleat System Should I Use?
This comes down to the style of riding you're going to be doing! If you're purely on road and not planning on getting into any muddy situations, then road style three-bolt cleat systems are the best choice. If you think you're going to be doing a bit of walking, getting into some muddy scenarios or even just on mixed surfaces then perhaps going down the SPD route is worth thinking about. Inevitably, if you get the cycling bug, you'll no doubt end up with a pair of shoes and pedals with both styles!
To make it easier in the here and now, here are some pros and cons to help you along:
Road Cycling Shoes
Pros
Wide platform gives excellent power transfer capabilities
Choice in float for a more comfortable, personalised ride
Cleats are lighter as they're made of plastic
There is more fore, aft and side to side adjustment of the placement of the cleat on the shoe
Cons
The cleats wear down quickly – once the coloured corners are non-existent, you need to change them
Difficult to walk in road shoes cleats
Takes more practice to get quick at clipping in
Can be difficult to shed mud which stops the mechanism working
Off Road Cycling Shoes
Pros
Better for walking in
Metal cleats take longer to wear down
Designed to shed mud
Pedals can be single or dual sided for ease of use
Cons
Smaller power transfer contact point can lead to pain in your foot (termed 'hot foot')
No adjustable float
While you can adjust the cleat on the bottom of the shoe fore and aft, there isn't much side to side adjustment.
Generally a bit heavier
So you'll see that road cycle shoe systems have a very specific job in mind and they do it really well. If you're a pure roady or you've tried SPD cleats and you find you get pain in your foot above the cleat, then a three-bolt road system is for you. However, if you're after a versatile shoe and pedal which is long lasting then the SPD system is the way to go.
FAQS
Are cycling shoes worth it?
If you're looking to up your road cycling development, then yes there's no question about investing in a road cycling pedal system. You'll be able to put power into the upstroke and the downstroke which helps to engage your glutes, hamstrings and calves and makes you more efficient. If you're looking to feel more in control of your bike and make smaller but significant changes to your efficiency, then going down the SPD route is worth thinking about, but it is an investment.
Are cycling shoes true to size?
As with most normal footwear brands, there will be some shoes that just don't fit you right even if it is technically the right size. It is best to try brands on in a bike shop and then at least you'll know how true to size a brand is for you. But generally speaking, cycling shoes are designed to fit snug so may run small. Cycling shoes are supposed to be tight to make the most of that efficiency, stop the shoes from rubbing your feet and really connect you to the bike for the best control.
Can I use off-road cycling shoes for on-road riding>
You absolutely can and often this comes down purely to personal preference. In fact, the off-road shoe design with easier walking capabilities and a longer lasting metal cleat make the off-road shoe a favourite among bike tourers and commuters.
Should I get cleated shoes for bike touring?
Mountain biking shoes are designed to be walked in and so, in theory, give you the best of both worlds for those looking to tour. You have the option of more flexible soles for comfortable off-bike action, especially as the joy of bike touring is stopping and seeing the world. But if you're riding long distances or for long periods of time, having your foot secure will both prevent potential injuries and keep that pedalling efficiency we're banging on about. By choosing a pedal that is single sided, you have the option of not clipping in if you think you need a change.