3 PEAK CHALLENGE, EUROPEAN STYLE!
And so it was one alcohol induced night in March, I was relating to a good friend of mine, how I planned to fly to Germany with an old friend, to go and climb Zugspitze, Germanys highest mountain. This seemed appealing to him, in fact the more we drank the more we realised; "be a bit of shame to go all that way and just do the one mountain."
Before I knew it, we had devised a plan, a plan that would no less involve, roping in another good friend who had just recently converted his van, travelling over 4000 kilometres through 6 different countries, summiting 4 very respectable summits, one ma-hoo-sive ridge walk, bringing in a total of over 4600 metres ascent! The only problem, or at least that people felt inclined to point out, is that we will need a lot longer than a week to achieve all this... They were wrong.
So here it is, a very quick run-through of one spectacular week on mainland Europe!
Aug 30th - Edinburgh to Calais
Myself, Euan Moir, Grant Shorten and Luka Kashubowsky all met at Tiso on Rose Street around 6pm, with what we all hoped would be the right gear we would need for the trip. 4 large duffels and 4 winter sized daypacks. We tore off to Calais, getting there around 7am, so far, so good.
Aug 31st - Calais to Lucknerhaus, Austria
Wasting no time upon arriving on mainland Europe, we tore off again, the van was in good form so we took advantage! We arrived after a long day around 11pm at our hut, after a precarious drive up Alpine roads in torrential rain and darkness! Quick whisky and off to bed, for now the fun was about to begin!
Sep 1st - Grosslockner, round 1
We got up, never as early as we intend, but we all felt remarkably fresh for the day ahead, or at least so we were telling each other! The walk up to the Studelgrat hut at 2800 metres from the valley below was fairly picturesque and nothing too strenuous. Alas it would prove too much for Luka's feet, suffering from massive arch pains he could only walk on the tips of his toes! Was this an ominous sign for the remainder of the trip, we could only hope not, but felt bad for having to leave our friend at the Studelgrat hut, while we made an attempt on the ridge of the same name.
Unfortunately it wasn't to be that day, a large of dumping of snow the days before made the going incredibly tough, so at around four thirty, we decided to head back and go up the main route the next day.
Sep - 2nd - Grosslockner, round 2
Once again, last to bed and last up, must be the mixture of the beer and altitude. We set off around 8am. The main route to Grosslockner crosses a large glacier then some steep via ferrata to the Johans hut, then onto a fairly wild winter ridge walk to the summit.
After an hour or so of trudging along in the morning, trying to force my eyes from the back of my skull, I asked; "When will be on the glacier then? "With which Moir replies, "We've been on it for a while, in fact we're half way across." "Hmmmnn, I see, time to rope up then?"
We did, without even really noticing, fly up to the summit of Grosslockner, the previous days acclimatization must've really helped. It is an excellent mountain, providing all the excitement a thrill seeker would ever need, just be careful on the tiny ridge not far from the summit, the only part without any real solid protection, but the only bit that could really use it, as one poor lady found out, as she almost slipped off! Luckily Grant was there to offer a hand. As we were now a day behind we raced back down to the van in record time, ready to head to our next destination!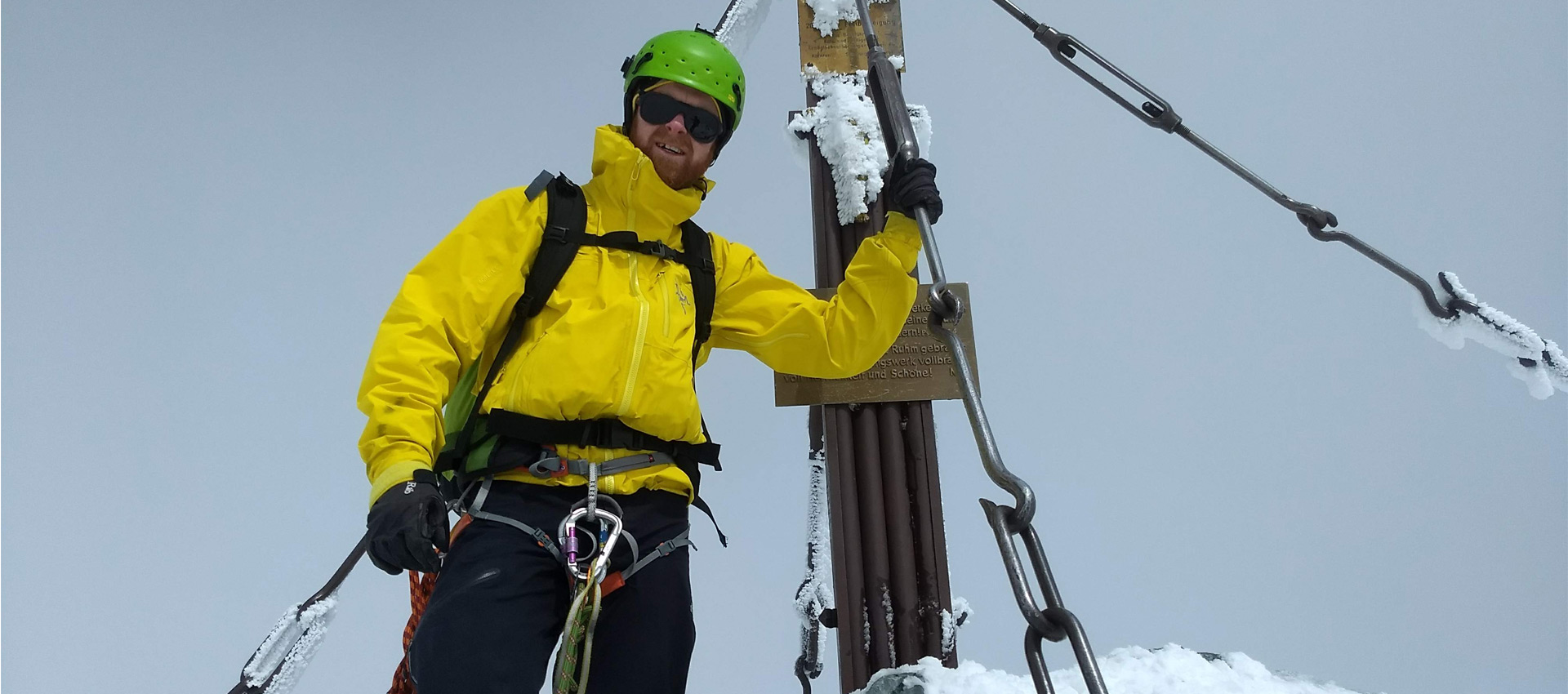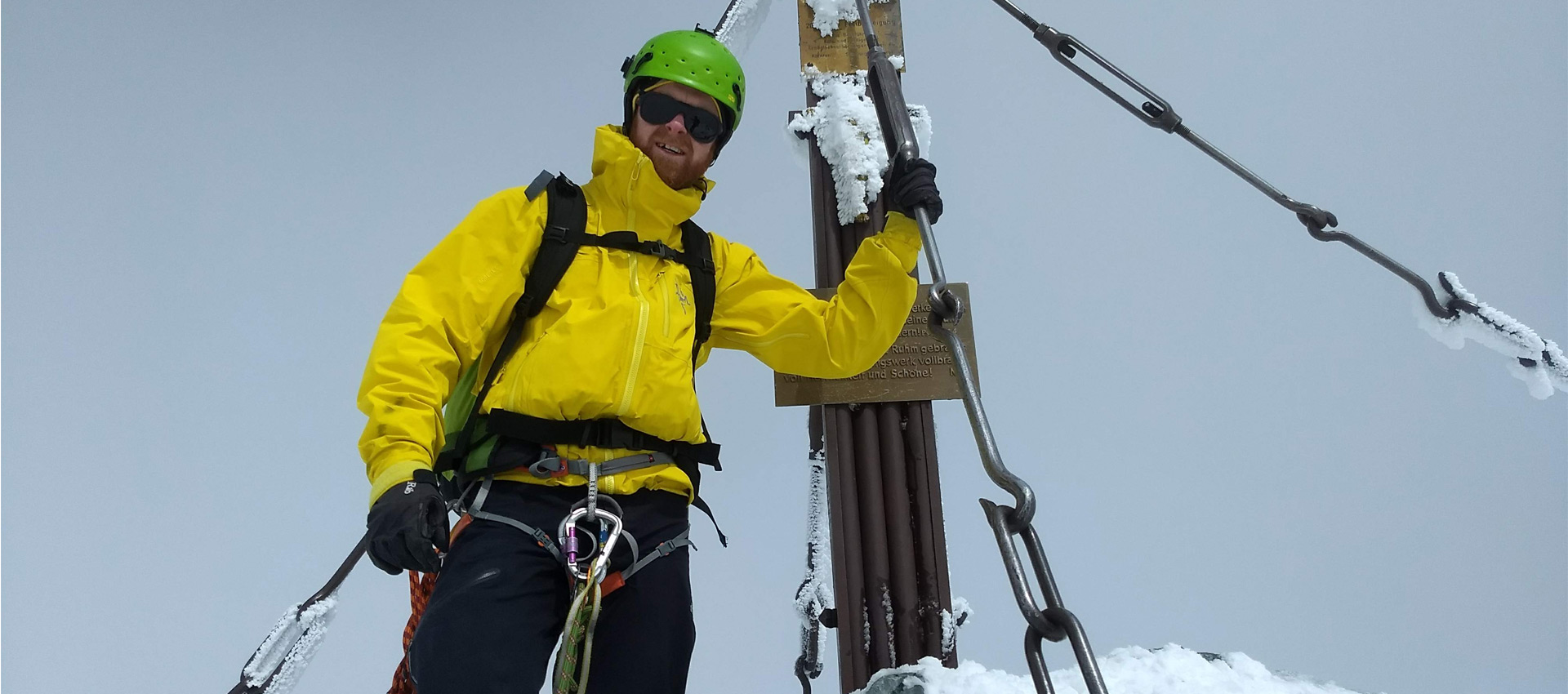 Sep 3rd - Alpsitz - jubli ridge
We arrived late the night before in Garmisch and as we had to drop Luka off at the bus station around 11ish, decided we might as well make a night of it. The Bavarian mountains are very stunning, very white with lime and lots of bright lush grass everywhere, you feel like you're in a high alpine meadow.
We took the cable car up to the Alpspitze terminal, then continued up good via ferrata to the summit. Again, because of our late start, most people were already starting to head down and we never met a single person with the intention of doing the famous jubilaeumsgrat ridge from this direction, as the ascent is much more strenuous. But not to be perturbed off we headed. This is a serious ridge.
Not exactly a full via ferrata and not exactly a full climbing route, it lies somewhere in between. There is just so much climbing, followed by down climbing, followed by terrifying climbing, followed by terrifying down climbing, you really do wonder if you are actually ascending at all? Or trapped on an endless spine of rock. Fortunately there is an emergency shetler one third along the ridge, and we were all very happy to see this!
Sep 4th - Jubi Ridge to Zugspitze
We actually managed to get up reasonably early today, to continue our ridge, probably to do with the fact we literally had no room for any social lubricant in our packs. In fact, we barely realised we had enough water to finish the route, well, maybe we'd find some snow and melt it.
Anywho, weather cloudy and chilly, we headed off, the ridge instantly reminded us of her severity, with a huge unprotected down climb, with some intrepidly airy traverses. But then she eased off to the summit. The summit of Germany's highest mountain is like nothing else, they practically have a full blown James Bond villain's lair on the summit, it's incredible. And to spare your knees, a train down, all the way to where we had parked the van. Outstanding!
So far so good, 3 summits, one being Austria's highest, another Germany's highest, that just left Liechtenstein, a country and a mountain that, whenever we mentioned it to anyone all we ever got back was, "where? Or "why?". Luckily it was only a 2 and a half hour drive, so we might arrive in daylight for a change.
Sep 5th - Campsite near Bad Ragaz (it's in Switzerland)
Rest day - All fresh and rosy fingered we headed off to visit the Tamina gorge. Quite a famous one around these parts too, its geothermal waters sit at a moderate temperature of 36.5 degrees.
Eventually we arrived at the Terme Tania Spa, all I can advise is, if you have been living in a van with a few dudes for a few days, smashing up some serious mountains, just go, you won't be disappointed. Feeling completely rejuvenated we headed back to our grand wee campsite for another night of merriment and antic's.
Sep 6th - Grauspitz - time to turn around
We got up late, as usual, and made our way to the cable car to take us up to the most stereotypical alpine valley I had yet seen. Very few people grace these slopes and I really can't understand why, it could be the most scenic part of the trip. All it was missing was somebody yodelling. But because it is a much unvisited area, the going is a little harder, especially once you get near the summit, it was very exposed and I have to admit, my brain had had enough, I don't do well with exposure at the best of times.
But highly worth the trip as the scenery is rare and unspoilt. We barely made it down for the last cable car, so glad we didn't hang around, but could have spent days up there! A quick freshen up and then that was it, google maps up, destination Edinburgh, here we come.
Sep 7th - Home
Well, fair play to Grant and Moir, they went non-stop all the way from Switzerland to Edinburgh, we arrived 2 hours early for our tunnel crossing, but the nice lady let us on anyway, back in Edinburgh for 2pm, with a quick stop at the Scottish border en route for a wee song and dance.
They told us we were mad, they told us it couldn't be done. But there you have it, 3 separate countries in Europe and there 3 highest mountains.
Independent mountains climbed :
Grosslockner - Austria's highest peak - 3798 Metres
Aplspitze - High Bavarian Mountain - 2682 Metres
Zugspitze - Germany's highest peak - 2962 Metres
Grauspitz - Liechtenstein highest peak - 2599 Metres
I wonder how far apart Norway, Sweden and Finland's highest mountains are???