The First Climbs of Winter
Shivering belays, screaming barfies, long walk-ins and head-torch descents, Scottish winter climbing is more often than not type two fun. Yet, we look forward to it all year...
During the last week of November a group of us from Tiso managed to take advantage of a cold arctic blast and get out for a couple of days of early season winter climbing.
Early season climbing in Scotland is often hit or miss. Mixed climbing snowed up rock, wading through powder and praying for frozen turf. We had it all. On our first day we headed up high on Stob Coire nan Lochan for some more technical climbing. On day two we prised ourselves out of our cosy hostel beds before dawn, and made it up onto the Aonach Eagach for sunrise.
Tiso asked us if we would be interested in testing out some new products from RAB, clothing that will be stocked at Tiso throughout winter and also some exciting new pieces for spring 2018. Of course, we jumped at the opportunity! RAB is a firm favourite for most Tiso staff including us. This British company began in Sheffield in 1981 and has grown into a world leader of intelligent, durable and sought after outdoor equipment.
The Team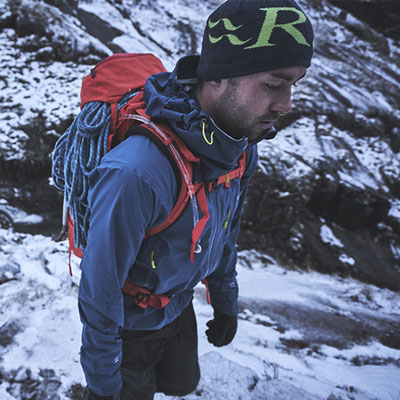 Aaron Hodgson An Edinburgh based rock climber and alpinist. Aaron has recently become a member of the new Alpine Climbing Group, a BMC / Alpine Club / Mount Everest Foundation collaboration whose aim is to put up exciting new routes around the world. We are lucky to currently have Aaron working at our Edinburgh Outdoor Experience store.
Mollie Hughes Me! I have been climbing mountains around the world for the last 10 years. This spring I summited Mount Everest for the second time, supported by Tiso. Achieving this made me the youngest woman in the world to summit Everest from both the north and south routes. I love climbing at high altitude but over more recent years I have come to gain enjoyment from the sufferfest that is Scottish winter climbing.
Hamish Frost Wow! We were super honoured have Hamish join us in Glencoe! Hamish Frost is a Glasgow based photographer with a real passion for the mountains and adventure. He has previously worked with brands such as Scarpa, RAB, Red Bull, Trail magazine and the BMC. Hamish skilfully moved around the mountain capturing some outstanding images of our climbs and the new RAB range.
Scott Becker Scott is an outdoor adventurer and mountain athlete. Scott is highly skilled at a multitude of adventure sports, most notably climbing, skiing, speedflying and sky diving. Scott won't shout about it, but he is also a world record holder. In August 2017, Scott became the first person to fly a speedwing from a 7,000m peak, with an impressive 5 minute descent of Khan Tengri. Scott is the master ski technician for Blues Ski Shop.
Day One

Stob Coire nan Lochan

Standing proudly above Glencoe, Stob Coire nan Lochan is one of the finest and most popular winter climbing destinations. It soars up to an impressive (for Scotland…) height of 1,115m above sea level, this height means it can be a reliable winter climbing venue for much of the season.

With this in mind we arrived at the car park before sunrise on a Monday morning. The weather forecast was characteristically dire, with precipitation promised for much of the day and northerly winds gusting up to 80 miles an hour. With this prospect looming over us we set off from the car in the pouring rain with the idea that we would go and have a look, if nothing was in condition we would hastily retreat to the Clachaig inn.

We didn't have to gain much height for the rain to turn to snow and small patches of clear sky to break overhead. We swam through knee deep (waist deep for me…) powder to the base of Twisting Grooves IV 5. Scott accelerated up the first pitch with Aaron and I seconding up after him. Meanwhile Hamish headed off up a nearby gully to get some long-angled shots and then the all-important summit hero shot.
Many hours later, after a series of hot aches, freezing belays and some impressive climbing, Scott was on the final exit pitch. Hamish had set up an abseil from the top and met Scott, getting some great images of him battering his way through the powdery cornice.
As we topped out, darkness began to fall so we enjoy a knee bashing descent back to the car by head torch. It had been a long, bitterly cold and hard 11 hours on the mountain, but this was nothing that a huge burger and a pint at the pub couldn't fix.
Day Two

Aonach Eagach

The Aonach Eagach dominates the Glencoe valley. This steep, sweeping ridge line is a grade two scramble in summertime but during the winter months it takes on an impressive alpine feel and is a committed, proper day out.

The weather forecast for the Tuesday was promising to be a little more favourable, no rain, reasonably clear skies but still a cold, and strong wind up high. As a professional and dedicated photographer, Hamish wanted to get up onto the ridge for sunrise and make the most of that golden hour of light. As less dedicated or professional climbers, the thought of a 5am start was distressing to say the least. However, we had faith in Hamish and managed to prise ourselves out of our cosy hostel beds, into damp boots and off to the start of the hike.

By the light of our head torches we followed the slippery path from the car park, quickly gaining height. The first few minutes of any climb or hike are always painful, but after our long climb the day before we were all feeling quite slow. A break of snickers and sausage rolls gave us some much needed energy to push on.

Sunrise, is the most incredible time of day. When you are in the mountains it is even more special. The darkness you have been climbing through starts to evaporate are your vision beings to clear. When the light from the sun finally hits you, you get this huge burst of energy, it makes you appreciate life and realise that an early get up, no matter how hard, is always worth it.

We made it up onto the ridge and began taking photos in the early morning light. We spent a few hours slowly moving along different sections of the ridge, capturing the RAB kit in all its glory on one of Britain's most impressive ridge lines.

When we had all the pictures we needed and we were all suitably frozen, we descended all the way back to the car and called it a day on our first winter climbs of the year in Glencoe.
As we knew it would, the Rab clothing we tested lived up to our high expectations. It kept us warm, dry and protected from everything winter in Scotland could throw at us.
Check out the latest products from Rab online or why not come into one of our stores to try out? Winter has arrived in Scotland and it is time for you to get out there and make the most of it!
From the foot of the crag to Himalayan summits, it's the same thing that unites and inspires us - a pure, untamed love of the mountains. Use the hashtag #WeAreRab and join the mountain people.
Shop Rab