Adventures in Parenthood

Getting The Kids Outdoors Whilst Ensuring Time For Yourself

With Mother's Day coming up we spoke to our Supported-By Ali Murray about how she balances time in the outdoors between herself and her children.
by Ali Murray
Ali has a passion for exploring Scotland, hiking and catching sunsets and sunrises. Her next step is to get into winter climbing.
I became a mum at 24. I was young, didn't have a clue how to navigate life never mind being responsible for a little one. As most mums do when you come to be blessed with that title, you make it your everything. Your all. The main reason for being alive.
What I have since learned (which has taken me almost 12 years), is that this means you lose your identity. You lose your sense of 'self' and you almost forget that before you were a mum, you were other things. You were a friend, you were a partner, you were an adventurer. You had hobbies.
And this brings me to the present day. My children are 8 & 12 (hair is going greyer as I type that). One thing we have always done is try to be active with the children. 'How do you get your kids to walk so much' I hear you ask. Well, my son has always been happy to walk everywhere, run around, play games in his head as he just followed us on different adventures. My daughter - not so much. She would moan about walking. 5 minutes in (if we were lucky) and every excuse under the sun would follow. Sore ankles, sore finger (not sure why this would stop her from using her feet, but there you go), too tired, too hungry, (too cute?!) to walk. This resulted in a few walks cut short or/and one of us carrying her on our shoulders. However, (breathe a sigh of relief) - it did, and it will get better in time (if this is like your young one). How do we get our kids outdoors? We just do. We tell them that we are going somewhere, we make it fun. We pack treats, things to do in the car (yes, devices are also allowed - let's not pick that battle, right?) and we are not above bribery. We will give them extra treats if they walk well. (I say 'they' but this is mainly for my youngest). We also include them in the decision sometimes. We will look at some walks, show them pictures and they can choose.
Unless the wind is tremendous and the rain is coming down sideways, we will head out. I cannot emphasise that good waterproofs are essential but rain or wind on their own won't usually stop us. What kid doesn't like splashing in puddles?
My husband and I are very much into hiking. We've done lots of hills, and plenty of long, low-level walks. We wanted to share this with our kids. Our very first hill was Conic Hill. A small hill with rewarding views and lots and LOTS of steps. But for that, we did pick a day that was forecast to be glorious and we took a picnic, filled with their favourite foods and just went. Next was Ben A'an. My daughter was only 4 at the time but she absolutely loved it because she loved the scrambly bits. It was interesting, it was varied. And I would say that that is the key to our walks now. They must be varied. They can't just follow one path, or they will both be bored within 2 minutes.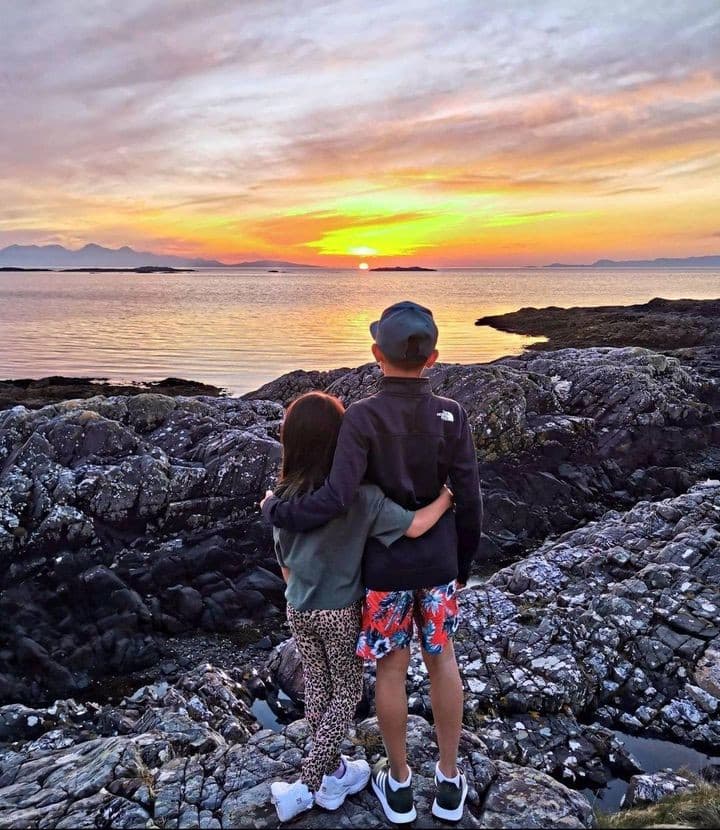 Our biggest challenge to date was Ben Nevis. We did this last June and both the kids opted to do this for cash for kids. It was amazing. They were both incredible, kept walking, got encouraged along the way and we are so incredibly proud of them for the achievement and the support we got for this amazing charity. My son has done a couple of Munros with us as well. Anyway, I digress.
We have enjoyed plenty of low-level walks too, lots more since we got ourselves a pup, a red setter. (I will include links for some of our favourites so far below).
Ok - very important sidenote here. KIT! Please invest in good kit for yourself. As adults, we should spend a little more on ourselves if possible because we are no longer growing. And you will get years out of decent waterproof clothing, boots, shoes etc. For kids, we have always found bargains, sales and yes, let's take the stigma out of buying second hand - you can find some amazing waterproof and warm clothing for winter in charity shops. For the one year that they will wear it until they sprout, buy cheaply and sensibly.
Going back to my first paragraph where you were probably confused about whether this was a hormonal, new-mum blog that had mistakenly been published in an outdoors company site, I opened with this for a reason. Being a mum doesn't mean that you MUST always take your children on your adventures. As I said, you have to embrace your own adventures, whether they are solo or with friends or partner/other half.
Being a parent is amazing, it's life-changing and it's incredible. BUT it's also tiring and challenging and we must take time for ourselves to refresh and connect with the outdoors and nature. It is vital for our mental and physical health. I cannot recommend or stress this enough and I really, really wish someone had said this to me at the start of my journey, almost 13 years ago. I wish I hadn't been so wrapped up in 'just' being a mum. Embrace your own outdoors adventure, make memories with and without your kids. Take time for you sometimes and make memories with family. You won't regret it.