At just 25, Tiso team member Mollie is one of the youngest Brits to scale Everest. And next year, she's planning a return trip – to scale the notorious north route. We sit down with her to talk training, kit essentials and sunrise on the Himalayas. To support her Crowdfunder campaign, please click here.
Hi Mollie! Thanks for meeting us. First, tell us a bit about yourself…
I moved to Edinburgh last year, but grew up in South Devon. I'm a mountaineer (obviously!) but do lots of other sports like surfing, hiking and speed flying. I also speak to schools and businesses about my Everest experience.
How did you get into climbing?
When I was 17, I went on a school trip to Kenya. It was one of those high school trips where you get funds by doing bag packing in supermarkets! At the end of our stay, we climbed Mount Kenya. We spent 4 or 5 days walking uphill – about 5000 metres high, so it was quite hard! – but when I got to the top I was hooked. After that, I would save up money at uni and go away climbing every summer.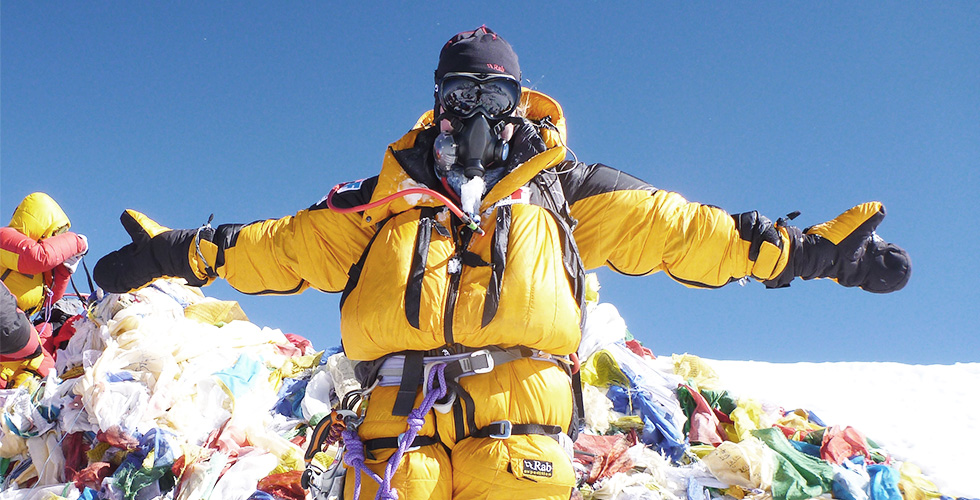 When did you fall in love with Everest for the first time?
When I was studying sports psychology at Bristol, I decided to write my dissertation on the psychological experience of Mount Everest. It was 10,000 words, so it had to be interesting! I interviewed seven guys who had summited about their motivations, ability to control fear, psychological pressures… Each person had really different experiences of Everest, but it was probably halfway through the first interview that I realised I wanted to climb the mountain myself.
You scaled Everest in 2012. Why have you decided to go back?
Everest is such a massive part of my life. I spent 12 months training and fundraising, and now I speak about it regularly! But I feel like I've only experienced one side of the mountain. The north east ridge has so much history; it's the original route that Mallory and Irvine scaled in the 1920s.
What is your training schedule like?
My aim is to get as fit as possible before April next year, so I've got a trainer and get into the hills whenever I'm off work. But altitude isn't something you can train for – you can only acclimatise to it in the time frame that you're there. So in 2016, I'll go for 2 months to adapt to Everest's climate – so I have to be physically ready.
>There were so many! I guess sunrise and sunset are probably the most incredible things. When you're about to summit, you walk throughout the night so you see the sun rise the next day. The sky is pitch black, with nothing to tell you you're on Everest… Then suddenly the sun rises and the whole of the Himalayas – the whole world – is below you. When the sun comes up on summit day, there's also Everest's shadow reflected onto the stratosphere. It's a perfect pyramid and is just incredible to see!
What about your worst moment?
There were lots of them as well! The altitude in general is hard work – it's just draining. It takes about five weeks of going up and down between camps to acclimatise. The first time we went from base camp to camp one, it took us about six hours. Then the last time it took us three and a half. So you get quicker and fitter!
What are your kit essentials when you're on the mountain?
On Everest, I have specific items like huge high-altitude boots or my yellow RAB down suit. But in the Scottish outdoors, the most important thing is good quality kit – it's what keeps you safe! I've got loads of RAB gear: they're British, and their kit is designed for our environment. I wore the RAB microlight jacket on Everest a lot. It's lightweight but still warm! I've also got a RAB Neutrino and some insulated trousers which were my base camp essentials. Mountain Equipment products are good too!
What outdoor gear is on your wishlist this Christmas?
I really want some new ice axes! Either some Petzl Nomics or some Black Diamonds. Also I'm desperate for some skis – I started learning last winter and would like to get back out on the slopes.
Mollie will scale the north side of Everest in April 2016. You can support her record-breaking mission via her Crowdfunder campaign (closes Saturday 28 November).Your pledges will fund the Everest climbing permit (around £10,000) and kit list. Donating £10? You'll also be entered into a raffle to win £200 worth of Tiso vouchers!