Meet Mollie Hughes: mountaineer, Tiso team member and potentially the first British woman to climb Everest from both sides. We talk altitude, adventure and her 2016 attempt to get to the top of the world.
---
When did you discover your love of the great outdoors?
I grew up on the south coast of Devon and have been into the outdoors my whole life. Then, when I was 17 we went a school expedition to Kenya. We did some charity work, spent some time on safari and at the end climbed Mount Kenya. We got to the top and the clouds were swirling around me… I was hooked! I knew then that climbing was something I wanted to do for the rest of my life. Now do all sorts of other activities! Surfing is my first love! Mountain biking, rock climbing, ice climbing, and speed flying (paragliding on a really small wing, climbing a mountain and descending at really quick speed). The views are good but you're a bit too scared at the time to notice!
How did you make the transition from mountaineering as a hobby to mountaineering full time?
Just time, and getting more experience! Also realising that I don't want to do anything else – this is what I want to do with my life.
Talk us through the moment when you decided to climb Everest for the first time?
It came about in my last year at Bristol Uni doing sports psychology. I wanted to make my dissertation interesting – so that it was something I would actually sit down and write! – and I thought of the biggest mountaineering challenge: Everest. For my project I interviewed seven guys who had summited and asked them about their motivation, their ability to control fear, psychological pressures… And halfway through the first interview, I knew that I didn't want to sit and write about Everest, I wanted to go!
You climbed Everest in 2012 and you're going back this year. Why?
In 2012 I climbed from the south side from Nepal – a beautiful route, two months of pain and suffering, temperatures of minus 35, high altitude… But there's this whole other route on the north side, that's colder, winder, and with more time above the 8000 metre death zone. And the north side is steeped in so much history. It's the original route that Mallory and Irvine did in the twenties. It looks like an incredible place to experience. As of yet, no British woman has climbed Everest from both the north and south sides. It's something that definitely needs to be done for women, for British people in general… and I think I can do it!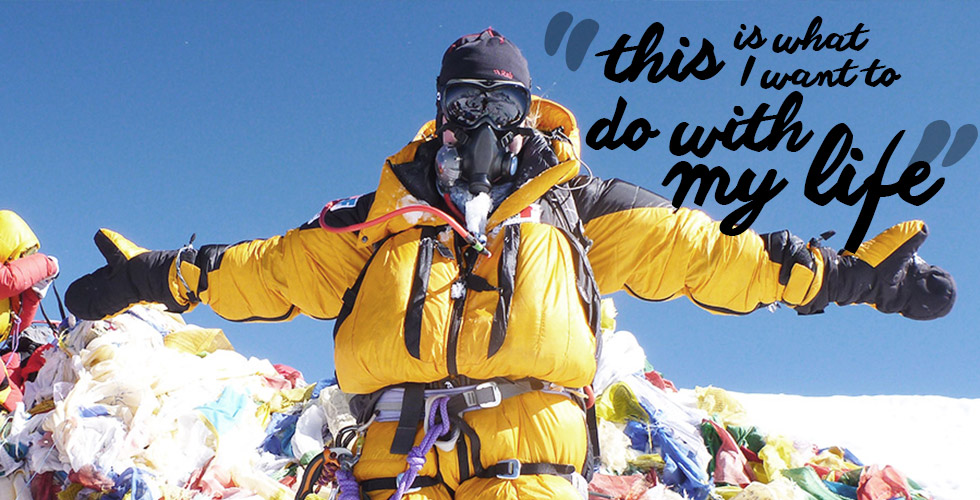 What has your training schedule been like?
I'm training in the gym a few times a week with my personal trainer. Also living in Edinburgh is great, I can climb Arthur's Seat or get into the Highlands pretty quickly… it's accessible to get outdoors.
What are you most looking forward to about climbing Everest again?
I'm looking forward to just being there, just being on the mountain. Since climbing I've been to the region a few times, but the mountain just fills you with awe and wonder. Being on the north side, experiencing the new route, exploring… Just being on it and near it will be incredible.
What are you least looking forward to?
The cold won't be fun, neither will the altitude or the suffering… There's lots of challenges. But I'm prepared for them. I've done it before and know what to expect. The first time the height was draining. Physically and mentally you just don't think straight. This time round, I think I'm a little bit better prepared!
If you had to spend a day in the Scottish outdoors, where would you go and why?
Tricky! There's so much fun to be had in Scotland. I guess the perfect day would be climbing on the north face of Ben Nevis on some really good ice route, or surfing on the coast near Edinburgh.
What advice would you give young women – and budding adventurers in general – who want to chase their dreams or get into mountaineering?
Just get started! Take that first step. It's always the hardest. Deciding you want to do it, training for it, getting the experience… Just get there and chase your dreams, because it's the best thing ever.
Mollie is looking for sponsors for her 2016 Everest attempt. If she succeeds, she'll be the first British woman to summit from both sides. To support this historical climb, find out more here and follow Mollie on Twitter.