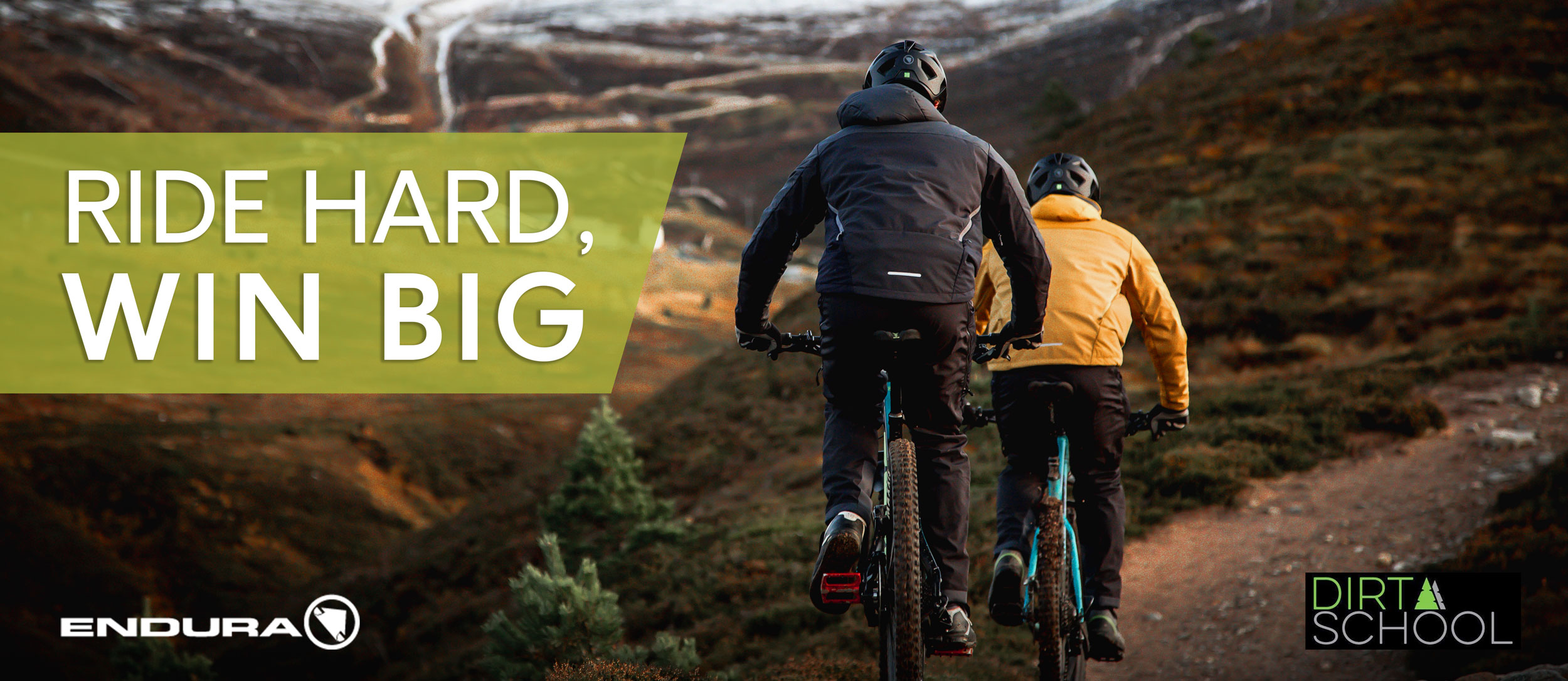 WIN BIG PRIZES WITH DIRT SCHOOL & ENDURA!
It's 2020. One fifth of the way through the 21st century. Time is ticking by, but one fact remains eternally true: riding bikes is AMAZING! It's good for your health, it's good for your mind, it brings smiles & laughter, and anyone can do it. It's (literally) as simple as riding a bike.
To get you in the mood for riding this year, we've partnered with mountain bike skills experts Dirt School to offer you the chance of winning 1 of 3 £100 vouchers to use on their renowned skills courses. Whether you're starting out on your cycling adventure and want to learn those basic trail skills, or you're a regular rider that needs a bit of expert advice to move off that plateau to the next level, or you're a racer looking for that winning edge, the Dirt School team have the knowledge and skills to shift your riding up a gear.
Plus, the kings of technical cycling apparel, Endura, have joined in by offering a prize of one MTB riding outfit including their legendary MT500 waterproof shorts & jacket. At this time of year, getting out the door is the hardest part of riding - the weather is grim, it's dark, motivation is low, but with the right kit you can start rolling in 2020 wearing a clean new look with the toughest & most innovative fabrics in the business.
As an added bonus, to really get you motivated to ride, we're giving away 50 Alpine Bikes water bottles stuffed with SIS energy goodies to the first 50 riders to share a ride with us on Strava. Gels, energy drinks and a new bottle for the new year - what are you waiting for?!
So how do you win these fantastic prizes? Simple. Get out and ride your bike.
Step 1 | Ride your bike and track your route via a GPS unit or SmartPhone
Step 2 | Join our Alpine Bikes Strava Club and upload your ride - requires joining Strava.
Step 3 | Visit our Sign Up Page to register in the competition (no mailing sign up required)
Step 4 | For every 10km you ride between Wednesday 22nd January & Wednesday 19th February, we'll give you one entry to the competition, so the more you ride, the more chances you have to win.
Step 5 | After the closing date, we'll pick three winners at random to win a £100 Dirt School skills course voucher
Step 6 | We'll then find the rider who has climbed the highest cumulative height over the month who will win a an Endura MT500 riding outfit
That's it! Just ride your bike, log it on our Strava Club, register here, and you're entered. We'll keep a track of distances ridden and every 10km will garner another entry, so keep riding, keep getting fitter, keep improving your skills, keep enjoying time on the bike, and you could be riding away with a fab prize.
Terms & Conditions
To submit a ride to the competition, you must: join our Alpine Bikes Strava Club (requires signing up to Strava if not already), register with the competition here, log your ride with a GPS unit or smartphone with GPS, and have completed your ride within the start & finishing dates.
Uploaded rides will be monitored weekly with totals distances logged. For each 10km ridden, the rider will receive one entry. At the end of the competition period, all entries will be gathered together with three winners picked at random to win a £100 Dirt School voucher. The rider with the biggest cumulative distance ridden during the month will receive an Endura riding outfit in size/colour to suit the rider.
Winners will be contacted via email submitted upon registration. No data submitted will be retained by Alpine Bikes unless the particpant opts in.
The first 50 seperate riders to share a ride with us will be entitled to an Alpine Bikes bottle with SIS energy bundle. These riders will be contacted directly via email.
E-bike riders are welcome in the competition, though we ask you to declare you are riding an e-bike upon registration. E-bike riders will not be eligible for the Endura prize.
More Riding, Less Hiding
Want to ride new trails but concerned they might be too difficult? Constantly struggling to clear an obstacle? Feel like your riding has hit a plateau? Go visit our friends at Dirt School, the UK's number one MTB coaching team. With a wealth of experience & knowledge, Andy, Janey & the team can help you nail the basics, correct errors, and grow your confidence and skills so you can take on tougher trails in more control. Click through to find out how a Dirt School skills course can benefit you.
Visit Dirt School