Scaling Suilven | Tiso Blog
Standing at only 731 metres, Suilven is by no means the biggest kid on the block, but with its distinctive double peaked ridge which rises steeply out of the wilds of deepest darkest Sutherland it's definitely up there as one of the most stunning and instantly recognisable hills in Scotland.
The highest of the two peaks is Caisteal Liath, which translates from Gaelic as the Grey Castle, I cannot think of a more apt name. From afar it definitely looks like an impenetrable fortress from a land before time!
Climbing Suilven has always been dream of mine but life always seemed to be in the way of me finding the time to get round getting up there. I was excited to hear that there was a film coming out about an elderly lady who travels to Scotland from the hustle and bustle of London to climb this magnificent hill, but I wanted to climb it for myself before watching it.
Why did I care about climbing it first? I was worried that in order to make the story really gripping and exciting that they would over play the struggles and made it look like she was trying but failing to pull off a near impossible feat, after all they have got around 2 hours to fill and the hill isn't all that high. I feared that were I to watch it before I gave it a try for myself then with all the displayed adversity I'd lose all enthusiasm for it and have it in my head that I was unworthy and Suilven really shouldn't be attempted by anyone but the most hard core Yeti men. I also wanted to make sure that the first time I saw the views it would be with my own two eyes.
My Opportunity
My opportunity came when I was encouraged to use up some holidays prior to the intensive preparation for the new Aviemore store opening, I didn't need too much time to decide where I was headed. I left straight from work with the car full of tents, stoves and boots - chomping at the bit to get started.
Low clouds and black skies loomed before me the whole drive up to Lochinver. As I drove past Loch Assynt it was impossible to tell one hill from another amongst the swirling mists. I felt like I was not only driving into the unknown but also into a different world. I reached the designated car park at Glencanisp Lodge at around 8 pm. With a 9km walk with all my gear on my back ahead of me before I even reached the foot of Suilven and already quite tired and hungry as I was, I decided to walk as far as I could and stop to set up camp and eat at 9.30. I had hoped for a summit camp but with only an hour and a half until sunset I decided not to push it.
The paths are fantastically well kept; I kept thinking to myself that if I didn't have all my worldly possessions strapped to my back then it would make for a lovely run (maybe next time). Signs along the route give information on the ongoing path repair project and state that 140 tonnes of rock are being airlifted in to complete the works over almost 2 km of the route. I made good progress and I hid my wee tent away in behind a small hillock and set about preparing my freeze dried beef stew. As I sat there, the clouds began to lift. Slowly, minute by minute, the entire length of the ridge was revealed to me and the sight was almost breathtaking… I felt a bit like like a teenage girl catching sight of her favourite pop star. Part of me really wanted to keep going and climb into the darkness, but with the tent already there I opted instead to think about what lay ahead.
I still hadn't decided if I was going to go for the tougher scramble to the eastern top, Meall Mheadonach. I had read up on it online and there was conflicting opinion on difficulty ranging from "oh my god, we almost died" to "so easy, my baby daughter could do it in her sleep" so to be honest I didn't know what to think. Looking up at it as the mists slowly rose I decided to wait to see what conditions were like when I got to it before making my mind either way.
Early Morning Ascent
When my alarm woke me at 6 the next morning I climbed out the tent and the first thing I saw was Suilven basking in glorious sunshine. I was actually so glad I hadn't pushed on for a summit camp… otherwise I wouldn't have woken up to such an amazing view. I set off and have to admit I made a slight navigational boo boo. The map shows a path runs from west to east across the landscape, but suggests that there is nothing leading to the foot of the mountain. So I thought I was being smart by negotiating a safe route across the bog. I can't explain how annoyed I was when I got across the other side to meet the path I should have stayed on… whatever you do, make sure you stay on the path!
A quick hop, skip and a jump across a wee burn running from a lochan and I was on the ascent. I made quick progress past all the evidence of ongoing works, it looks like they are making a grand job, and was surprised how soon I was reaching the bealach. I bounded over the small stone wall and up the simple scrambles to Castle Liath, the official summit. It wasn't even 9 am yet and as I approached the cairn I couldn't believe how flat the top of the hill was. It's almost like a football pitch on the top! I was just thinking how nice it was to have it to myself when I noticed a small green tent along at the end. Its residents were just emerging as I stood there and awkwardly waved. They came over for a chat (and kindly took a picture of me next to the cairn to prove I'd done it). They told me they had canoed in from the east the night before and carried their kit up to the summit.
The Summit
We headed off to tackle Meall Meadhonach together. My new friends identified themselves as Steve and Rosie and had a reassuringly full bag of Jelly Babies that I was pleased to find out they were more than happy to share. Once we passed the stone wall and started to head up again and I'll admit I started to feel a little apprehensive.
Making our way along the ridge, I was to say it was all very straight forward providing you don't mind a bit of exposure. There is a quick descent before reaching the main show… standing at the bottom of the last ascent it looks a little daunting, especially with the wind whirling around but once we got going it was amazingly fun. There is only one move that I found tricky, there is a narrow ledge with a large slab above and very few hand holds. If you are taller than 5'2" then there's a crack you can wedge your hands into, but sadly I couldn't reach but managed to shimmy my way over and brace against an angle to get up. From there only one or two more short scrambles and we were at the top.
Our proud feeling of achievement was short lived when a mountain yeti man came tearing up the hill at 100 mph making short work of the scrambles we had so carefully negotiated. He posed for a quick selfie and then asked us if we were doing the full ridge. The full ridge? Is this not the top? He scoffed and pointed down a steep edifice to a tiny protrusion of rock below stating that was the official end of the traverse and it wouldn't count otherwise. We assured him we were fine with reaching the two highest points and wished him well. I couldn't help think it would be awful if he took a slip and had nobody there to notice if he didn't make it back. I put my misgivings out my mind as he was a grown man who definitely seemed to know what he was about and accepted the proffered Jelly Baby from my new friends.
Together we carefully made our way back to the bealach. Here we parted ways, them to collect their belongings and then descend to the south to their waiting canoe, and myself to the north where I hoped I'd be able to find my tent again.
Mission Complete!
I was very thankful for my early start when I looked down and saw a long procession of people making their way up the track. There were couples; families; solo travellers like myself and even an extended family celebrating 'Margaret's 70th Birthday'. I couldn't believe it, my dad is almost 70 and a long trek up Suilven would not be how he would choose to spend the day, I was so struck by this I decided on the spot that if I'm still able then I'm going to make a return trip for my 70th birthday, what a fantastic idea!
I eventually made it back to the bottom after stopping to pass the time of day with many passers-by; most of them wanting to know realistically how hard it was to make it to the main top Caisteal Liath but all of them quick to say they were not up for venturing up Meall Meadhonach. I assured them there was nothing scary as long as you don't mind heights and then I carried on my merry way.
I was relieved shortly after re-joining the main path (which is an excellent path, I would definitely recommend it over my bog hopping adventure) when the trail running yeti man came bounding up behind me, recovered a bike from a ditch and after a brief discussion of how excellent the paths are for running and cycling, he vanished off into the distance.
I was pleased to find my tent again quickly, repacked all my things and started the long trudge back to the car. As you pass the Assynt Foundation offices at the back of Glencanisp Lodge there's a fantastically well stocked 'honesty shop' I couldn't resist stopping for a can of juice, hey it's all a good cause. I'll happily help them fund their path repairs for a can of Coke!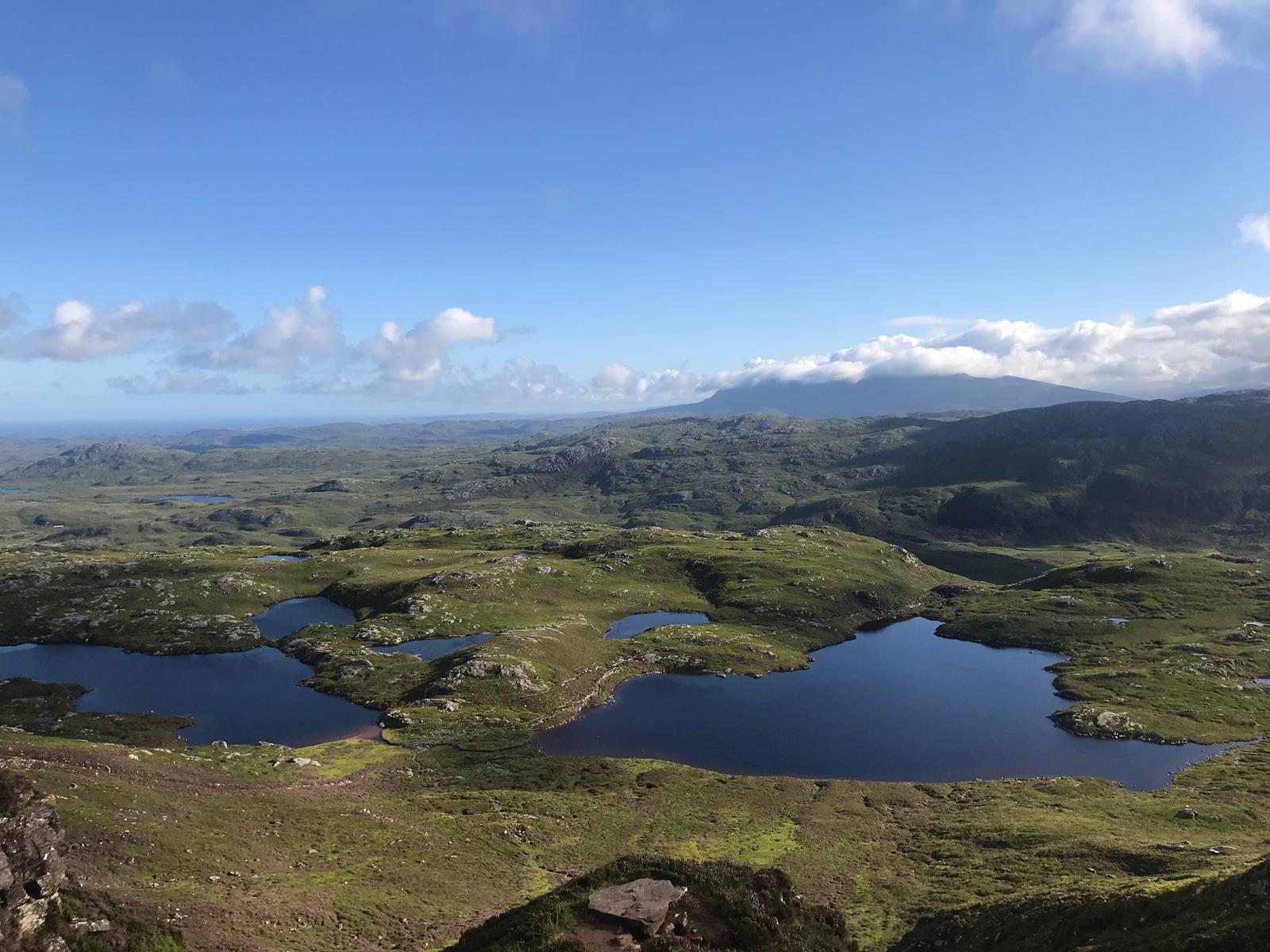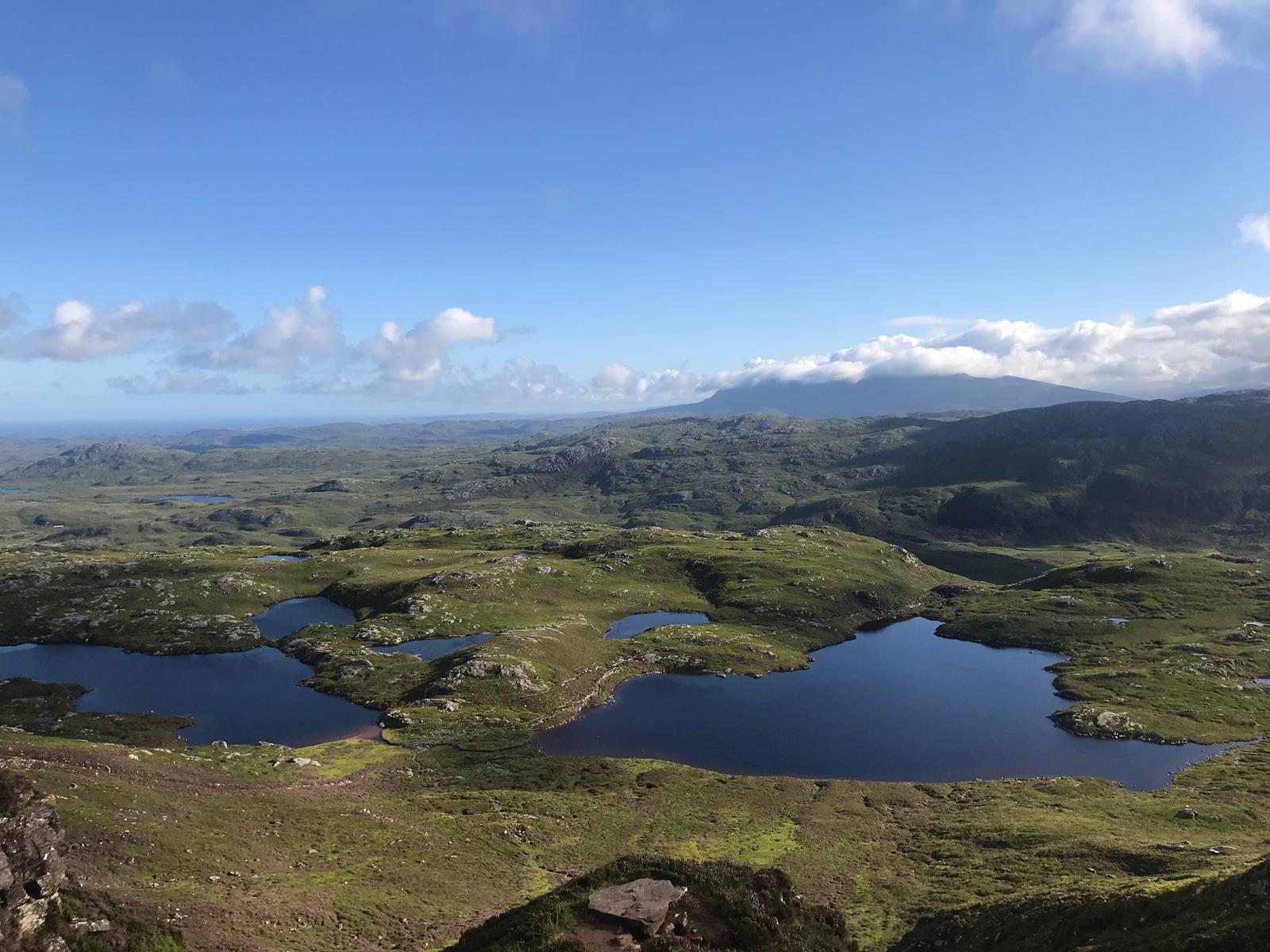 Out of the way as it is, climbing Suilven is certainly not an everyday occurrence but its popularity and stunning views attract people from all walks of life to trudge the well-worn path and ascend the gently zig-zagging path up its sheer sides. The ongoing works by The Assynt Foundation are helping to make an enjoyable experience for all while helping to protect the wild and sensitive habitats.
Whether you're a running, cycling yeti man, you're canoe touring your way round the North West, you love camping trips with epic views or you want to celebrate your 70th birthday in style, it really is a great, almost magical, day out for all. Just make sure you remember your Jelly Babies!