Phil Deeker, lead cyclist with renowned charity event Tour de Force and all-round expert on sportives and endurance road riding, offers his five top training tips when preparing for your cycle challenge.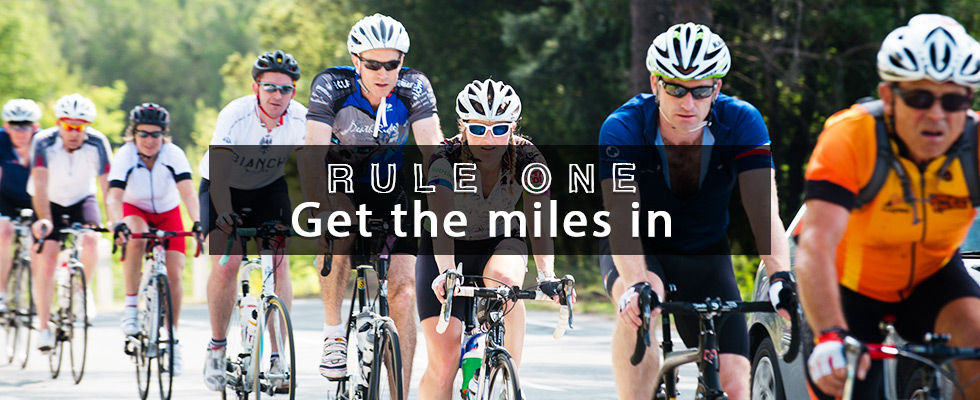 A big sportif or any cycling challenge is all about endurance… so the very first thing to do is to just get out there! To ride a very long ride or even a multi-stage ride (on the Tour de Force, you can expect to be riding 180-200km several days in a row) you will need to have ridden the distance ideally several times during your training. Even just once will help your confidence. To achieve this, you need to have made a good training plan. Two bits of advice are:
1. Decide how many miles you're going to do each week, to progressively build up to your top distance, and incorporate it into your training plan.
2. Work out how you can fit long rides into your daily schedule. We all lead busy lives so fitting in long distance rides can be difficult. Early mornings or late evenings in the longer spring and summer months are good opportunities that don't eat into weekends. However you do it, you need to get these big rides into your training plan.
Once you start to put in the miles you'll soon figure out when you get tired, either from the sheer distance you're riding or the hard efforts on climbs. Indeed, you must find your limits so you can start to manage your fuel tank. Your aim is to be able to step up your power output for the last 20kms of your ride, rather than fade out. So push yourself to your limits and work back from there.
It is vital to acquire 'la souplesse' - the smooth, efficient and fast pedal stroke that will shape up your cardio-vascular system and save your knees on the climbs. Check out footage of Froome on the Ventoux to see a rider master 'la souplesse'. Use a bike computer to measure your 'cadence' (number of pedal strokes per minute) and really discipline yourself to work on improving this in your riding. You can find masses of articles online around this subject.
It is when the road goes up that things get tough - especially when, as in the Alps or Pyrenees, this state of things might last for an hour or two! Fear not - you don't need a 15km climb in order to train for an alpine one. Neither do you need to replace a 10km climb at 5% with a 2km one at 10%. Most alpine climbs are a long, steady slog that will test technique more than strength.
Alternate standing and sitting as much as possible and aim for a steady pace and effort management. Once, and only once, you begin to feel less tired at the top of climbs, you can start to work your legs harder and push higher gears. This is to avoid "knee-monia" which is the most common cause of severe pain and sometimes abandon on a multi-stage ride, or even a tough one day sportive.
This is probably the most important tip of all - yes really! Here are two things to consider:
1. You won't 'find' maximum motivation - it has to come to you. You have to want to put in the hours and effort.
2. Enjoyment levels are the best monitor for over-training, which can happen quite easily. When you're tired, nothing seems such fun.
Work out ways to vary your training as much as possible to avoid boredom. Change the type of rides you do and their location if possible. Mentally project as much as you can - see yourself on the mythic climbs and roads you were so excited about riding. Never forget that you chose to do this and the moment of pure happiness will come out there on the roads. First though, you need to work long hours for that priceless reward!
Whatever challenge you're preparing for in 2016, just remember that all you need for your training is 'miles of smiles'…

Since taking up cycling some 15 years ago, Phil Deeker has developed a strong passion for sportives and endurance road riding and become one of the most respected experts in European cycling tourism. In 2007 Phil rode 300 cols (the lowest point on a mountain ridge between two peaks) across France in 28 days, raising £10,000 for charity in the process.
Following his personal achievements, Phil now spends his time taking groups to ride the Cent Cols Challenge (riding 100 cols in ten days) and is lead cyclist for the Tour de Force - a charity cycling event where riders take on the Tour de France route, one week ahead of the pros. Participants, who raise money for the William Wates Memorial Trust, join the route for anything from 2 to 21 stages and Phil will be leading his 6th full Tour this summer between 25th June and 17th July (packages still available at www.tourdeforce.org.uk).
Share your next oudoor adventure with us for a chance to be featured! Just use the hashtag #mytiso on Facebook, Instagram and Twitter and we'll repost our favourites.