#StaffSaturday

Bridgitte Gibson

Tiso, Alpine and Blues staff are experts in their own fields. This comes from experience and a love of what they do, whether that be hill walking, surfing, rock climbing, or throwing themselves downhill on a bike. Each Saturday we will be highlighting a different member of staff and talking to them about their outdoor journey. This week we are chatting to Bridgitte Gibson, a watersports and cycling fan who's not afraid to step out of her comfort zone.
Which store do you work in and for how long? What were you doing before?
I work in Alpine Bikes Inverness and have been for the last 9 years as senior sales/bike mechanic.
What were you doing before joining Alpine Bikes?
I left school to join the Army, When I left the Army I worked a few temp jobs until I got a job with Alpine bikes. During my first two years with Alpine I worked part time to do my HNC in Forestry management, However not a lot was happening in that side on things so I decided to go full time with Alpine Bikes and have enjoyed it since.
Going from the Army to Forestry management/bike shop work is quite the jump. Have you been into bikes and the outdoors all your life to have that natural progression in your working life?
I have always been into extreme type sports since I was little, which all involve the outdoors. I was always out on my bike in the local woods outside Inverness when I was younger making little trails and jumps. I used to skateboard as well for many years travelling to different skate parks around Scotland. I even took part in a few skate competitions, this led to where I am now. Still loving the outdoor life!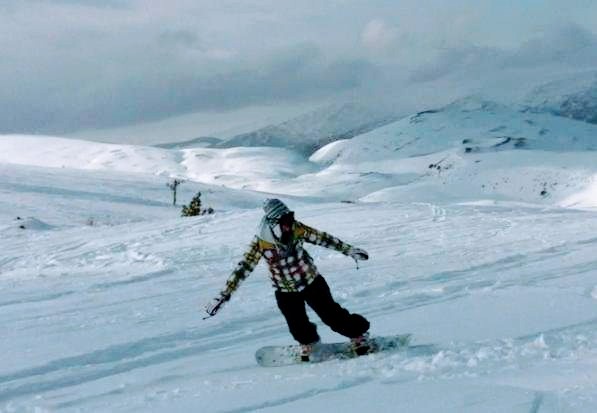 What bikes do you have in your shed just now?
I currently have my Whyte 901 (Which I absolutely love), a Specialized P3 jump bike and a Downhill bike.
How do you spend your time outside of work?
4. I am definitely an outdoorsy person, you will either find me in a river boating, hill walking with the dogs and snowboarding in the winter. I really enjoy mountain biking whether it be natural trails or trail centres, I also love uplifts with the downhill bike and sessions at the pump track. Asides from mountain biking my other passion is surfing! (I am a Pisces after all I was born to be in the water haha). I also love travelling and experiencing things which are out my comfort zone, I think abseiling down table top mountain in South Africa certainly put me to the test with my fear of heights!
What are some of the big hitters on your adventure bucket list?
I would like to go on some bothy trips on my bike with some work colleagues. A dream of mine would also be to travel to BC Canada to ride some of the amazing network of trails there!
What's your area of expertise? What should people in store ask you about?
Skills and knowledge I have picked up over the years, I like to think I have a broad understanding of all our products and customer's needs. I also enjoy the mechanics side of the job, having gained my Cytech qualifications means I can happily work on most bikes that come through the door and give mechanic advise to whomever needs it. I especially enjoy wheel building.
Is there an activity you're really keen to try?
I have been wanting to pursue my new favourite hobby which is kite surfing! Which I intend to get out and do this a lot more this year.
You mention quite a few watersports – is Inverness great for those activities/opportunities?
In and around Inverness is great for all types of water sports such as paddle boarding, Kayaking/Canoeing and kitesurfing. I wouldn't say it's great for surfing, I myself travel a tad further afield to a beach called Sandend which is along the Moray coast, I would say it's my favourite place to go it's quite beautiful especially when the weather is good. We are quite spoilt up here in Inverness, there is so much to do and see you just need to get out there and find it.