#StaffSaturday

Helen Langridge

Tiso, Alpine and Blues staff are experts in their own fields. This comes from experience and a love of what they do, whether that be hill walking, running trails, rock climbing, or spending time on the water. Each Saturday we will be highlighting a different member of staff and talking to them about their outdoor journey. This week we are chatting to Helen Langridge, an aspiring ultra-endurance cyclist who has cycled round the world but loves exploring her local roads here in Scotland.
What is your role within the business and for how long have you worked for Tiso?
I'm based at head office in Leith, Edinburgh and I'm the digital merchandiser for Alpine Bikes and Blues Ski. That means I upload bike and ski products to the website and create content for those fascias of Tiso. I'm still pretty new – I started in August 2020.
How do you spend your time outside of work?
Most of my time out of work is spent training for future ultra-cycling events, walking my dog or being very lazy on the sofa reading a book or watching Netflix. It's a mix of being very active and very lazy and it works for me. Once I'm not training so hard, I'll try my hand at other sports – I'm really keen to actually learn how to ski, I want to tick off more munros and travel once we're allowed to again.
We heard you have cycled round the world! What was the most challenging moment?
I have, I spent 17 months bike touring through 30 odd countries and I got home late 2018. My husband (Mike) and I were riding fully loaded Surly Long Haul Truckers and there were times they got so heavy with food and water that it was a struggle to lift the bikes off the ground. There were so many challenging moments from testing my ability to ride over mountain ranges, to the craziness of busy cities, to Mike getting hypothermia in the Rockies. But the most stand out memory was riding across the Nullarbor in Australia, in summer, against the wind.
The bikes were at their heaviest when we were leaving Norseman to head east across the Nullarbor. We had enough food for 2 weeks and enough water to last us 1.5 days until we could restock at the roadhouses which pepper the highway. There can be distances of up to 120 miles between roadhouses, but otherwise absolutely nothing and with screaming headwinds of up to 40mph, it was very slow going. We left Norseman in mid-January 2018 and it took 13 days to get to Ceduna, 1200km away, and then another 5 days to get to Port Augusta which is when towns get closer together again, a further 450km away. In fact it took us 4 days longer than we had hoped. The temperatures reached 48 degrees and Mike's bike tyres started to disintegrate from the heat of the tarmac so he had to put inner tube patches on the outside of the tyre. To be fair, they were very cheap bike tyres that had lasted riding from Vietnam, but they were no match for the Aussie heat. Strangely, I was still on the same set of Schwalbe Marathon Plus's I had left Glasgow with nearly a year earlier.
That entire stretch of road, from Norseman to Port Augusta, was a total mental game of carrying on pedalling. There's nothing technically difficult about it, it's a fairly flat road with some long but shallow drags, but with the heat and the headwind and the emptiness and the stench of dead kangeroo there's little to distract you. When we reached the Western Australia/South Australia border and we stopped at the Border Village roadhouse to escape the 42 degree heat, we clocked that there was due to be a few hours of a tailwind at 2am that night. With 184km left until the Nullarbor Roadhouse (the next refuelling point), we went a little further east to set up camp early and got up in time for the tailwind. We rode throughout the night, through the sunrise and throughout the rest of the next day and reached the Nullarbor Roadhouse at dinner time. The tailwind only lasted a couple of hours and after that it was a screaming headwind again, but we pushed through. Those few weeks across the Australian Outback were some of the hardest on the whole tour, but also created some of the best memories. During that overnight ride, we were the only people for miles with the occasional rabbit and passing road-train for company. We saw, what felt like, the entire Universe of stars above us from horizon to horizon, and a thunderstorm flashing red with the dust of the red centre far to the north of us. We sat and had breakfast on the road near the Great Australian Bight cliffs viewing point where Antarctica broke off from Australian a monumental amount of time ago. The entire experience put a lot into perspective for me, but I'm also immensely proud of the mental game I played and won to get across Australia as a whole. Next time I'll cycle across it in winter…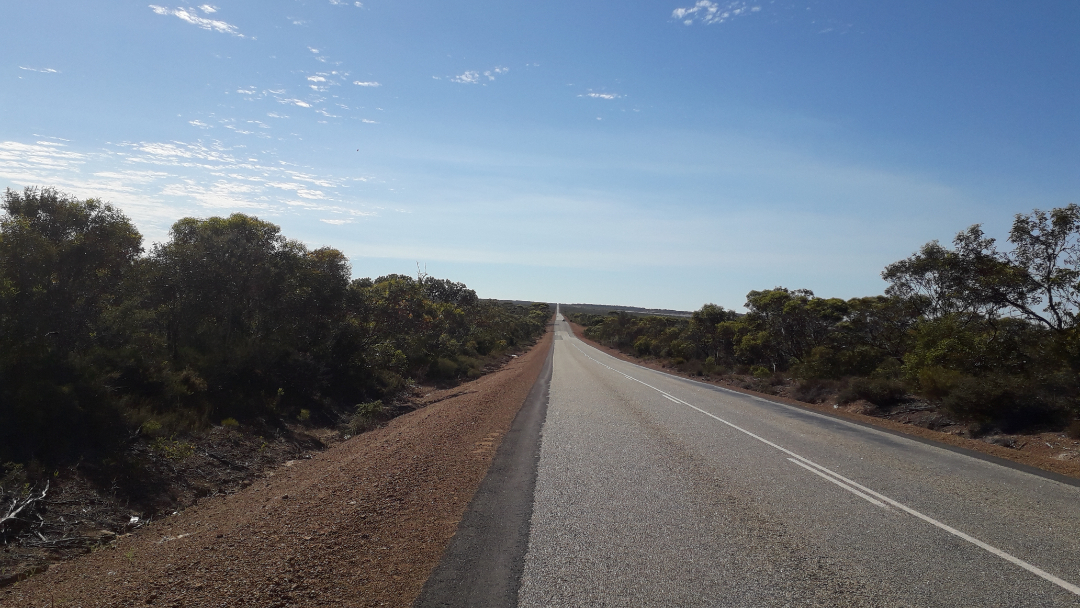 What is your favourite bit of kit and why?
It's got to be my bike which I suppose is a mixture of kit! I have a custom Enigma Etape with a dynamo hub which is perfect for bikepacking trips and long distance riding. The team at Enigma were sponsoring me for my around the world cycling record attempt, which sadly never went ahead because of COVID last year. I couldn't let the bike go because it's a dream machine so it's now mine for future events.
Where is your favourite place in Scotland to ride?
I've explored a lot of local roads around East Lothian since lockdown has kept us all local, but I also do really love riding around Perthshire. There are some incredible climbs and traffic can be quiet if you pick the right roads, and there are some brilliant gravel options. I'd love to move up to Perthshire but then I remember how peaceful East Lothian can be and that keeps me happy.