#StaffSaturday

Rachael Graham

Tiso, Alpine and Blues staff are experts in their own fields. This comes from experience and a love of what they do, whether that be hill walking, running trails, rock climbing, or spending time on the water. Each Saturday we will be highlighting a different member of staff and talking to them about their outdoor journey. This week we are chatting to Rachael Graham, a dance instructor with the School of SOS (a female founded and run dance company representing a new movement in dance), who also finds time to walk, climb, and cycle at home in Edinburgh and with family in Aviemore.
What is your role within the business and for how long have you worked for Tiso?
I am Field Visual Merchandiser for the Tiso group working across all facias- Tiso, Blues Ski, Alpine Bikes and George Fisher and have been with the company for 3 years. I travel to all our fantastic stores across the country to install window displays, in-store visual set-ups, graphics, dress mannequins, implement store layouts and seasonal updates...you'll usually find me up a ladder with a drill in hand or an armful of stock! It's such a varied and creative role, every day is different.
How do you spend your time outside of work?
In my spare time I am a dance instructor with the School of SOS, a female founded and run dance company representing a new movement in dance. With my School of SOS Edinburgh side hustle, I teach empowering commercial adult dance classes- emulating the music video moves of Beyonce, JLo, Rihanna, Lizzo and Little Mix to name a few! Our mission is to empower a generation of women to believe in themselves using dance as a source of strength, power and confidence to carry through all aspects of life. I've been lucky enough to continue teaching my Scottish students community throughout lockdown with weekly live online classes and cannot wait to get back on the studio dancefloor soon!
Since joining Tiso, I have been inspired to take up bouldering and cycling. One of the best things about spending time in our stores is being able to chat to the experienced staff for both personal and professional advice on product and kit. Everyone is always so welcoming, more than happy to share their knowledge and offer me tips. The guys from the Aviemore team have even taken me indoor climbing (shout out to Grant & Bruce)! I really enjoy indoor bouldering and the mind and body benefits that come with it. My dance experience actually helps with understanding and learning technique; using flowing movements, and precise footwork. It's exhilarating.
I love to walk too; from family favourite routes in Aviemore to exploring my local area in Leith, Edinburgh whilst enjoying a takeaway coffee! I have particularly enjoyed my daily lockdown walks to escape the indoors, clear my mind, and stay active- absolutely my health and wellbeing saviour.
What is your favourite bit of kit and why?
It has to be my mountain bike, a Trek Roscoe 6. One of my early Tiso purchases and a considered one- it took me a long time to finally land on which bike I would go for...I must have spoken to ALL the Alpine staff to get their advice on what would best suit my needs. I wanted a bike to take on cycle routes in Aviemore- an all rounder, nothing too hardcore as I was a bit rusty but one that could handle different terrains if I wanted to level up my riding. It has totally changed my cycling experience.
The Roscoe feels great to ride, is super comfortable, grips the road with its wide tires even when it can get dicey, easy to get to grips with (hello drivetrain gears & a dropper seat post!) and can take on lots of different cycle paths. I ride my bike whenever I am visiting the Highlands, I love to nip out in the evening for a cheeky circuit after work.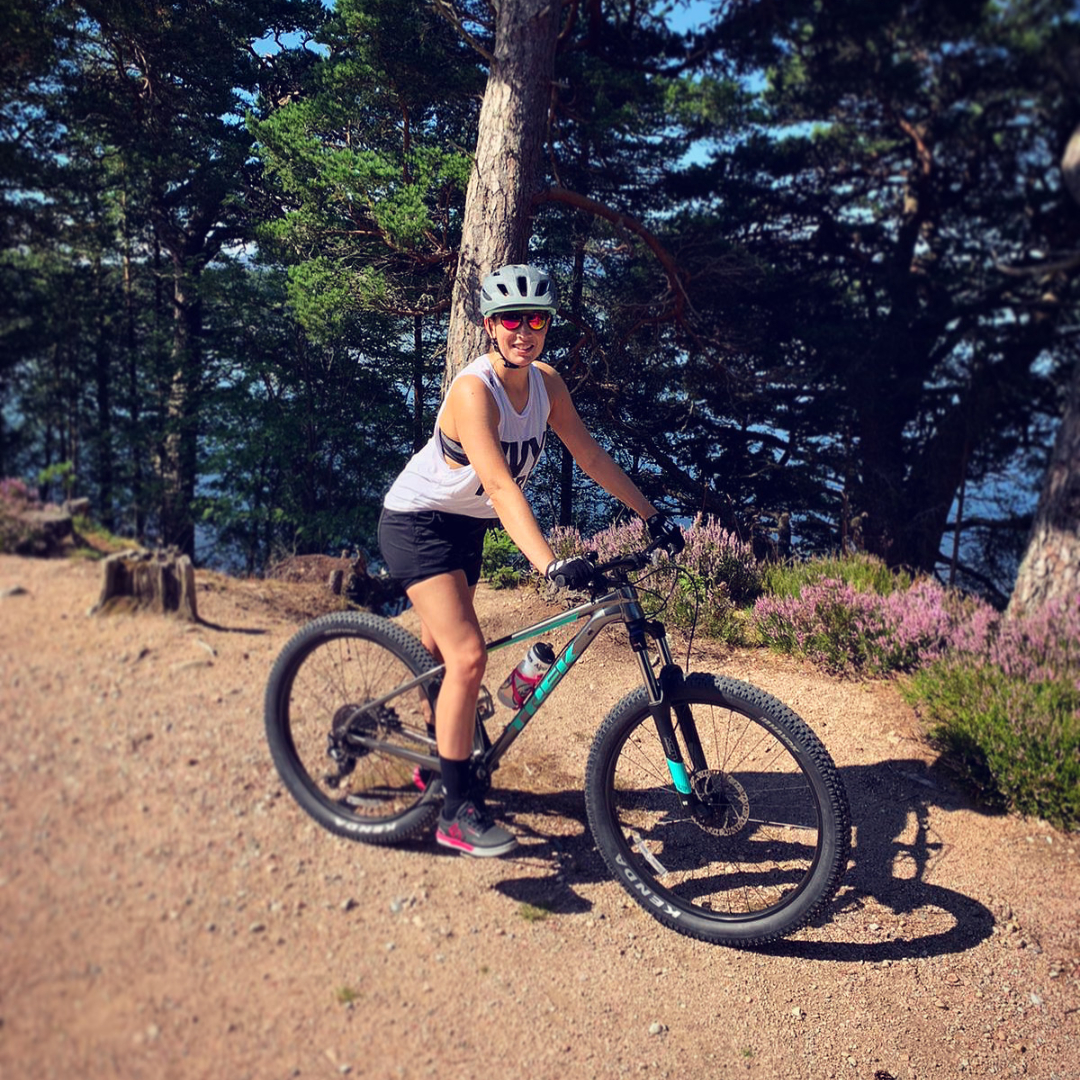 Where is your favourite place in Scotland to hike or bike?
My parents have always been outdoors lovers - growing up in Fife, we would spend holidays at our log cabin in Aviemore, walking and cycling in and around the area so I would have to say the Cairngorms. I lived in London for 9 years after moving down for University and everytime I came back to visit, this is where I truly learnt to appreciate the beauty and inspiration of Scotland. With its stunning views, ever changing landscapes and incredible seasonal colours. Home is most definitely where the heart!
Are there any outdoor activities you are really keen to try?
Without a doubt, I am super keen to try paddleboarding! The dream of spending time relaxing whilst paddleboarding on a beautiful sunny day, gliding on calm water is idyllic. I've also seen people out on the water with their dogs (wearing the cutest pup life jackets)...so I need to borrow my brother's sassy French Bulldog Peanut for the full fantasy haha! Plus the Inverness team have promised to take me out so I'm looking forward to taking them up on the kind offer at some point soon, it would be great to gain some experience with a watersports expert!