Alpine Bikes' staff member and student Rachel starts off her season with Team 22. Jam-packed with time trials, hill climbs and first wins... Find out how she's getting on!
The start of the season has been hectic already… Where to start?! My first race was Holme Valley down in Yorkshire. Before the race started, I had several thoughts of pulling out. I didn't feel ready to start racing, but does anyone? Luckily, my mum came with me for some much-needed company and moral support. It was the first time I would meet some of the team too, so I was pretty nervous about that.
On arrival, I discovered my own little piece of heaven. There were bikes EVERYWHERE. The first day was a TT prologue and then a road race. I'd never done a TT before, but I decided that it would be best to do it on my road bike without TT bars, and also no TT helmet. However, I was now armed with a skin suit thanks to one of our team sponsors. I'd always wanted a skin suit for some reason!
Some of the TT bikes and helmets were amazing. Lots of people looked the part. However, I'm highly sceptical about a TT helmet. I'm not sure my wee head and giraffe neck could take the weight – one gust of strong headwind and I'd have severe whiplash! For Mum, it was a huge learning curve too. Due to the fact I haven't been involved in cycling long, the technical jargon was just beyond her (and me, to some extent). It took my mum about an hour to get her head around the fact that the start and finish weren't in the same place… Bless her!
Holme Valley Time Trial
Off to the TT start I went. Having never done a time trial before, I wasn't really sure how to pace it. Full gas? 50% for the first half, then up the pace to full gas? Who knows. I'd also never done a TT start, so I spent the first give minutes whilst I was waiting wondering if this was going to be the end right here… Was I just going to faceplant? I guess that was one way to remove the pacing worries – there's not much you can do while you're lying with your face mashed into the ground. I had to tell myself to stop and think positively.
Then I was told to go and I was out the saddle pushing hard. All I could think was, 'do I push now? No, wait… Actually, push harder! Ah I don't know…' So I went for the threshold effort until halfway then started upping and upping the pace. I couldn't breathe. Job done. Crossing the line, I wasn't really sure how I had performed. I was just looking for someone to resuscitate me a little and then I'd be good to go again.
It turned out I'd placed seventh which I was more than pleased about – I could have done a lot worse! Now I relaxed a little; I was looking forward to the road race in the afternoon.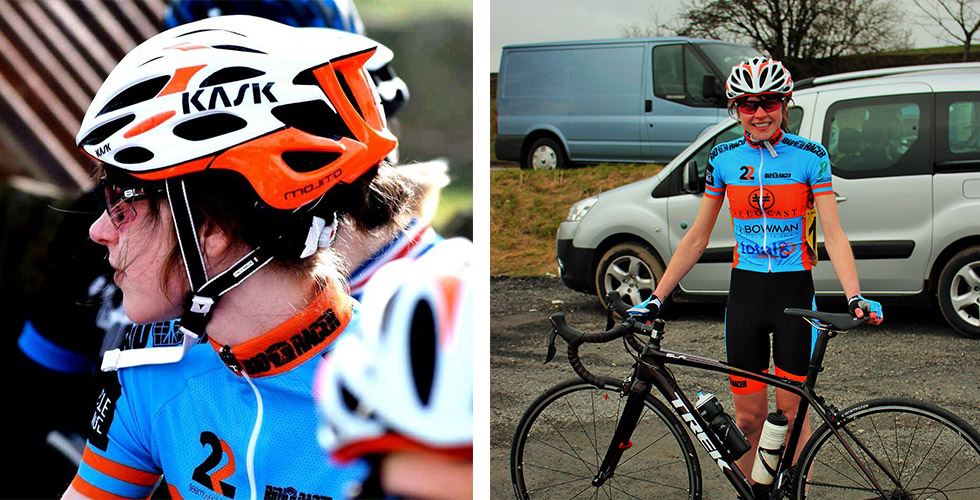 Holme Valley Road Race
And it was amazing. I loved the fact that it was fast-paced from the beginning, with lots of attacks. I was surprising myself, descending the best I'd descended after my crash. I tried to learn from other people too – like my teammate Claire – to help improve my own skills in turn.
In the end, I was in the break for the final uphill sprint. Last year, I was no sprinter, not even uphill. I just didn't have any power. But over the winter, I worked tirelessly to improve this, spending hours suffering on the turbo trainer, and it paid off. I came third in the uphill sprint which I was completely shocked with. The second day brought more hours of fast-paced racing, tactical moves and great teamwork. In the end I was sixth that day and third for the overall GC. It was one of those moments when I just felt so lucky to be in the here-and-now… and that maybe I wasn't so daft pursuing this cycling business after all.
Tour of Northumberland
Soon after came the Tour of Northumberland, another two-day event. Unfortunately we got put with the men's third and fourth cat race, and that's something I'm not very confident with. In the neutralised section I found myself drifting to the back of the pack, and then before I knew it… Well, I'm off it. It's just a confidence thing and something I have to work on. Perhaps doing a few men's races and some more race practice will help. Regardless, I came fifth the first day and sixth the second day which isn't bad. I just can't wait to get some more experience.
Carpernwray
The next race was Carpernwray which was hilly… My favourite. It was high-paced from the start, so you had to be constantly on the ball and covering the next moves. On the second lap – after having been in a break but getting caught – I decided to attack on the long hill, expecting other riders to follow me and hence split the group. So I went for it… But no-one came with me. My first thought was 'crap' and my second was 'I've committed now'.
But it did eventually split the group, before I was caught after a long descent by the seven or eight riders behind me. Claire was with me in the break, and it was nice to have someone from my team to talk with and plan the next move.
The finish was up a long climb, and we decided that I should just go full gas from the bottom. So I did. And it turned out to be a good move – first win ever! I crossed the line and I didn't really know how to celebrate. I get quite easily embarrassed and went for the hand in the air… And although it turned out to be a semi-thumbs up salute, in my head a wee voice was saying 'yay!'
A note to the team
One of the things that I'm really loving about this season so far is the team. Everyone is so lovely; it makes you appreciate having others around you for support. Instead of working for yourself all the time, you have people around you with different strengths and weaknesses. Like the components of a car, we all have our roles.
I can't believe the season is only beginning. Sometimes, I'm so excited by it all that I have to pinch myself. Our next stop is Tour of the Reservoir. The first day might be a struggle for me. It's very flat, so I think I'll have to work very hard to stay in the bunch. With 110 women on the start line, it won't be an easy task, but I'll do my best and see what happens.
Regardless of the result though, you can always take something from any event. Whether that's something to work on, or a little triumph knowing that your training is paying off… Until next time!
Follow Rachel's training over on Instagram... and share your photos with us using the hashtag #mytiso! We'll feature our favourites.