Q&A

Start Running in Middle Age | Running Over 40

Running has become more popular than ever thanks to the pandemic, where it saw a big surge in participation with all the gyms closed. Many of us have also become more health-conscious and now, with the rising cost of living, running makes more sense than ever given the low cost to get started. We wanted to talk to a new runner and hear their experiences of being a beginner in their mid-forties so we asked Stuart McMillan, our Head of Multichannel, some of the most pressing questions we had about his first few months of pounding the pavement.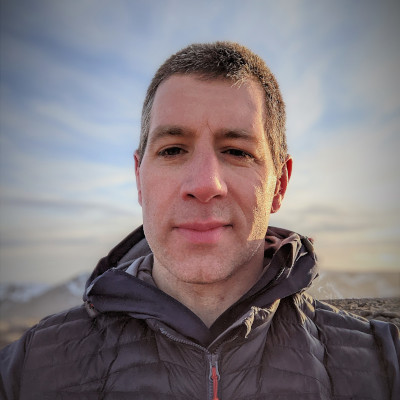 by Stuart McMillan
Stuart is the former Head of Multichannel at Tiso. Head over to Strava to give him some kudos!
Hi Stuart, can you tell us a bit about yourself?
Hi, sure. I'm 46, father of 2 kids under 10. I love the outdoors, particularly hill walking, mountaineering, and cycling. However, like many people, my job is largely sat behind a desk. Also, with two young kids and an endless list of DIY tasks, I've been a bit short of time to do as much in the outdoors as I'd like. I'd resigned myself to the slow march of middle age, becoming a bit less fit and a gradual increase in the waistline. Time for myself just wasn't a priority. I wasn't completely unfit, but nowhere near as fit as I had been 15 years ago.
So, why did you decide to start running after 40?
I'd been cycling the 16 miles to work on my e-bike intermittently, but for various reasons I hadn't done it for the first three months of the year. I can tell you the exact date I decided to start running; it was the 25th of March 2022. At Tiso, we have a policy that you take your birthday day off so I was off work. Kids were at school and the weather was nice so I headed out on my mountain bike at 6am. The light was beautiful and it was great for the soul. That morning I decided I could get fit again, that it was something that was important to me. I also wanted to lose a bit of weight; I'm 169cm and weighed 86.2kg on the 31st of March.
The bad news was that my commuter bike was broken, so I wasn't going to be immediately using my cycle to work to improve fitness. So, running it was. I'd tried running a few times previously, but it had always felt like punishment. Still, I felt sufficiently motivated to take the pain!
One thing I'd say is that I knew what it felt like to "be fit", even if not as a runner. I think I had that to my advantage, psychologically. I knew I had done it before and hoped to be able to do it again, but I accepted the fact I was middle-aged, which might be a barrier.
How did you start running and do you have any tips?
We're lucky to live right by the Forth, with some flat stretches of road in our village. On the 2nd of April, I went out just to see how far I could run without having to walk. I didn't care about pace, just being out there was enough. On that first run, I managed 3.5km in 20 minutes and 9 seconds. Pretty slow for such a short distance and I was a bit sore for a couple of days after.
From there, my plan was to run twice a week and build up to 5km. I also wanted to track my progress so I bought a decent fitness tracking watch.
How's it going so far?
Really good actually! I did my second run four days after my first. It was the same distance but I did it in 19:46.
I've done 19 runs so far, 10 of them were 5km, and I've now started to stretch the distance out to 12km. My pace has gone from 5:40/km down to 4:23/km. I've also managed to lose some weight, which was one of my goals. At the end of March when I began, I was 86.2kg and now three months later, I'm 79kg. My resting heart rate has also improved, last week it was 45bpm.
However, the most surprising thing of all is that I've actually started to enjoy running! I thought it was something I was just going to have to endure, but now I look forward to my next run. I'm much happier now that I am fitter, I feel much more ownership of my own body. That feeling is reward enough by itself, but I've been enjoying travelling through the countryside at a comfortable pace and rhythm. I usually run in the morning, when the world feels quiet.
I also got my bike fixed in mid-April, and so have been cycling to work a couple of times a week. It's an e-bike, which is really handy for active recovery as I can take the pressure off the muscles. "Active recovery" is when you still have gentle exercise on your rest days, which promotes blood flow and is better than being completely sedentary.
How do you stay motivated to run?
That's actually been easier than I thought. Seeing progress is a good motivator. If you're hoping to lose some weight by running, the good news is that as you lose weight your running improves, and as your running improves you lose more weight.
I think starting it in the spring was a good idea, as I'm yet to run in bad weather. Hopefully by the time winter comes round I'll be so in the habit that it'll not be an issue.
One of my big tools for motivation has been my new watch and the data it gathers which integrates into Strava. I bought the Garmin Instinct Solar as I wanted to accurately track my distance and heart rate. It's great for that and so much more. I've started following a few people on Strava and they're a supportive bunch.
Also, I have been watching YouTube running videos to fuel my enthusiasm but also to learn more. I can recommend Mark Lewis as someone who has got fit in mid-life, he's funny, engaging and informative.
Have you managed to start running without getting injured?
Yes and no. Apart from sore muscles after the first couple of runs, I've not had any muscle pain. However, in the past 3 weeks my knees have started getting a bit sore. Not sore enough to stop me running, but enough to make me concerned that they might get worse. My first assumption was that it was inflammation caused by the impact of running, but then I started reading about "runner's knee" and "IT band tightness" and that instead the pain was caused by poor joint mobility. This second explanation made a lot of sense to me as I know that a lot of cycling can cause muscle imbalances. Determined to get to the bottom of it, I attended a Pilates class and the instructor confirmed that I had poor hip mobility and this can often lead to knee pain. Since then, I have upped my stretching, and have started using a massage gun and foam roller. I've also visited a sports physio who has confirmed the diagnosis, so hopefully with a bit of work I can alleviate the issue.
I've found a massage gun to be an important part of my recovery routine. While I do get tired legs, I no longer feel like I get sore legs in the days after a run. I use the Pulseroll mini-massage gun.
So, if someone over 40 wants to start running with bad knees, they might be ok?
From my own experience, yes! I had assumed that sore knees would be because of damage to the joint or connective tissue and that it might be a forever issue. But learning that it was actually caused by tight, imbalanced muscles is a real relief, it feels like it's something I can fix. But if you have any concerns, it's essential you speak to a physio first.
Has nutrition been important to you?
Sure, both in terms of getting better at running as well as losing weight. I use the app MyFitnessPal for calories-in tracking, connected to the Garmin Connect app to track calories out. My plan was to lose about 10kg (of fat) and to lose 1kg of fat you need to burn an excess of ~7,700 calories. To do this healthily, I set a target per-day calorie deficit on the app to take me down gradually. I've found MyFitnessPal to be invaluable as I try and be as accurate as possible and it's a good way of holding yourself to account. I'm not sure I'll use it forever, I'm hoping that by using it for a few months I'll have changed my eating habits for the long term, replaced bad habits with better ones.
For the past few months, I have been intermittent fasting on a 16/8 hour split. I wasn't sure how compatible that is with an hour of cardio, but my sessions tend to be at the start of the day when I've recharged overnight. So far, no problems with intermittent fasting and exercise. I chose to do intermittent fasting for two reasons; (1) it was a route to calorie control and (2) I wanted to improve my mental energy levels at work as I used to have a real brain fog about an hour after consuming (what was admittedly a carb-heavy) breakfast.
Mark Lewis (mentioned above) has a great video on controlling your calorie intake. One key concept that has stuck with me is, "when you are thinking about eating something, consider whether you need it or just want it. If you just want it, that's fine, but you need to accept the consequences of eating it". I'm finding it easier these days to ignore my food 'wants', which is great as I've had a lifetime of ignoring sensible eating habits.
I also needed to make sure my nutrient balance was right for muscle recovery. After every run or ride, I take a recovery drink which contains protein, carbs and other essential nutrients. It's great for muscle recovery but also stops me feeling so hungry afterwards.
Do you carry water when running?
No, I don't. When I first started, I used to feel really parched during the run, but I think this was just a breathing issue. That feeling went after about run six. Now I'm running for an hour and don't feel that I need to drink. I think if I start running a bit longer, I'll probably want to take something. But I don't fancy carrying a bottle in my hand, so I'll opt for some sort of running vest.
The important thing is to start your run hydrated. That doesn't mean downing a litre of water 5 minutes before you head off as it would be sloshing around inside you. It means drinking enough during the 12 - 24 hours in the lead up to your run.
What difference does it make being a bit older when you started running?
I think the biggest difference is that I'm considering recovery a lot more. When you're young you just think you can bounce back from anything, and sometimes you can. However, as you get older and you know what it feels like to have a few aches and pains that last more than a day or two, you are more concerned about how you are going to feel the next day!
This is a lesson for anyone who wants to get fitter, no matter what their age. The best way to get fit is to train consistently, and you can't do that if you are sore for the next 5 days after a run! When I was young, I used to think muscle soreness (DOMS) was a positive thing, it meant I had worked my muscles to fatigue, and they would recover stronger than previously. I don't think this applies to running.
This is where my Garmin watch has really given me an unexpected benefit, and it's one of the features I use most. Garmin have a metric called "Body Battery", which looks at your heart rate (specifically, heart rate variation, which is how variable the time is between heartbeats), this is a predictor of your physical energy levels and capacity to do more exercise. If your body is still recovering, then your body battery score will be low. I monitor this data and use it to help inform whether I need an extra rest day, and how active my "active recovery" should be.
My watch also does sleep tracking. Again, when you're being held to account with the data it sure motivates you to make improvements. My bedtime is earlier and I'm getting better quality sleep, which I can then see in my Body Battery score.
If you have just started running and have sore legs in the proceeding days, I'd recommend that you slow down your running. It's only recently that I've heard the phrase "run slow to run fast". Reduce your pace so you don't get sore, but up your mileage to build aerobic capacity. It will make you faster. I was able to smash through my previous 5k personal best because I had been running 8-10k runs at a slower pace.
Earlier, I also mentioned the massage gun. I really wasn't sure if they were just a gimmick, but since using it after my runs and nightly before bed, and I've had no muscle soreness in the past few weeks despite upping my exercise load.
What are your top tips for a new runner at any age?
Get the right shoes. We all have slightly different gaits so get shoes that suit you, where you want to run, with how much cushioning you want etc. My running is 50/50 split between road and , but I'm using road shoes as I want the extra cushioning given my current knee discomfort.


Get a decent fitness tracking watch. I've mentioned my Garmin above. Before I bought it, I was concerned that it was a lot of money, and I wasn't sure if I was going to get value from it. Well, that's not been the case. I actually feel it has been one of the best value purchases I have made recently, I wouldn't want to be without it. I have the Garmin Connect app installed on my phone, which connects to both Strava and MyFitnessPal.


Use the heart rate monitor in your watch or purchase a chest strap that links to your watch. Find a heart rate you can sustain. When I first started running, I'd go all-out, my heart rate would average at 155 BPM, with over 50% of the run above 157 BPM. This was going too hard! Recently, I've averaged at 150 BPM, with about 15% of my time above 157BPM. I know that's a lot of numbers, but I've gotten to know my heart rate. I know if I can keep it at about 150BPM I can run fairly far, but too much time approaching 160BPM then I'm going to exhaust myself pretty quickly. When I'm out, I think about heart rate a lot more than pace. Get to know your body!


Try and have a running network, even if it is a virtual one on Strava. Maybe Parkrun would suit you? I don't feel it's for me as I enjoy the solitude of running alone. But don't judge yourself against others, they're running their own race, you run yours.


Really focus on recovery!


Just get started. It's easy to say, but it's true. You'll start to feel the difference in 2 or 3 weeks. Within a couple of months you'll feel like 'a runner'.
What's next in your running plans?
I'd like to be able to run 12km twice a week and cycle to work 4 times a week. I'm going to stick to "running slow to run fast", but occasionally do fast 5k's with an aim of sub-20min. But my main objective is to enjoy it, and look after myself so I can enjoy it for years to come.
Any final thoughts?
Just one. Running doesn't need to take up a lot of time or money; you really do only need a pair of good shoes to start. But it's time spent on your physical and mental wellbeing which is invaluable. We're all worth investing that in ourselves, no matter how busy our lives are.