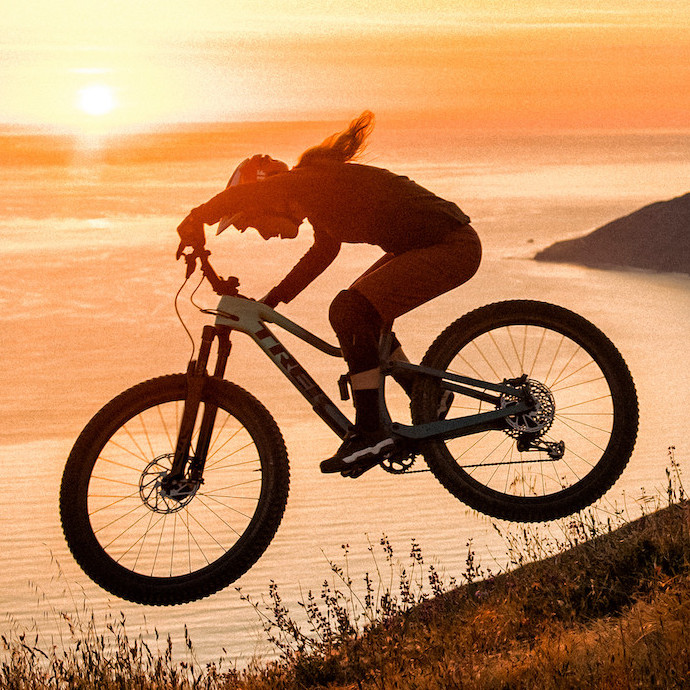 TOP 10 MTB FILM SEGMENTS
In this uncertain time, staying motivated is hard when the trails feel a long way away. To keep your spirits up, we've picked our top 10 MTB film segments and edits for your viewing pleasure. Awesome riding, incredible cinematography and spine-tingling songs - tune in & chill out.
HORSEPOWER | Brett Rheeder
In the late noughties, MTB films suddenly got a lot more pro. Better filming, better quality, lots of slo-mo, and generally exquisite finished articles. They don't come much more dialled than this edit from Brett Rheeder though. Some astounding trick combos and the gorgeous setting of British Columbia, make this a brilliant & distinctive shoot. Accompanied by the breakout song from Rival Sons, 'Open My Eyes', this is a feast for the senses.
SEASONS | Matt Hunter
Seasons was the follow up film to the wildly successful Roam, and followed some of the biggests names in mountain biking over the course of a year. From the established names of Steve Peat and Cam McCaul to a then unknown Stevie Smith, it's probably the best MTB film of the decade, or maybe ever. A particular highlight though has to be Matt Hunter's segment in Kamloops, Canada. The riding is fast but still full of flow, managing to be on the ragged edge but always in control, with a fast soundtrack carrying you along for the ride. Perfection.
ROAM | Darren Berrecloth
Speaking of Roam, this was the film that took MTB cinematography to a new level. New camera angles, great riding, exotic locations and it was one of the first outdoor films to get screenings around the UK. Berrecloth's segment really put the North Shore style of riding on the map and inspired riders everywhere to turn those pallets into jumps and to go into the woods and create. The online quality might not be great (watch on DVD or download for the real deal) but the riding is as good as ever - steep, nadgery lines leading to big drops, mixed with classic Bearclaw style.
HOPE | Adam Brayton
While most biking and adventure films are characterised by a soundtrack, there is something every mountain biker loves about a raw video. Just the sound of tyres on trail, dirt flying, and the iconic freewheeling sound. When Hope released their Pro4 hub, they made this video with the Keswick Kestrel, Adam Brayton, to highlight the distinctive Hope hub sound. There's no denying the speed of a pro downhiller always makes you sit up and take notice, but the sounds in this video take it to another level.
INDUSTRIAL REVOLUTIONS | Danny Macaskill
Trying to pick just one Danny Macaskill edit is a tough call. They all have something unique and mind blowing, but we loved the follow up to his break through Way Back Home video. Industrial Revolutions takes Danny through an abandoned ironworks with a vast array of broken buildings and machinery to play on. From slacklining on top of an old train to hopping from one long rusted girder to another, it's a real example of skill and commitment. A mellow soundtrack from Ben Howard completes this iconic video.
GAMBLE | Steve Peat
Gamble had it all. A literal all-star cast, an incredible film crew, exotic locations, banging tunes and a style all its own. For all the worldwide appeal, the highlight was king of MTB Steve Peat shredding a custom built line near his home in Sheffield. Classic DH style followed up with a train of riders hauling on their local trails. Peaty has been the heartbeat of UK mountain biking for, well, ever, and this segment shows why.
HUNT FOR ADVENTURE | Martha Gill
We're a sucker for some spectacular riding in Scotland, and it doesn't come any more spectacular than Torridon. For anyone who has ridden here, it can be forbidding place with small, rough trails with obstacles looking to give you a pinch flat around every corner. But it's beautiful too, and rider Martha Gill makes it look easy with her relaxed, smooth style. To take this video up a notch, the music is a gorgeous piano solo, building in time to the riding, specially written and played by Martha too. Talk about talented.
ROAD BIKE PARTY | Martyn Ashton
When Road Bike Party came along, it redefined what people could do on a bike. I mean, really, a carbon road bike has no place doing a back flip on a golf course! Somehow, Martyn pulled off a whole of host unique flips and tricks on his customised road bike, and set it to a great tune from Sound of Guns. A subsequent accident changed Martyn's riding life forever, but Road Bike Party still turns heads and drops jaws eight years after it's release, and it probably will in another eight.
RAW 100 V3 | Brandon Semenuk
Could there be a top ten of MTB videos without Brandon Semenuk? No. Just no. We could easily have had 10 videos of Brandon! Such fluid style and composure whilst pulling off the most insane tricks constantly leaves you speechless. Again, the raw sounds on this video take it up a gear with the sound of tyres on packed dirt echoing out of your speakers. For 95% of us, it isn't the riding we enjoy normally, and we'll never ride on such pristine dirt, but it's 100 seconds of riding from another world.
FOLLOW ME | Gee Atherton & Stevie Smith
Got to end on a high note, and this one hits all the heights. The location takes in some of the best riding in New Zealand among the Remarkables around Queenstown, with two of the fastest downhillers in the world taking turns to shred every track faster and faster. Filmed in 2010, Stevie Smith was just coming into his prime while Gee Atherton was one of the front runners at any race he entered. It's a segment all the more poignant as Smith passed away in 2013, but showcases his lust for life and no-holds-barred riding style. Get the volume up, hit full screen, and enjoy.
Change Up A Gear
Alpine Bikes are proud to work alongside Trek Bicycles & Bontrager to bring you the biggest range of bikes, apparel and equipment in Scotland. Whether you want to test yourself on the road, feel the thrill of speed through the forest, or pack your bags for a big tour, we've got you covered. Pop into your local Alpine Bikes store to see the full range.
See More Trek