The first snow had fallen in the highlands and at Tiso we are getting excited for the winter climbing season to begin! It is time to dust off your mountaineering boots and sharpen your crampons and axes, winter is coming! We have outlined Scotland's top five winter climbing destinations and our top pick routes for you to tick off your wish list this season.
1. Ben Nevis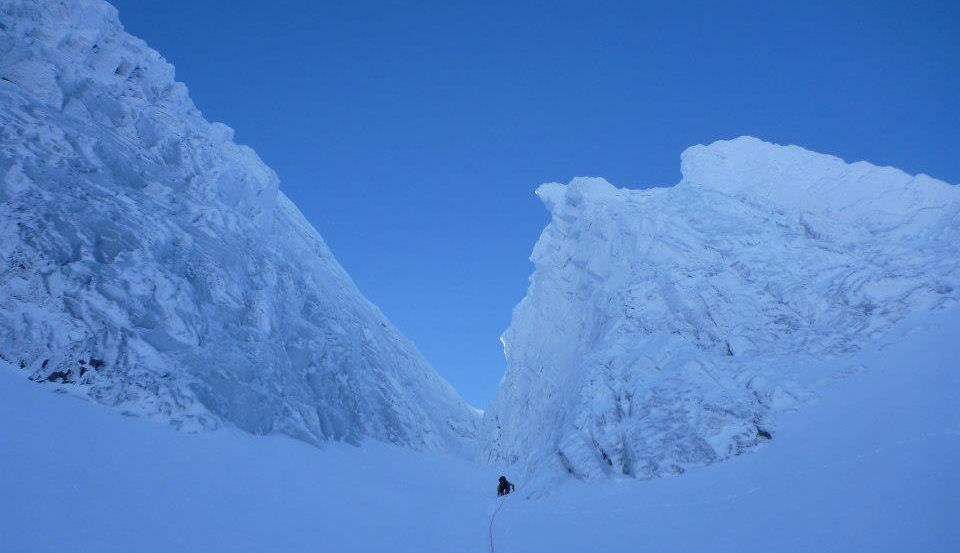 Altitude - 1,344m - NE facing - 375 climbs - Walk in- 2- 2.5 hours
Standing at 1,344m above sea level Ben Nevis is the highest point in the British Isles. During the winter months climbers from around the world descend on The Ben's North Face. Shaped almost like an amphitheatre, the North face is awe-inspiring. Comprised of a collection of huge ridgelines, steep gullies and sheer faces. With 375 routes to choose from, this venue is the perfect climber's playground.
The best conditions for climbing on the Ben tend to come slightly later in the season. From January onwards, ice builds up on the rock once there has been significant snow fall and prolonged freeze/ thaw cycles. Due to the Ben's significant altitude the climbing conditions can extend well into spring. You may even be lucky enough to find a snowed up gully to climb in June!
Top pick routes
Tower Ridge, Grade IV, ***
Orion Face Direct, Grade V, ***
2. Stob Coire Nan Lochan
Altitude 1,115m - NE facing - 57 climbs - Walk in – 1.5 – 2 hours

Standing proudly above Glencoe, Stob Coire Nan Lochan is one of Scotland's finest winter climbing destinations. A straightforward but arduous walk-in directly from the A82 to the base of the crag makes this mountain popular with guides and winter skills groups.
Stob Coire Nan Lochan's altitude means it a reliable winter climbing venue for much of the season.
With a total of 57 routes there is something to climb for everyone, from easy angled gullies to technical mixed climbing routes. However, this Crags popularity and size mean that it is often very busy, especially on the starred classics routes.

Top pick routes
Dorsal Arete, Grade II, ***
Central Groove, Grade VII, ***
3. Creag Meagaidh
Altitude 1130m - NE facing - 100 climbs - Walk in – 2 – 2.5 hours
Creag Meagaidh offers little interest to summer rock climbers, but when winter descends this venue comes into its own. Creag Meagaidh is one of Scotland's premier winter climbing destinations. It is renowned for its impressive water ice lines. These lines are created by the drainage of snow melt over the perfectly angled summit plateau and straight down the face of the cliffs.
Conditions on Creag Meagaidh are temperamental and hard to predict. A series of freeze/thaw cycles followed by a significant cold snap are needed for the ice to form and come into condition for climbing.
Top pick routes
Smith's Gully, Grade V, ***
Fairy Godmother, Grade IV, *
4. The Northern Corries
Coire an t'Sneachda - Altitude 900m - N facing - 196 climbs - Walk in – 1-hours
Coire an Lochain - Altitude 750m - N facing - 121 climbs - Walk in- 1- 1.5 hours
The Northern Corries are one of Scotland's most popular winter climbing destinations. Neighbouring the Cairngorm Ski centre, close to Aviemore and a short walk in all make this venue very accessible. The Northern Corries are made up of two main crags; Coire a t-Sneachda and Corie an Lochain. These two crags are separated by Fiacaill ridge, an impressive and exposed grade II ridge climb.
The Northern Corries are one of the earliest venues to come into condition in Scotland, on offer are a wide range of snowed up mixed routes to choose from. This reliable venue is a must visit for beginners through to professional climbers.
Top pick routes
Fingers Ridge, Grade IV, ***
Aladdin's Mirror Direct, Grade IV, *
5. Lochnagar

Altitude 1,155m - NE facing - 145 climbs - Walk in – 2-2.5 hours
Located 17 miles east of Braemar, Lochnagar is a spectacular winter climbing destination in the Cairngorms. Due to its strenuous and exposed walk in Lochnagar attracts less crowds than the other main Cairngorm venue, the Northern Corries.
Lochnagar tends to come into condition later in the season than the Northern Corries as it sits at a relatively low altitude. The turfy cliffs of Lochnagar need a hard freeze to come into condition for climbing and due to its long routes, some over 200m, conditions can vary from pitch to pitch. Lochnagar has 145 climbed routes to choose from, ranging from easy angles grade I gullies to hard mixed grade IX climbs.
Top pick routes
Raeburn's Gully, Grade II, ***
Eagle Ridge, Grade VI, ***
Want to see more? Check out our video below:
Not got the skills to tackle some of these routes yet? Why not check out our Winter Skills courses held throughout the season - http://www.tiso.com/courses