Climber and Tiso team member Cathy Alldred takes on the wild, imposing landscapes of Torridon. Chalk at the ready!
Last month I embarked on a road trip with three other Scottish climbers: Neil Busby (Buz), Neil Mcgeachy (Geak), and Euan Ryan. When Buz asked if I wanted to join him and the others on a road trip to Torridon for some bouldering and routesetting inspiration, how could I say no?!
Early doors on Wednesday, we met at EICA Ratho to pack up the van. From there we headed north for a pit stop at Tiso Perth Outdoor Experience and to collect Geak. After some breakfast rolls, we continued north hoping that the dreich weather would leave us sooner rather than later. Luckily the weather gods heard our prayers, and the cloud began to thin when we turned off at Dingwall and headed across to the north west's holy grail of bouldering: the 'Ship Boulder'. The boys had one thing on their mind… Malcs Arête!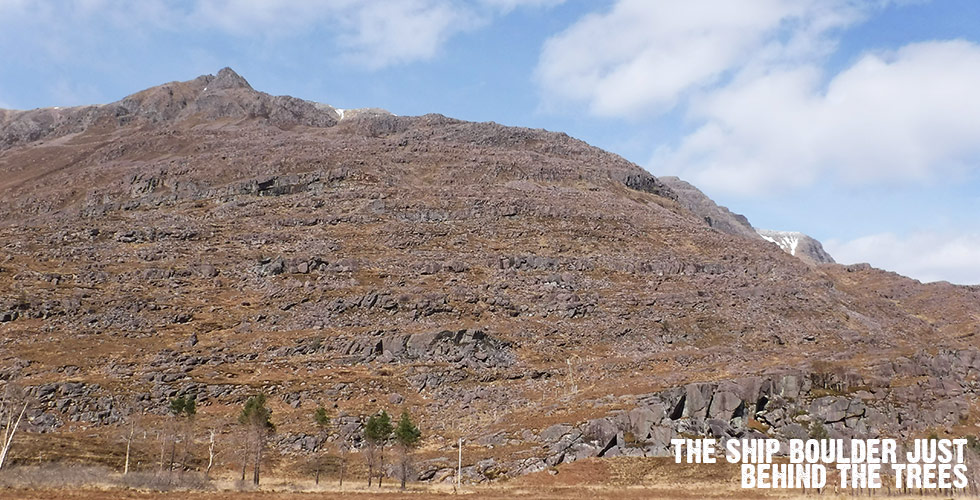 I had one thing on my mind too… topping a boulder problem and overcoming a fear of bouldering. It's plagued me ever since I jumped off after sending a problem at EICA Ratho, resulting in a serious knee injury, followed by surgery and 9 months of rehabilitation… Not forgetting countless hours in the gym. Now – five years on – it was time to control the bouldering fear and have some fun.
After a few warm up problems, the boys all got onto Squelch (6C***) between sunshine and some light showers. With wet feet (don't forget to pack your wellies for the approach), I shouted encouragement and shimmied the crash mats around when needed. It was cold and I had lost my psyche a little, so I took some pictures as the boys moved onto Malcs Arete (7B***). The evening drew in as I shouted encouragement and gave a bit of banter, misty rain and low cloud surrounding us after a long day.
A quick guide to climbing in Torridon
Where to stay: Kinlochewe Hotel Bunkhouse. The bunkhouse is cosy and warm with a bathroom and a well equipped kitchen if you choose to self-cater. We headed next door for a hearty pub meal and real ale on tap (larger and stout also on tap). Accommodation is also available in Torridon.
When to go: Spring and autumn are best, both to avoid the midge and for maximum friction.
Rock type: Hard sandstone
Approach: Most approaches are a short walk from the roadside. If you are staying in Torridon you could also walk from there to the Celtic Jumble. Don't forget to pack the wellies, especially in early spring when the ground is still drying. 
Problems to try: The Ship Boulder (Malcs Arete SS 7b+***, Squelch SS 6C+***, The Dandy Don's Arete 6B+**), The Balgy Boulder (The Balgy Prow 7A***), The Conundrum Boulder (Celtic Knot SS 6B***), The Morning Boulder (Red Groove 6A+**), Slot Walls (Pulley System 7A, Slot Crack 6A+***), Snoozetime Block (Pallet Knife 7B+*)
In complete contrast to the previous day, Thursday was a perfect, blue-bird Torridon day. After perusing the guidebook – Torridon Bouldering: Welcome to the Jumble – Buz selected our challenge for the morning session, a smaller boulder with stunning views over Loch Torridon called 'The Balgy'. I sent four problems on this boulder (ranging from 5+ - 6A) with plenty of encouragement from the boys. I'm pretty sure a couple were not in the guidebook, but that is the beauty of bouldering and climbing. It's great to set goals and have a tick list, but it's just as much fun to make up your own problems, whether that's technical difficulty or playing the head game.
After a stroll through the boulders I spotted a problem further along in the Celtic Jumble area with a big move to start, shutting me down every time. I got the hold once but – as I only caught the sharping edge – I couldn't stick the move. I guess this is a new movement I can incorporate into my training. So here's to another road trip later in the year, once those midges have gone!
After another evening of easy chat and re-energizing with local ales and tasty food we retreated to the bunkhouse ready for another day. En route back home, we stopped off for some sport climbing at Upper Cave, Dunkeld. The boys were again in fine sending form with Geak and Buz making light work of this crag's well known classics, one of these being 'Hamish Teddy's Excellent Adventure' (7b+**).  This route is on my tick list, but it's a slow process of red pointing for me… but one that's full of satisfying failure, as each time I get enough improvement to keep me motivated. Euan also sent this route on this second or third attempt that day. It's inspiring to watch fellow climbers trying hard and achieving their goals.
Finally, it was home for a hot shower and some chill time before family life kicked in again! To view the short video made by Finalcrux Films for Edinburgh International Climbing Arena head to the EICA Ratho Routesetters Facebook page here.
Where's your favourite bouldering spot in Scotland? Share your adventures with us on Facebook, Instagram and Twitter! #mytiso