When planning a trip that's longer than a 2 week holiday it can be pretty scary to actually take the plunge and commit. There are always reasons not to go or to wait until a better time. Then there's the planning; where to go, how much money will you need and most importantly what to pack?!
In 2015 I took the plunge, after 6 months of planning I set off on a year's adventure around the world with my husband. We travelled to Australia, New Zealand, South East Asia, India and Africa, covering many different climates and cultures and experiencing things that will stay with me for a lifetime.
A good idea is to make a list of things that are on your bucket list, whether it's a skydive, jungle trekking, volunteering or learn some new cooking skills. That way you can make sure you at least have budget set aside for these things or perhaps family would like to give you something towards an activity.
Once you have decided on a rough plan for where you want to go, you can start thinking of what you will need to take with you. It might be that you are going to be in a very similar climate the whole time in which case this makes things much easier. However if like me you are thinking of going away for a long period of time and to different climates, packing can seem impossible. There is no way you can pack everything that you are going to need, and if it's for a long trip there will be things that you will need to replace and unexpected things that you will pick up along the way. However there are a few key items that I would consider essential.
Getting the right backpack is essential and definitely worth investing in. This is what I would recommend –
Get one that you can carry like a backpack but opens like a suitcase, such as the Osprey Sojourn - I didn't have one of these but definitely wished I did! Again, it just helps with the packing and unpacking and also means that you have the option of carrying it on your shoulders or wheeling it around, which may be a welcome relief in humid climates!
If you can get one that has a fold away rain cover, this is also beneficial. Not just for when the tropical rains hit, but I used it every time we were travelling on buses, trains etc. It just makes it that bit harder for someone to gain access to your belongings and will also stop all the straps getting tangled in other luggage. If your backpack doesn't come with one you can always purchase them separately, Lowe Alpine have agreat range.
​
​
I got given these as a gift before we went away and it wasn't something that I had thought of buying, but even before I left the country I realised what a key piece of kit they were going to be. You will be living out of a bag for most of your trip (unless you decide to settle somewhere for a while) and the unpacking/re-packing can get really frustrating. Organising your clothes into these cubes means that you won't need to pull everything out to find what you need and they help keep your bag a bit tidier.
Possibly the best thing I could have taken! We didn't take normal sleeping bags as these were too bulky (They ended up being a pick up purchase when we were camping in Australia!) The sleeping bag liners were an absolute life saver! Some of the places you end up sleeping in (depending on your budget) may not look and be the cleanest, or in the case of Indian Railways don't really believe in changing the bed covers all that often…once every 3 months we were told! Being able to produce my own, clean! sheet whenever I needed it was great.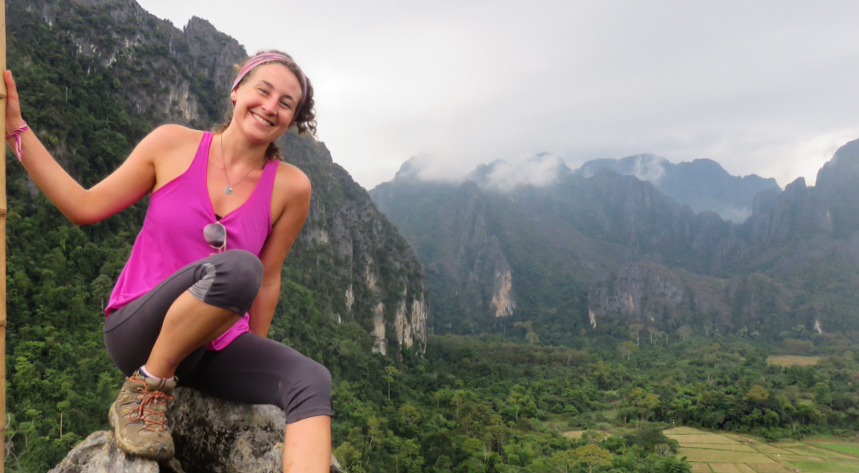 4. Head Torch
Another great essential no matter where you are in the world! Whether it's a night time hike up a volcano, camping trips or the frequent power cuts, a good head torch is a must. I had a Black Diamond Equipment one and I changed the batteries once in the whole year that I was away!
It will really depend on where you are and what activities you end up doing while you are away but the above items will be useful wherever you decide to go. A lot of my trip was centred round trekking and exploring the outdoors in slightly cooler climates so I decided to invest in a new waterproof jacket as well.
There are plenty of travel gadgets that you may have not even considered, so it's worth taking some time to browse through your options and then pick out the essentials for you! Here is a quick list of other items I had that I found useful –
​
Quitting my job and setting off on a yearlong adventure was the scariest but the best thing I have ever done and I would recommend it to anyone! If you're heading off somewhere, don't forget to share your adventures with #MyTiso!