UNPLUG | A Digital Detox with GORE-TEX
24 hours mobile free on the Isle of Tiree
My name is Mollie Hughes, I am a mountaineer and motivational speaker and I am addicted to my iPhone. My life revolves around this pocket sized shackle. My iPhone is my communication, my work and largely, my social life.
I have an app for everything: my finances, my travel, my music, my calendar and my exercise routine. This device simplifies and organises my life, but I hate feeling so tied to it, so reliant on it and I resent the time lost aimlessly scrolling through social media.
In a recent UK Study investigating smart phone addiction, 53% of people who took part in the study said they experienced anxiety when they couldn't use their phone. 71% of the sample believed they knew a friend or family member who may be addicted to their smart phone and unsurprisingly....
45% of the sample said they used their smart phone at least once an hour.
I wanted to experience what it would be like to disconnect for a period of time, on a recent road trip in a bright yellow Jerba Campervan I had just the opportunity.
The Team
I had recruited some friends to help with a new season GORE-TEX campaign for Tiso, photographers Rachel Keenan and Hamish Frost and one of my climbing partners Aaron Tregellis.
They believed we were going for a simple photoshoot on the Isle of Tiree, but I sprang the idea of a digital detox on them while we were waiting for the 7am ferry from Oban.
Rachel was more than keen for the idea and concluded that she is also a phone addict, but the boys had a harder time admitting it….. But by 7:43am, I had managed to convince them and I had their phones in a locked money box for the next 24 hours.
The First Hour
The first hour was the hardest.
We arrived on Tiree, the rain was pouring and we experienced constant bouts of anxiety "S***, I've lost my phone...!" All pockets searched until we remembered we had locked them in that crafty box.
Rachel topped the charts with 11 of these episodes during that first hour.
We began exploring and found a picturesque beach on the islands most easterly point, overlooking the Isle of Coll. White sand, turquoise water and not another soul in sight. A seal bobbed close to the shore and we began to adjust to the calm of island life.
The Adjustment Period
After the first hour, instances of checking pockets for our phones decreased and the separation anxiety reduced. We found alternatives to using our smart phones....
Instead of using google maps we used a paper map, we quickly accepted that we didn't need to check the weather forecast every 30 mins, it would stop raining when it stopped raining. Instead of using our iPhones to take mediocre pictures, we relied on Rachel and Hamish's incredible photography skills. We began sharing experiences with each other, rather than social media.
The rain persisted throughout the morning so we headed to the Tiree Lodge Hotel to dry off by the fire and have an early lunch. A whole roast dinner, inside of a Yorkshire pudding style wrap! Who knew such a thing existed?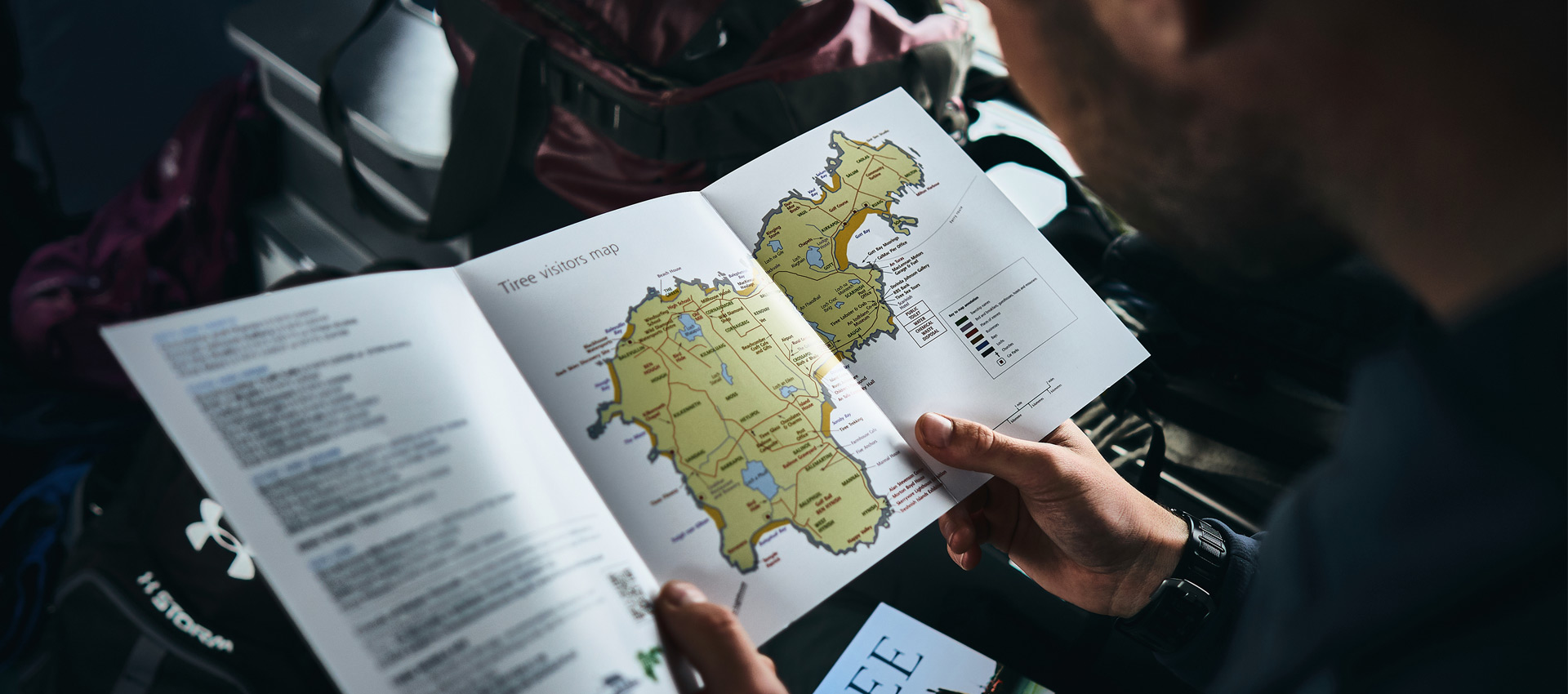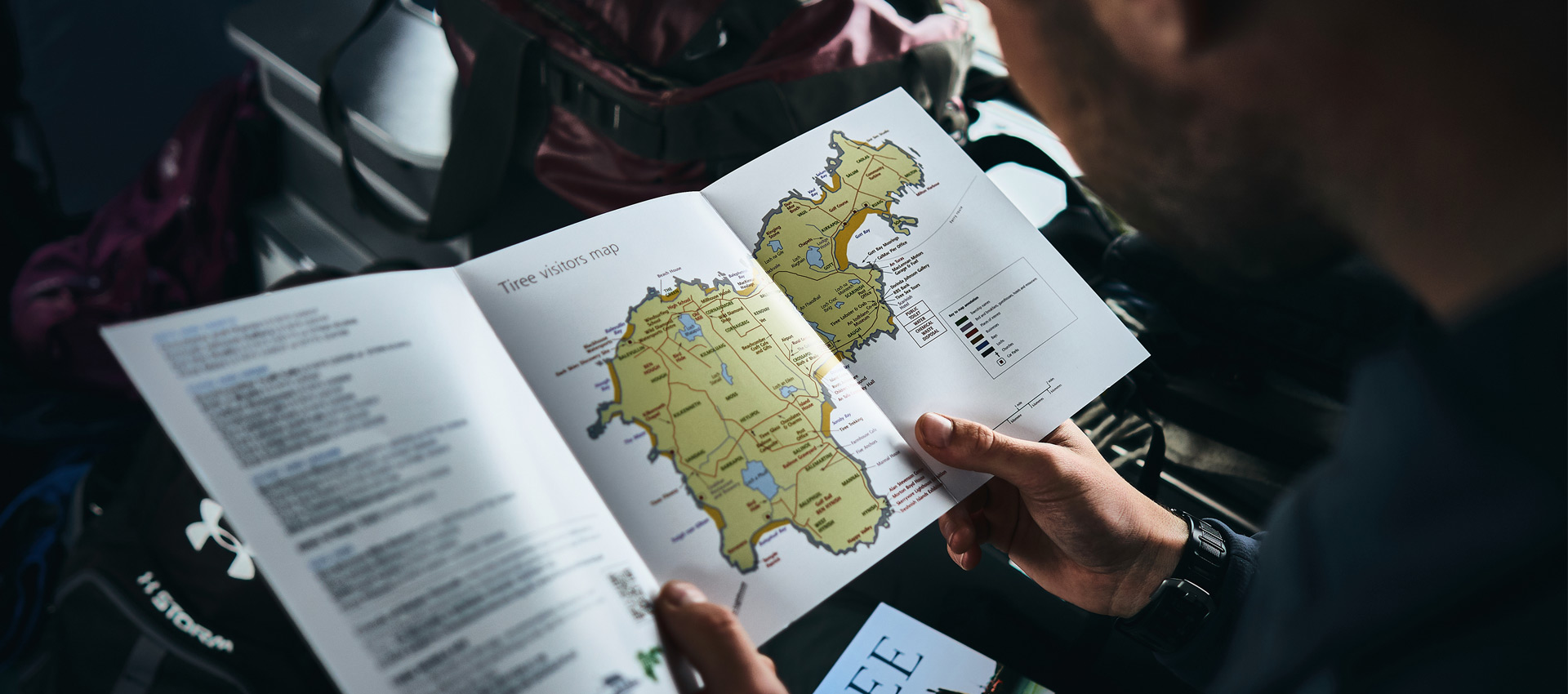 The Climb
The Isle of Tiree is the most westerly island of the Inner Hebridies. Measuring just twelve miles long and three miles wide, it is a relatively small island but also incredibly flat, with most of the island at or very close to sea level.
As a group of climbers and hikers we have an innate need to view a landscape from a high area. We therefore set off to reach Tiree's highest point, Ben Hynish at a lofty 141m above sea level.
Ben Hynish was also a brilliant place to test out some of the GORE-TEX products we brought with us. Rachel was testing the new Haglofs Roc Spirit jacket, which features 3L GORE-TEX C-KNIT technology, a soft yet highly durable shell. I was testing the new Arc'teryx Beta LT jacket which features GORE-TEX Pro, the most advanced weather protection available.
Hamish was in charge of testing the new Mountain Equipment Impellor Jacket, an online exclusive for Tiso. This super light weight shell is designed for moving fast in the hills. Aaron was taking the Black Yak Kuri Jacket out for its first test. This jacket is one of our Autumn/Winter '18 most exciting products. Using both GORE-TEX Pro shell fabric and GORE-TEX Pro shell stretch fabric, it is a brilliant mountaineering and ski-touring jacket.
The views out over the island were incredible, sprawling beaches, rough seas and a distinct lack of people and buildings. Tiree feels like a truly wild coastal environment, perched out in the north Atlantic.
Sundown
As the sun began to dip, the sky put on an amazing display of colours, oranges, yellows and reds filled the sky and clung to any remaining clouds. We headed to our croft site camp spot and parked the van for the night. That evening we lit a roaring fire on the beach, toasted marshmallows and drank warm beer.
By nightfall any traces of missing phone anxiety had completely disappeared. I was embracing being in this moment, on this deserted beach, on a remote island, under the stars with this amazing team.
SunRISE
Most mornings I awake to the alarm exploding on my phone next to my head, after a couple of snoozes, I am awake and reading messages, refreshing emails and scrolling through social media. Deep sleep to phone world in a matter of minutes.
This morning on Tiree, I awoke slowly and calmly to the patter of rain on the van roof. Now it is always hard to prise yourself out of a warm sleeping bag. But it is especially hard when the night before you have committed to a sunrise paddle board in the freezing ocean.
Reluctantly I squeezed into my neoprene wetsuit, pumped up my inflatable Red Paddle Co. board and headed over to the beach. As we crossed the beach the sky burst with light as the sunrise broke through the clouds. The first wave broke over my board and hit me in the face, I was well and truly awake now.
Paddle boarding at sunrise was a daunting prospect, but when I was out on the water I wonder what I had worried about. The calm, the connection with nature and the exercise was so much better for me than scrolling through social media to wake up!
The 24 hours on Tiree were up! As we waited for the ferry back to the mainland it was time to unlock the money box and release the phones. We connected to the CalMac Ferries WiFi and were quickly absorbed back into phone world.
Spending 24 hours phone free was a great exercise. It showed me just how much time I waste on my phone and highlighted that I don't actually need it as much as I think I do. We all walked away from this trip believing that unplugging once in a while or reducing the amount we use our phones each day is important for our personal and professional health.
Here are our five top tips for taking control of your relationship with your phone -
1. Buy an alarm clock – Put your phone on charge overnight in another room and embrace a good night's sleep.
2. Ignore your phone while socialising – Turn it to silent or leave it in your bag. This is the time to focus on real life connections.
3. Hide your phone away while working – Lock it away out of sight and see your productivity increase and your procrastination decrease.
4. Turn off pointless notifications – We all know, checking one notification easily leads to half an hour of phone browsing.
5. Get an app – It sounds counterintuitive, but there are some great apps out there to record the amount of time you spend on your phone.