Founder & Explorer Craig Mathieson talks to us about the gruelling training scheme, the Polar Academy's beginnings and how these ten teenagers will inspire the next generation of Scottish explorers and young people.
---
What is the Polar Academy all about?
The Polar Academy is a charity – set up in 2012 – which identifies a certain type of young adult in Scottish schools and organizations, those who are often overlooked by the education system. The polar academy team trains them over a year and takes them on a truly unbelievable polar expedition. The idea is to change these kids' outlook on life, coming back very different people to who they were when they start the programme 12 months earlier. After they return, they travel around other schools to inspire and motivate their peers.
How do you decide who is selected?
That's the fun bit! I select kids from that middle group you find in every school – the good kids who lack the confidence to think that they may be able to achieve anything significant. Their background is irrelevant: yes, some are better dressed than others but they are the same kids, with the same issues.
To find this group, I give an initial talk and ask who'd be up for something like the Polar Academy. A sea of hands go up, but you disregard those students. They are kids who are already motivated and confident; they're great kids, but they won't benefit from this. I then speak to teachers and pupil support to find out which kids have chaos in their lives, or disruptive issues… The Polar Academy isn't for them either. What we're left with is this group who don't make eye contact with me, who won't speak. But they're fantastic kids. When I speak to them and tell them my story, you can see that spark in their eyes. That's all I look for.
What is the selection process?
In some schools we start with hundreds and work alongside the school to get this down to twenty. It's not about who is 'best' for the Polar Academy, it's about who will benefit the most. What we're left with is twenty good kids, who may have fantastic aspirations, but are never going to do anything about it with their current mindset.
Where next? Is there a test?
This isn't a fitness test, we're just trying to show the kids – and parents that accompany them – what they can achieve. The first task is rope work. I teach the kids three knots, then tell them to get a wetsuit on and get in the pool. It's irrelevant whether they can swim or not. Then I get them in a kayak, pull them into the middle of the pool with the spraydeck on and flip them over. I give them a length of rope and they don't resurface until they've tied the three knots. The most important thing is that I never ask them to do it, because that gives the kids a choice. I just tell them what they're going to achieve and of course, everyone manages it. Our record is a young lad who did 3 minutes 20 underwater after an initial time of 15 seconds!
After water tasks, rope work and climbing, we send them up a hill and we – the instructors – step back to see how they react with each other. At this stage, the group is very tired. We assess who's helping who, who's lagging behind, who's getting angry… And once they get back down, they're exhausted. But there is still a 15 minute presentation to do in front of the staff, trainers and trustees. It's intimidating but deliberate: because the kids are exhausted, you get the truth, and that's what we're after. After this, we have our twenty: the ten expedition team members and the ten leadership team members (who are the standbys). The two groups train together and learn all the same skills together as a group. It's all about the shared experience, bringing kids together and shown them all just what they can achieve. /p>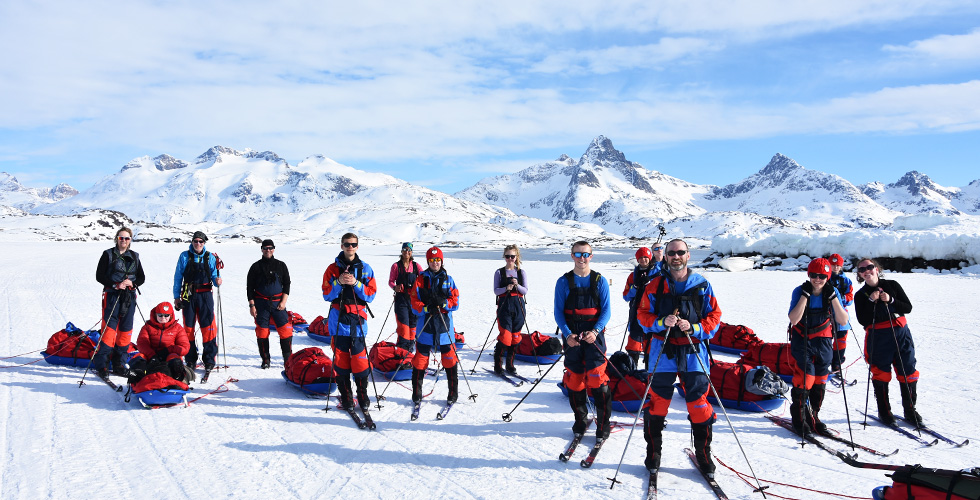 Even military personnel have commented on how hard the training is. What do you put the kids through?
They do a lot of fitness training after school for cardio, and they also go back to Glenmore Lodge for a week of intensive training in October. But the hardest part is the endurance training at weekends. My son and I take them out into the hills and – the whole time they're out – they have to drag a Land Rover tyre behind them. There's a 10km, a 20km and finally the hardest march, which is on the beach at St Andrews where they drag five tyres behind them. Military guys have said that their teams would give up after an hour of it! But the reason we do this is so that when the kids get to Greenland and put on a sledge for the first time, they think 'that's quite light!' Fitness just isn't a worry for them anymore, in the 12 montsh of training, we take them from almost no fitness levels to elite athlete standard..
Last year, the group went to the Arctic. What was their toughest challenge?
Any polar expedition is 70% mental and 30% physical attitude. Because the kids have trained together for so long, they quickly turn into a slick, professional team. The first ones up the hill will unstrap their sleds and help the others up. Within minutes of starting the expedition, they know fitness wasn't a worry. Likewise, cold isn't an issue in the Arctic – heat, and sunburn, is. The kids don't believe that until they are actually on the sea ice with Factor 50 on their faces… and they're still getting burnt!
Why is the Polar Academy so life-changing for these kids?
It takes a while for everything to sink in once they get home. These kids have crossed sea ice, watched the Northern Lights, and traversed unnamed valleys… When they're in the moment, they're just cracking on. But when they return to Scotland, read their diaries and look at the pictures, they realise what a special thing they've achieved. These kids turn into confident young adults without any ego at all. And that's really important at the Polar Academy: no-one brags about what they do, they just quietly get on with it.
Polar Academy inspires so many young people. Why is this so important?
My initial concept for the Polar Academy was never just about the ten kids… And there was no way I could take 20,000 of Scotland's teenagers! So I had to make sure that the ten did something so difficult and so challenging that 20,000 people would sit there and think, 'that's incredible'. Now, one of our 15-year-old girls can go into a room with 400 strangers and have them totally silent for an hour, in awe of what she's done. The kids who hear her story think, 'She lives down the road from me. I've known her for years. If she can do that, I can do anything.' That's what the Polar Academy's about. It's not just about the ten kids, it's about what the ten do when they come back home.
How difficult is it to receive funding?
Fundraising for any charity is really difficult. Raising money for the Polar Academy is actually harder than the expedition itself… That's why I age so much! Getting cash is tricky, especially here in Scotland where our attitude to initiatives like this is a bit weird. When I speak to anyone outside the UK about the Polar Academy, they always want to know what's in it for the kids. Whereas here, about 90% of the companies start the conversation with, 'What's in it for us?' I try and get across that they'll be supporting the next generation, but businesses often want instant gratification. But the focus always has to be the kids and what they're doing. Now I have rules: if we're not talking about the kids in the first ten minutes of the meeting, I grab my jacket and leave. Luckily, the Polar Academy has some great trustees and sponsors that are true philanthropic people. The reason they do it is because they relate to those kids; they were part of that middle, invisible group too. We have to raise about £170,000 per year to do this, and having a great team behind me, like those from Tiso really helps.
How can people get involved?
There are loads of ways to donate to the Polar Academy: Facebook, on our Website and JustGiving. My phone number is even on our homepage – I don't mind meeting anyone to get a cheque or have a chat! You can keep up to date with the 2017 expedition by checking out our page or by viewing our slideshow below Here.