HOW TO WINTERPROOF YOUR BIKE
The wet and muddy weather is definitely here and you may have already got to the end of a ride, and looked at your bike with despair. It's easy to just put it back in the shed until the next ride, but getting into the habit of washing your bike down and giving it some TLC over the winter season will save you money and time in the long run. Taking care of the moving parts of your bike means they'll last longer and you'll need to replace them less often.
CONTENTS
Protect Your Bike From The Elements
What To Carry Out On A Ride
Once You're Home
Finishing Touches

Protect Your Bike From The Elements
Before you get to cleaning the bike, the more you can protect the bike from road spray, the better as it'll give you less to clean off.
A great pair of mudguards will protect your frame from grime and it'll protect your own clothing from the spray too. The best mudguards give full rear wheel coverage (meaning the greatest circumference coverage) and attached to the bike frame at at least two places. Give the underside of the mudguard a spray with the hose when you're cleaning so it doesn't build up with grime and eventually rub your tyre.
Our Recommendations:
Bontrager NCS Mudguards |
These Bontrager mudguards are designed to fit perfectly over tyres between 28 and 35mm wide. With their adjustable struts, there is no need to cut anything, changing the way they fit is a simple task of loosening a couple of allen bolts making them hassle free, even if you need to swap them between bikes.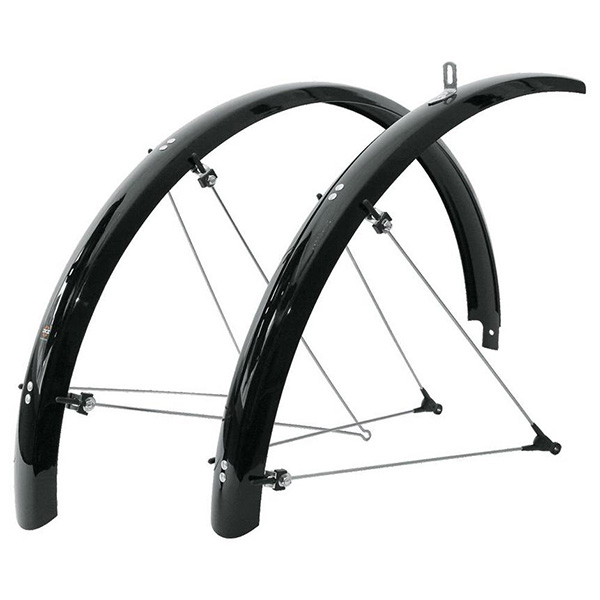 SKS Bluemels Mudguards |
These SKS mudguards are 45mm wide and are suitable for tyres up to 35mm. They are exceptionally efficient at protecting your bike from road grit and road spray when the roads are wet, as well as keeping you dry- not just when it is raining.
While we're on the subject of wheels, getting a more grippy, reinforced compounded set of tyres should help reduce the number of flats you might get over winter. With more rain and snow comes more dirt being moved around the road and bike paths. This will inevitably mean sharp objects such as thorns, nails, bits of wire from car tyre blow outs etc will be on the roads and cause punctures.
Winter tyres achieve puncture resistance in different ways including a tighter wound thread, reinforced sidewalls and interior puncture protections systems. Often with this extra thickness of compound means a higher rolling resistance so winter tyres do tend to be heavier and slower. But that's the payoff for less time spent at the side of the road fixing a puncture!
On top of getting the right tyre, it's also recommended to reduce the pressure in your tyre by 10% than what you'd run it in spring to provide added grip. The recommended pressure range is printed on the side of your tyre wall – do not exceed the maximum!
Our Recommendations:
Continental Gatorskins |
The Gatorskin comes in both 700 x 25c or a wider 700 x 28c, depending on your tyre clearance. GatorSkin is Continental's mid-range road training tyre. DuraSkin technology runs bead to bead providing puncture, tear and impact protection, meaning the GatorSkin is ideal for winter training and commuting.
Continental Grand Prix 4 Seasons |
The Grand Prix 4 Season comes in both 700 x 25c or a wider 700 x 28c, depending on your tyre clearance. The 4 Season features 2 Vectran breaker strips which deflect thorns, glass and other debris. Added DuraSkin protection runs bead to bead giving great sidewall protection from cuts and scrapes, as well as more security on rough winter roads.
What To Carry Out On A Ride
Even the most puncture resistant tyre can still get a puncture, so you need to always be prepared. The traditional way to carry these things is in a seat bag which goes under your saddle, plus carrying a small pump in your back pocket or in a pannier bag.
If you're not keen on a saddle bag then you can buy bags which attach to your frame and are specially made to hold everything you need. It's all down to personal preference and how much extra you might want to hold.
Our Recommendations:
So you've got your bag, what's the bare minimum you should put in it?
To start, you'll always need to take the tyre off your wheel so you'll need a pair of tyre levers. Then it's up to you whether you fully replace the inner tube with a new one and fix the punctured one at home, or fix the puncture out on the road. If it's a full replacement, you'll need a spare inner tube, otherwise you'll need a repair kit:
Note: in hot and humid environments, the glue can struggle to set. So, if you're travelling abroad in, say, south east Asia, you can sometimes get stuck for puncture repair at the side of the road. It's better to patch a puncture in an air-conditioned room in these cases.
Then you'll need a way of inflating the inner tube again. CO2 canisters have become popular since they're small and compact and quick to inflate to a high PSI. However, be aware that they do have an environmental impact as they're single use.
If you do choose to go down the CO2 canister route, you'll need an inflator head and the canisters are sold separately in Alpine Stores. Alternatively, compact mini pumps fit into a jersey back pocket easily, or onto your bike frame using the same bolt attachments where your water bottle can go.
Note: be aware of the type of valve your inner tubes use and be sure to get a compatible pump. There are two types of valve: presta and schrader and most mini pumps are only compatible with one or the other.
Our Recommendations:
An essential tool to have in your bag is a multitool set. These can come in a variety of sizes and styles with a plethora of tools, but the bare minimum you need is a set of Allen keys to do up any loose bolts you may get. You never know when this might come in handy, so always keep it on you:
Tip: to stop everything from rattling around in your saddle bag, we'd recommend always having a cloth or bit of rag in there to stuff the remaining space. This will also come in handy to protect your hands from grease if you need to fix your bike, or to wipe down your hands for any reason. Anything from a microfibre wipe to a piece of old t-shirt works well. Finally, a roll of electrical tape can be a miracle piece of kit for any bike related disaster on a ride. Anything from broken fingers needing splinting to a broken bottle cage – electrical tape is an underestimated item to have in your saddle bag!
Once You're Home
It's so tempting to get off your bike, hope in the shower and forget about it once you get in the front door but taking a few minutes to give your bike some TLC will pay off in the long run.
First, give the bike frame and components a rinse down to get the worse of the grit and mud off. This can be tricky when living in a flat so it depends on how happy your spouse or roommates are with you using the shower for this! Otherwise, a bucky of water outside might be your best option.
Using a bike cleaner performs better than purely soapy water, and Muc Off have a spray on, wash off formula for speed and ease of use. Having a good set of brushes helps immensely, especially to get into the hard to reach areas around your cranks.
Next is to take care of your drive train – that includes the chain, cassette, chain rings and derailleurs.
Muc Off also do fancy chain cleaners sets which do a lot of the hard work for you:
Otherwise, a simple spray degreaser is what you need to spray on, scrub the dirt and wash off.
Our Recommendations:
If you have disc brakes, you should be extra careful not to get fingerprints, lubricants or grease on them and only use disc brake cleaning formulas. Using a product such as Muc Off's Disc Brake Cleaner will ensure no squeaks, no slipping and a reliable brake. Products specifically made for disc brakes don't leave a residue and aren't absorbed by the pads. If your pads do become contaminated with oil, grease or anything else then the best route is to simply replace them to ensure reliable braking.
Finishing Touches
So you now have a clean bike! But it's wet and the chain is stripped of any lubricant.
First thing's first, get that bike dry. Use a clean rag or towel for this every time as you don't want to put dirt back on to your frame.
Lastly, lube that chain. A good chain lube prevents the chain from going rusty and squeaky, but sadly won't make you go any faster. Now you're faced with two options: wet or dry lube? A dry lube uses a light fluid to carry wax across the chain. Once the liquid dries, the wax is left on the chain to provide the lubrication. A wet lube is made from a more durable synthetic fluid that is highly viscous and sticks to everything and stays as a liquid.
Which type you choose is easy to remember as their name matches the weather conditions. A dry lube doesn't attract dirt so for short, dry rides this is your best choice for easy maintenance. However, because it's not as durable as wet lube, it will need to be applied more frequently so it's lucky that the chain doesn't need cleaning between applications!
Wet lube sticks to the chain better so lasts longer between applications. However, because it's so sticky, it'll attract dirt so it'll definitely need cleaning after a particularly muddy and wet ride. If you've just had a bit of rain but have avoided getting really dirty, then there's no need for reapplication.
What does all this mean? Well, if you're a commuter or a long distance cyclist then wet lube is for you – it'll last longer and protect your chain through some pretty terrible conditions. If you're a fair-weather rider only, then dry lube is for you but remember to reapply it every other ride or so.
Our recommendations:
Finish Line Dry Lube |
The original DuPont Teflon based lubricant made specifically for use on bicycles.
Finish Line Wet Lube |
A super-durable synthetic ingredients create a high viscosity lube that protects and lubricates parts for longer.
When applying your lube, it's best to be thorough. Squeeze a dot onto every chain link, then spin the pedals a little to get the lube right down into the links. Leave the bike to dry properly then gently run a rag underneath the chain to remove any excess.
Finally, you're done! With good practice, this won't end up taking long after each ride. You'll become a natural in no time and your bike will survive the winter in top condition.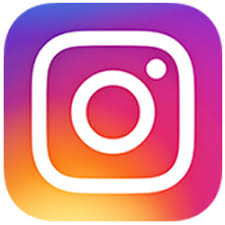 Share all your cycling adventures with us on Instagram! Follow along for the latest news, products, competitions and more
Alpine Bikes Instagram Home