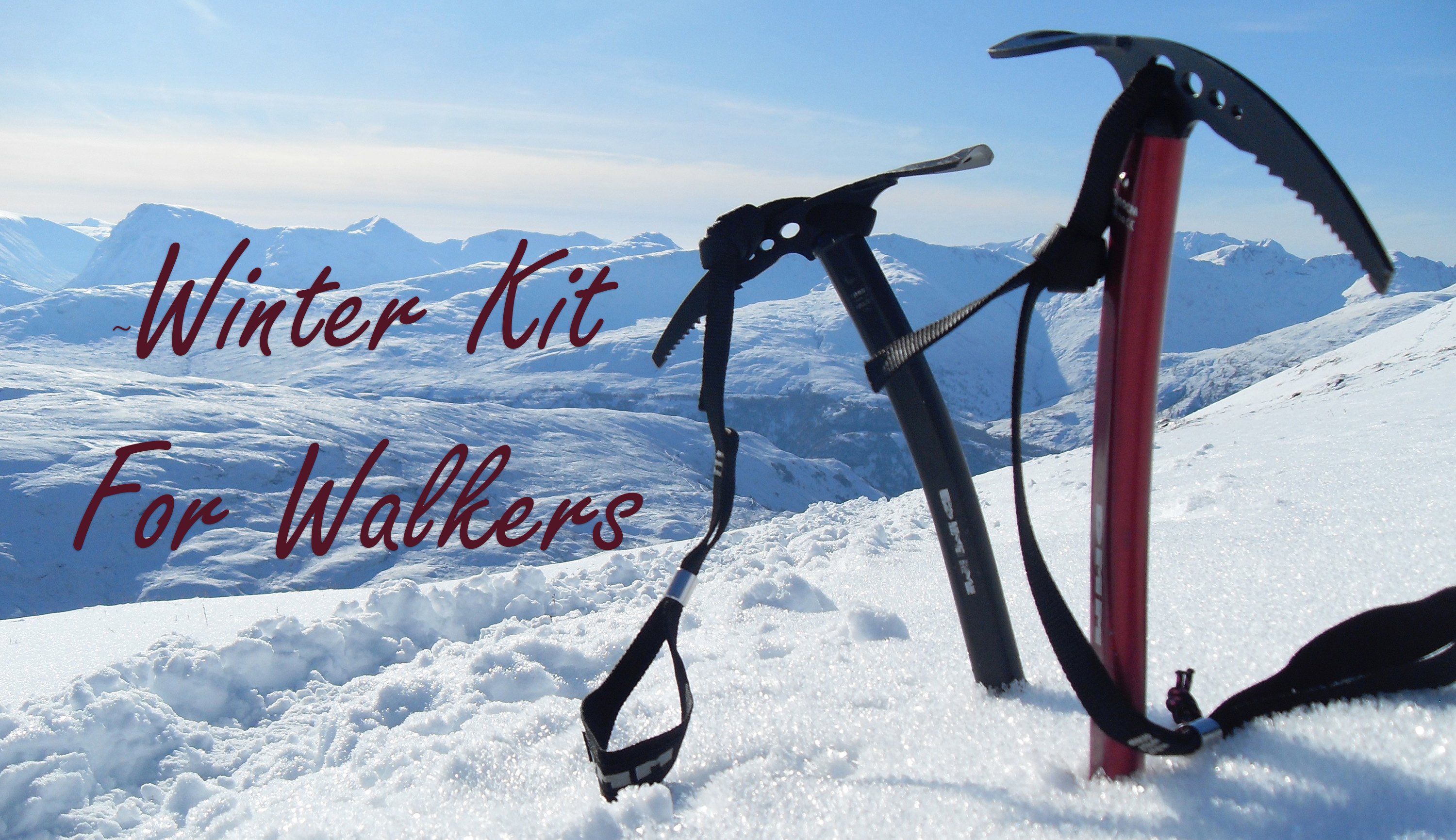 Winter Kit For Walkers
Walking in the hills is the most accessible mountain sport, and on a good day, can be a complete joy to experience. Winter conditions can enhance the experience ten-fold, or can turn a good day out into a dangerous situation. However, with a little preparation, the right kit (plus the knowledge to use it) and a sense of adventure, there's no reason to fear winter mountains, and every reason to revel in them. Here's our guide to the kit you need to stay safe and enjoy winter in the outdoors. Plus check out our winter courses here so you can use your kit and travel safely in the winter mountains.
ICE AXE
Let's start with the main piece. For walkers, an ice axe will likely spend most of it's life attached to your rucksack, but in the right conditions, it's a vital piece of kit and very versatile. Holding at the top of the shaft, under the pick, in whichever hand is closest to the hill (your uphill hand) the axe can be used to assist walking on steep, icy ground, or snowy ground too. The adze can be used to clear snow and kick steps on steep ground too. The most important use of an ice axe though is to self-arrest if you find yourself sliding down an icy/snowy slope.
There are a couple of things to consider when selecting an ice axe. Firstly, length. Typically, the taller you are, the longer the axe you require, though not too long as you'll be using it on the uphill side where the ground is closer to you, and it needs to be short enough to arrest with comfortably. On the rare occasion when a walker needs to swing their axe into ice, you really want a short length, but if the terrain you visit is steep enough to need to do this regularly, you might be better served looking at technical climbing axes. Axes typically come in 50 - 70cm lengths - handling them with an expert on hand is the best way of getting the right fit.
Next to consider is style. Generally, the shorter and more curved an axe, the better for actual winter climbing. If you are purely a walker, a straight or slightly curved shaft will work best. Finally, consider the weight. It's tough to know what conditions on the hill might be, so being prepared, your axe will probably come along for a ride on your rucksack without being used quite a lot. Hence a lightweight model is good. Walking axes will probably last longer than you, so pick carefully as you could be stuck with it!
CRAMPONS
The other exciting piece of winter kit, crampons allow you to walk and climb on icy terrain. While an ice axe, for walkers, provides stability and security, on icy terrain it is crampons which really allow you to move safely. As with your ice axe, your crampons will porbably see more time inside your rucksack than on your feet, but when the conditions call for them, it's either put them on or head back the way you came.
Crampons come with different ratings, C1, C2 & C3, relating to boot stiffness ratings B1, B2 & B3. In an ideal world, you should match the numbers. Using a crampon on a softer, summer walking boot can be dangerous as the boot won't be stiff enough and the crampon can fall off. A stiff boot is also better for kicking steps in snow. For walkers, C1 crampons & matching boots are fine - stiff enough to offer security on icy terrain. C2 level is great if you are planning on doing any winter climbing as the increased stiffness comes into its own. C3 level is purely for climbing, and on some of the toughest climbs in the world - if you need them, you'll know!
Crampons fit in different ways, some purely with straps which are simple and fine for walkers, some called semi-auto with a clip on the rear that matches certain boots, and some full auto, which again are for serious climbers. A typical walking crampon will have 10 to 12 points. Look out for models with anti-balling plates to stop snow building up under your foot, and for a crampon bag to stop them tearing holes in the contents of your rucksack. If you don't want to go to the expense of winter boots and crampons, there are some options for more flexible boots which can help on level icy surfaces.
BOOTS
We've already touched briefly on boots, but it's worth mentioning some finer details. A stiff boot can kick through soft snow with less effort than a flexible boot, and for icy stretches, crampons need a stiff boot to attach to properly. In addition, winter boots offer tougher construction, which results in more insulation & generally better waterproofing. There's no getting away from the fact that dedicated winter boots can be expensive, and depending on the terrain you wish to cover in winter, they may be overkill. However, if you visit the mountains in winter regularly and want the best performance and safety, winter boots and matching crampons are a wise investment, and one that will last many years if cared for properly.
B1 boots are still enough for crampons with just a little flexibility for comfort when walking on solid ground. B2 boots are better on steeper terrain, but at the expense of comfort when walking on normal ground when the extra stiffness can cause discomfort if you aren't used to it. Getting a good fit is as vital in winter boots as in any other performance footwear. B2 boots will typically offer a step on the rear for semi-auto crampons where B1 boots tend to need crampons with a full strap.
INSULATION
Now we're moving on to the more general items, some of which you probably carry most of the year round anyway, but are especially important with the higher risk of winter weather. With colder weather, staying warm is vital, so having a warm baselayer & leggings, good midlayer and/or softshell, plus waterproofs are all to be expected. However, nothing will make a lunch stop in the snow more appealing than an insulating layer you can throw on. Plus, if it gets really cold, you'll need more than an extra fleece to keep warm.
With insulation, you have two options: down or synthetic. Down is the natural solution and is the lightest for any given warmth, most compressible & generally offers great performance. Synthetic on the other hand, offers good warmth for a bit more weight, isn't quite as compressible, but crucially isn't affected by water, unlike down. The choice here really is how careful you want to be to ensure your down jacket is never going to get wet. Being warm even when wet, and generally a bit more durable, synthetic insulated jackets are ideal for Scottish winter when you can't always be guaranteed it won't rain.
WINTER GLOVES
With colder temperatures, plus snow and ice, keeping your hands warm is very important, so a big winter glove is a must to have in your pack. Look out for insulation and waterproofing, with Gore-Tex liners offering the best waterproofing. Also, keep an eye on dexterity - you may well need to be able to hold an ice axe so they can't be too thick. Equally, mitts are great to get on and off quickly, but not necessarily easy to use with tools.
SHELTER
Arguably, a shelter or at least a survival bag should be with you at any time of the year, but wild wintry weather make them even more vital. A bothy bag is something to consider carrying between you and the people you regularly go walking with. If it's often two of you together, a 2-person shelter is great and can be shared. Likewise, a 4-person shelter is great to share with a larger group.
Bothy bags work by everybody pulling the shelter over themselves and sitting down on the edges of the bag to hold it secure. This can provide a welcome respite from rain, wind & snow in an emergency, or just for a brief rest or lunch stop. A survival bag is for solitary use in case of an emergency. These are more items that will mostly live in your rucksack, but they're absolutely vital when the situation calls.
ANYTHING ELSE
We haven't gone into standard walking kit (more clothing, map, compass, food, drinks, etc) here, rather the extras that are really needed for proper winter walking. Some other items to consider in winter though are head torches, due to the shorter days (though again you might carry these all year round) and a flask of something hot which can really give you a lift in bad conditions. For the very best advice, pop into our stores or contact us directly. For over 50 years Tiso have been out walking in all conditions, and we train our staff extensively so they can help you achieve your goals. We look forward to seeing you on the hill!