Believe In Bikes
In 1976, in a southern Wisconsin barn, a pair of visionaries set out to create the best bikes in the world. They fostered a culture of craftsmanship, where every bicycle built was a point of pride. To this day, though Trek have grown far beyond their roots, every bike they make is a testament to Trek's founding principles: to make innovative products that are loved, and to take care of their customers.
Trek Trail Bikes
Tame Any Trail
Trek trail bikes are your do-more ride. They're versatile, light, and exceedingly capable, climbing as well as they descend and conquering trails from the Dolomites to Durango. They're the right bike for anything from a quick stint on the trails to a brutal day of racing. No other bikes offer this level of no-compromise performance and any-situation versatility.
Together, the Fuel EX and Remedy make up the most advanced trail bike line-up Trek have ever offered. Each is dialed for bigger, better trails, but finding the right model for you depends on your ride-style. Whereas Fuel EX is the most versatile trail bike for go-anywhere adventures, Remedy is best suited for the especially rowdy stuff.
Remedy: Bring on bigger
Remedy is the mountain biker's mountain bike. 27.5 ̋ wheels, an aggressive geometry and a wealth of technical features make a bike that scores tens for capability. It does more than big drops and techy stuff. Remedy retains the efficiency needed to put in the long miles and hang with the XC-crowd on the climbs, even though it's more prepared to defy gravity and charge descents than ever before. It's here to make a statement on the most rugged trails and make easy work of the rowdiest enduro courses.
Fuel EX: Freedom to roam
Want a rugged, capable long-travel trail bike with the responsiveness and control of an XC bike? Fuel EX blends the best of both worlds in one uncompromising package.
More capability means bigger trails and better adventures, and you'll never run out of places to roam on this bike. Fuel EX is a go-to bike that will have you conquering new terrain without thinking twice. You'll never shy away from racing your friends up a grinding fire road, nor will you shiver at the thought of getting the wheels off the ground.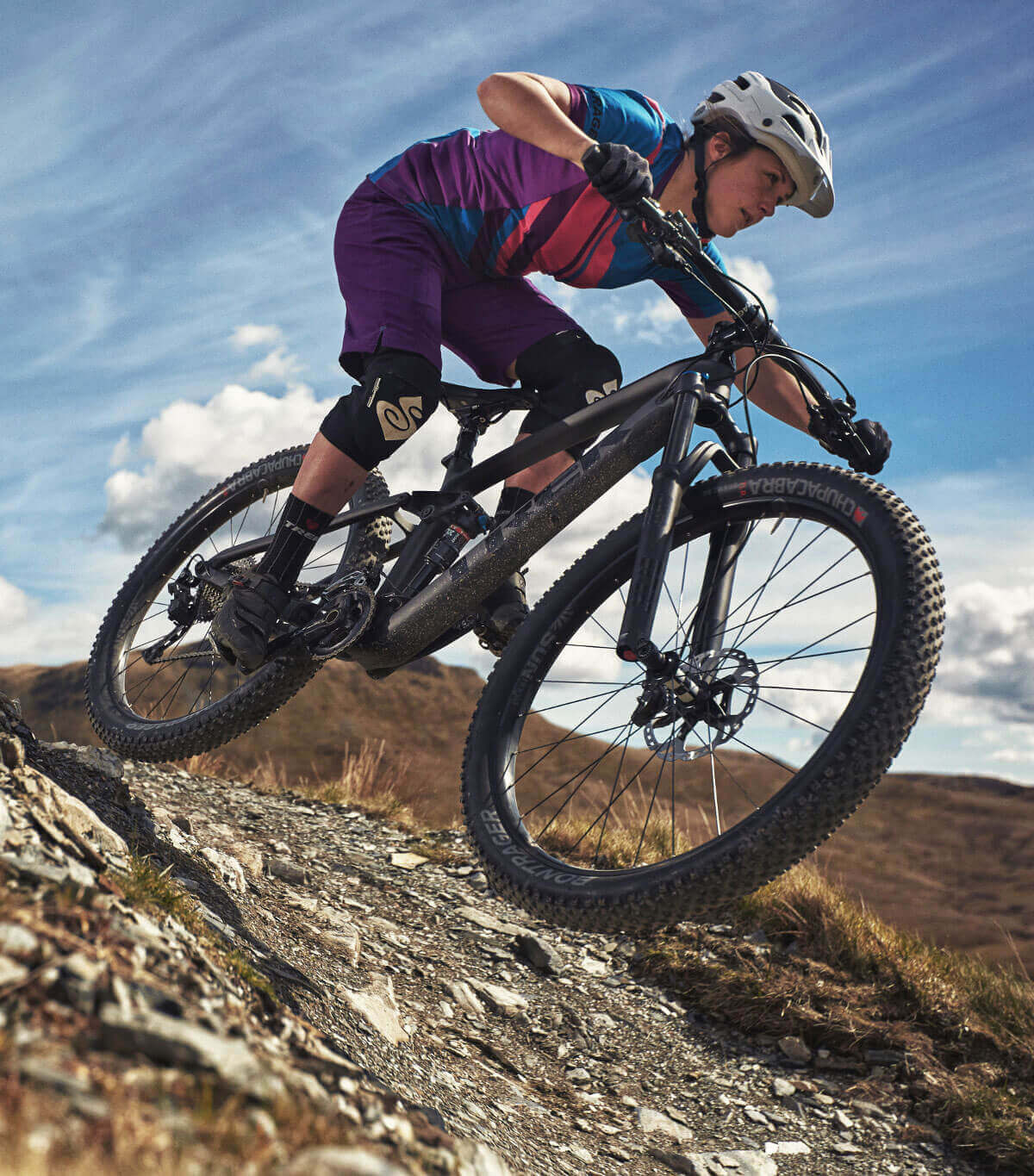 Trek Powerfly
Experience More
Powerfly expands your boundaries. It combines Trek's proven design with the reliable propulsion of Bosch pedal-assist technology, turning every mountain into a hill and every ride into pure enjoyment, amplifying the amount of fun you'll have out on the trail.
End of the trail? Not for you! Especially if you're searching for a bike with the extra power to let you go even farther. Powerfly takes you everywhere and a little bit beyond.
Bosch Motor
Bosch's Performance CX line is made for rugged off-road use with a maximum torque of up to 75 newton metres, sustained power into the high cadance range for sporty acceleration and a sleek mid-mount motor for ideal weight balance and obstacle clearance.
Bosch PowerPack
The premium Bosch lithium-ion battery features 500 or 400 Wh and a guaranteed long lifespan. The battery not only ensures long distances, but is also easy to remove and take with you.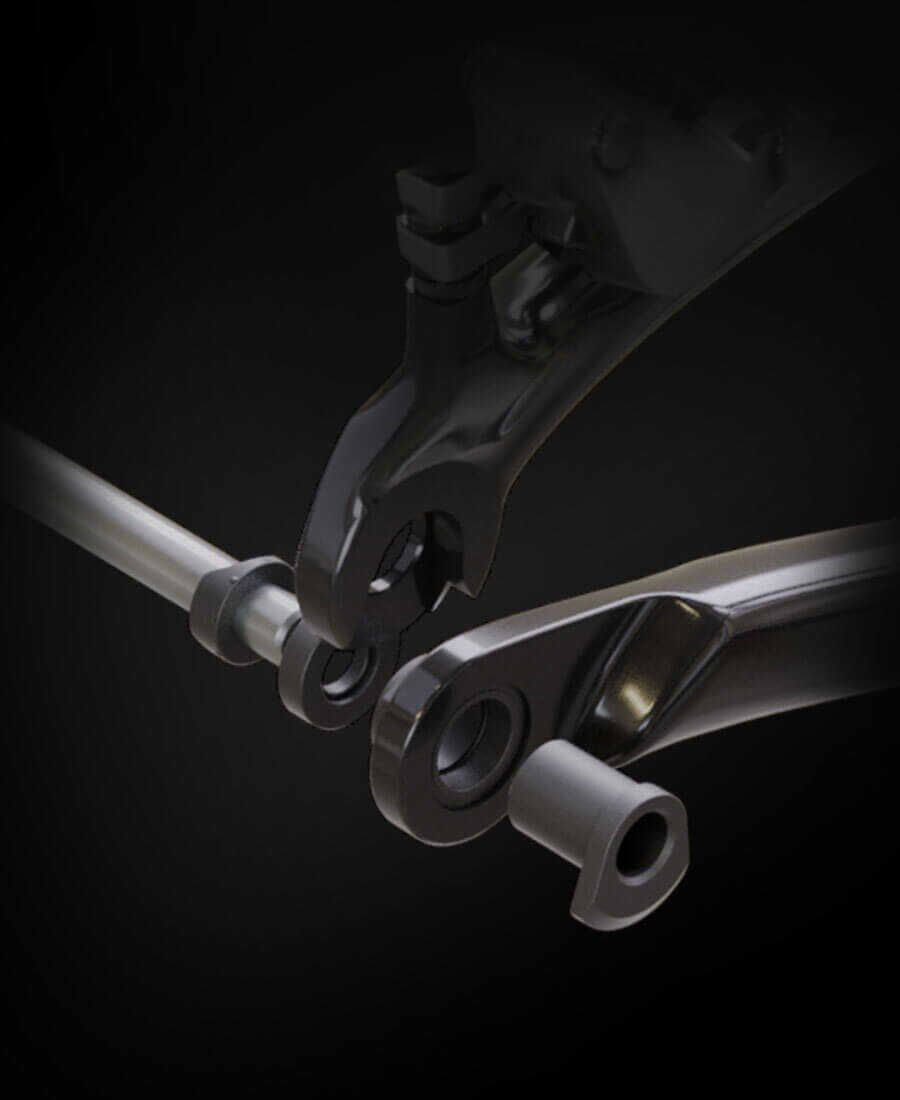 ABP
Trek's patented Active Braking Pivot allows your suspension to work freely whether you're on the brakes or off. It's smooth, controlled suspension that's at its beast all the time.
Bosch Intuvia Display
Controlled using the Bosch display with fully functional speedometer and USB interface for charging mobile devices. The included remote control is a safe, easy way to choose the right level of support or activate the walk-assist feature.
Count on experience
Trek is a bike company first, and you'll notice the difference in everything from ride feel to serviceability. Trek partners exclusively with Bosch and Shimano – the leaders in electronic motor and drivetrain design – to provide bicycles that are reliable and easy to maintain. Premium features like hydraulic disc brakes for confident braking in any condition, at any speed, are included on every e-bike we make.
In the world of e-bikes, technology is only as good as the support it gets from the manufacturer. We back every e-bike with unmatched knowledge, a support network that comes from over 40 years of development experience and an extraordinary limited lifetime warranty.
Worry less, ride more and enjoy all the possibility that comes with a Trek e-bike.
Trek Electric Bikes
Make More Possible
Neko+
Why choose between road and trail? Neko is built for adventure on or off the road, ready to take you from week to weekend and back in comfortable, confident style.
Climb any hill
With the gravity-defying capabilities of an e-bike, hills seem to disappear beneath you.
How's the ride?
Bosch's Performance CX line is made for rugged off-road use with a maximum torque of up to 75 newton metres, sustained power into the high cadance range for sporty acceleration and a sleek mid-mount motor for ideal weight balance and obstacle clearance.
Don't sweat the commute
General range is 20-100 miles, based on power mode, terrain, and other riding conditions.
What's the range?
Bosch's Performance CX line is made for rugged off-road use with a maximum torque of up to 75 newton metres, sustained power into the high cadance range for sporty acceleration and a sleek mid-mount motor for ideal weight balance and obstacle clearance.
Have more fun
An e-bike takes the hassle out of the ride, so good times are all that's left
Need to charge?
Simply plug into a standard wall outlet and allow 3-5 hours to charge a depleted battery.
Farther. Faster.
More speed and more distance make fitting a ride into your day easier than ever.
Need service?
Maintenance is generally the same as any other bicycle. The battery is temperature sensitive, so store it indoors when temps reach extremes.
We ride, we race, we train. We are one in our shared passion, but we're also each unique in our cycling goals and preferences. All Trek road bikes perform effectively in a wide variety of riding situations, but each style is designed to emphasise certain rider priorities and a particular type of ride, making it easy to find the bike that's right for you. Trek's R&D department packs more engineering horsepower than any other bike company, so whichever Trek you choose, you'll feel the difference; from the first ride all the way to the finish line.
Emonda: 100% Performance
When you train hard, when you put the big miles in, when you give it all of you've got until your legs are leaden and your lungs on fire. That's when you need Emonda. Every ounce of effort and drop of sweat is converted into flat-out speed. Groud-breaking engineering means the super-light chassis keeps the weight way down while still providing excellent comfort. When you want to smash a PB, or take the KOM, reach for Emonda.
Domane: Smooth Like Silk
We all want to ride further and faster, but who wants to feel beat-up at the end?
Domane is all about performance and comfort. The innovative IsoSpeed system dissipates vibrations from the road, and with a geomtery based on data from thousands of riders, you can ride concentrate on enjoying the ride, from first pedal stroke to last.
Trek was the first major bicycle company to develop a full line of bikes designed specifically for women, and they've been refining their women's product line ever since. One approach does not apply to all women. Different women want different things from their bikes, and Trek have got something for all of them. Trek Women: Providing the best cycling experience for all women, from beginners to experts. Come ride with us.
Trek is an extended family, and though our family is diverse, every branch has the same values and the same goal of making the world a better place through cycling.