Boot Care

How To Clean Your Boots

Take care of your walking boots and they'll take care of you, and they could last for years. But where do you start? We asked Tiso Supported-By, Ross Mclaren, to tell us how he gets on with cleaning and reproofing his leather walking boots at home.
by Ross McLaren
Ross is one half of Tiso's Supported-By duo, Ross and Rachel. You can follow their outdoor adventures over on Instagram
Ok… cards on the table, the phrase "all the gear and no idea" was basically written about me! Whether its walking gear, scuba diving kit or camera stuff I can't resist shiny new toys! But, when it comes to my walking boots it's a totally different story.
I've now been wearing my Scarpa boots for well over 4 years now and I absolutely love them. They're easily my favourite, and longest serving, piece of walking kit. They've never let me down and, more importantly with a combination of the tough leather outer and GORE-TEX lining, never let my feet get wet. I'm not sure exactly how far they've taken me over the years but we've had some amazing adventures together and long may they continue!
But, no matter how tough and hardwearing they are, they still need a little bit of TLC from time to time. In fact, my boots are probably my best looked after piece of kit.
When it comes to cleaning and "sprucing them up" it genuinely couldn't be easier!
There's loads of different products you can use, but over the years we've always found the Nikwax to be our favourite and easiest.
So… let the cleaning commence.
(Disclaimer: ALWAYS read the label on the bottle… this is just how we cleaned our boots!)
First up I'd personally always suggest you let the boots dry out from your last adventure before cleaning. That way, any mud has dried and is much easier to brush off before you actually start. So with a stiff boot brush get rid of as much of the crusty mud as possible… Oh and probably either do this outside or on some old newspaper/old towel… it can get a wee bit messy!
Once you've got rid of the "flaky stuff" get a wet cloth and give the boots a wee wipe all over and try to get any of the tougher stains off if you can.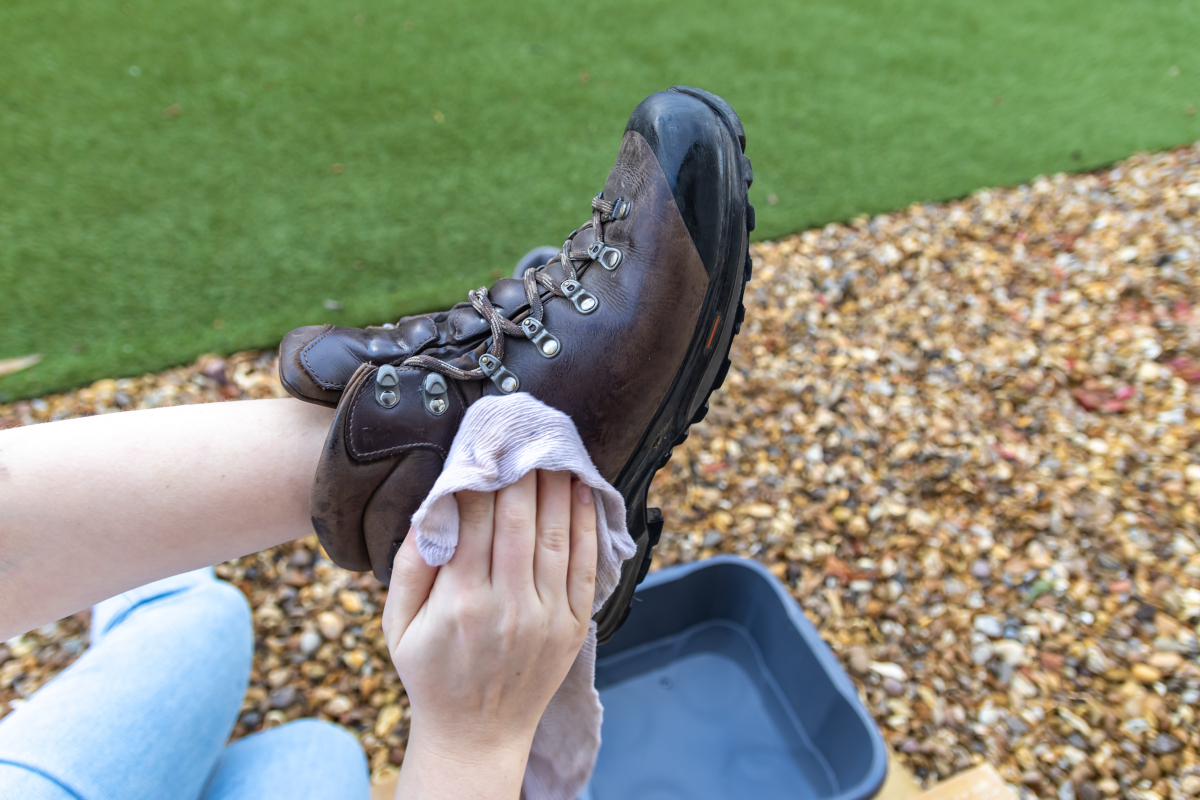 After the outer leather is damp, now it's time for the first of the Nikwax. Their Footwear Cleaning Gel is excellent, literally all you have to do is take the top off, press the wee brush tip down to release the gel and scrub away and it's that easy!
After giving the boots a good scrub with the gel, gently wipe it away with a clean damp cloth… there's something satisfying seeing the dirt wiping away.
Now at this point this is where Rachel and I's boots differ slightly. What your boots are made of is quite important for the final step of the process.
For Rachel's we used the "Fabric and Leather Proof". This is dead easy again to apply and is done right after you've washed off the cleaning gel. So without letting the boots dry, generously apply the proof. Now, our proof came as a wee sponge at the top of the bottle, so like the cleaning gel, press gently onto the boot until it starts to "foam" and then spread all over the boot. Once you've done that, leave them for a few minutes and gently rub off any excess proofer and then let them dry off.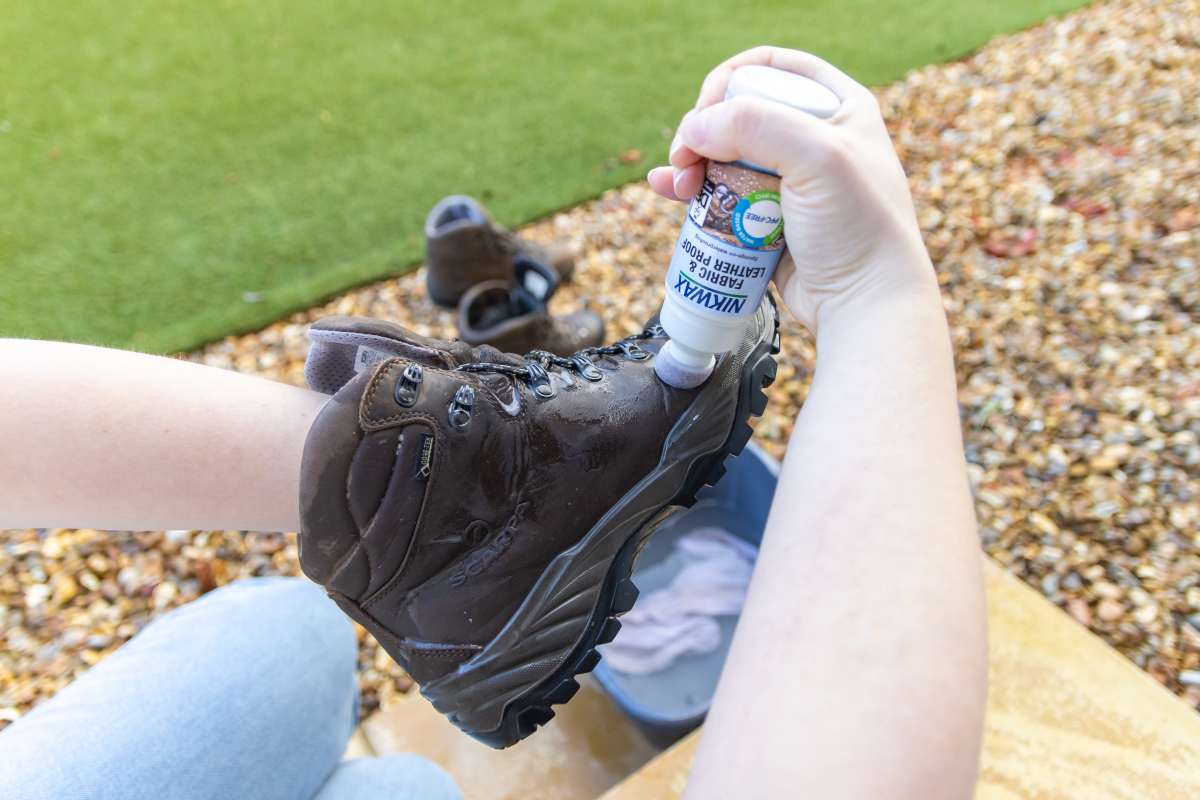 Now I know there is also a version that is spray on. I'm not 100% sure exactly how that works, but I guess it's a case of… well spraying it on, leaving it a couple of minutes and then wiping of the extra. But, as I said at the start, make sure you read the label!
For my own boots I decided to use the Conditioner for Leather instead as mine are full grain and as they dried out I felt they needed a wee bit just to keep the leather soft. But, the application is nothing different to the proof we used on Rachel's, it's just what you use that changes. Literally press the wee sponge to the boots, give them a good rub all over, give it a couple of minutes, buff off any excess and leave them to dry.
Cleaning your boots really takes no time at all, in fact I think it took us 15 minutes to do both pairs (and that was including the time to set up all the photos for this blog) but makes such a difference to them keeping them in tip top shape and going for longer!