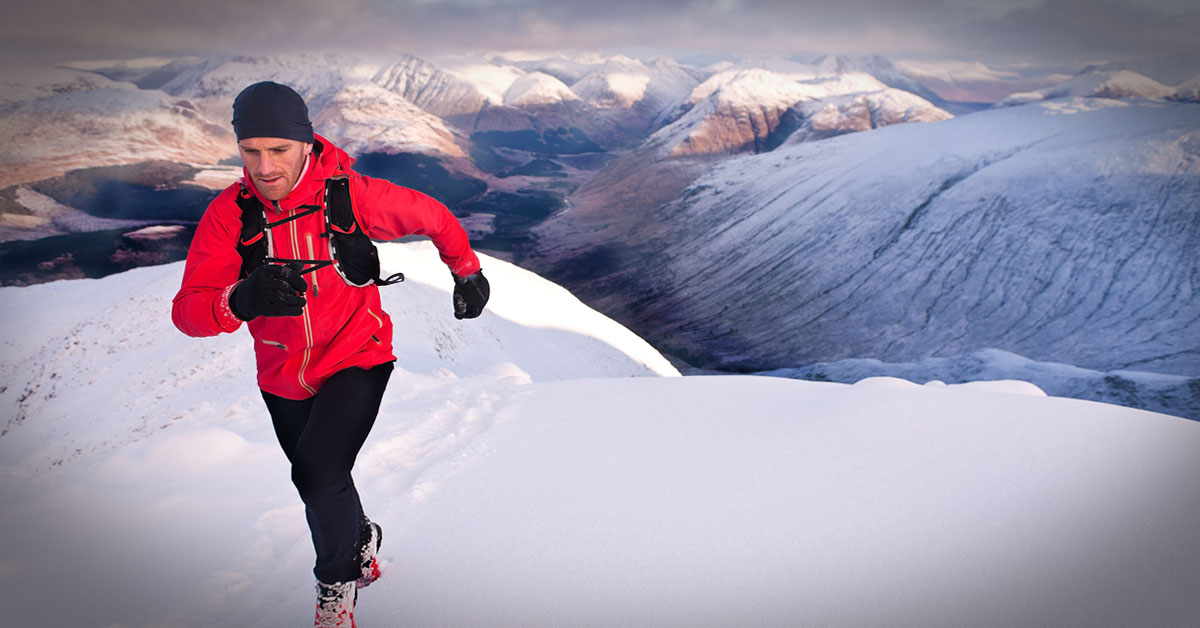 Late last year, Donnie Campbell broke the winter record for the Ramsay's Round. The Edinburgh personal trainer beat the previous best time for the gruelling 56-mile route over 24 mountains by 12 minutes to finish in 23 hours and six minutes.
His impressive running feat included a total ascent of 28,000ft and he is only the second person to complete the Scottish challenge in less than 24 hours in winter.
At the end of the Round, which takes in 23 Munros, in December, Donnie, 32, of Edinburgh, said: "It was the hardest thing I have ever done. It was brutal." Yet the ex-Marine is no stranger to tough challenges. In April, 2016, Donnie won the British Trail Championships when he ran a record-breaking time for the 53-mile Highland Fling in 6:51:06.
He has also crossed the Namib desert on foot and run from Glasgow to the Island of Skye.
In 2015, he was sixth in the Mont Blanc 80k Skyrunner World Series Race and the winner of the Iznik Ultra Race. For Donnie, Ramsay's Round had been a goal that niggled at him for a few years. He said: "It was something I had heard about and I knew it would be a big challenge and that I could potentially do well.
"However, I have so many commitments in the summer with my races – Ramsay's Round takes about two months to recover from – and so the only option for me was to attempt it in winter."
What is Ramsay's Round?
Ramsay's Round is a Holy Grail of keen ultra runners and Munro baggers. In 1978, Charlie Ramsay first achieved the round of 23 Munros, which are mountains over 3,000ft (914m), and one smaller summit, in the Lochaber area in less than 24 hours. His time was 23 hours 58 minutes – a record that was unbeaten for the next nine years.
(Note: When Ramsay's Round was created there were 24 Munros. Since then, Sgor an Lubhair in the Mamores, has been demoted from the list. It's still a big mountain at 1001m though.)
The 56 miles and 28,000ft of total ascent is over rugged terrain and extends between Glen Nevis Youth Hostel and the UK's tallest mountain, Ben Nevis. You can opt to run clockwise or anti-clockwise but all summits must be ticked off in order.
The fastest men's completion time (in summer) is 16 hours 59 minutes, and was recorded in 2015 by Jon Ascroft. The fastest lady and overall fastest completion time of 16 hours 13 minutes was recorded in June 2016 by Jasmin Paris.
Donnie said: "Most people attempt Ramsay's Round in summer because it is hard enough without adding in the unpredictability of winter weather and few hours of day light. But I decided that if I wanted to have a go, a winter Ramsay's Round was my only option."
Donnie's Winter Ramsay's Round
Donnie was sure he would complete the Round but he did not know if he would go under the 24 hours. He said: "I knew the conditions would be very challenging, with ice, snow and cold, but I was 100 per cent sure I could make the distance and cope with the terrain. What was less certain for me was whether I could go under 24 hours and also break the record."
In the run up to the Ramsay's Round bid, Donnie kept a close eye on they weather. He said: "It was meant to be a lot calmer and warmer than it was on the weekend I did the Round and I was slightly alarmed to receive a storm alarm on the first summit.
"Suddenly, there was a fresh coating of snow higher up and this led to really difficult conditions underfoot."
Snow on top of hard-packed ground and ice meant it was difficult to walk in many places, let alone run.
Donnie said: "I'd hoped for a lot more runnable terrain but there were times when it was all I could do to stay upright. The ground was so slippery, especially on steep descents in the Mamores Munros."
Lower down, in the glens, the weather was a little warmer but fog descended. Donnie said: "The ground was very boggy and it was difficult to see where I was going. One section, near Loch Eilde Mor and all the way to Corrour Station, was particularly tough."
Donnie also suffered with nausea and an inability to eat. In the Grey Corries, on about Munro 18, he started to feel ill and he couldn't face any food or water. When he forced down a gel and he was violently sick.
This was when Donnie began to doubt he would finish in less than 24 hours.
He said: "I felt so ill and awful. I had to push myself on despite hurting and I had no idea how fast I could go."
Despite the pain and difficulties, it's clear that Donnie has incredible determination – and there were many highlights during his Ramsay Round.
Donnie said: "I started at 9pm on the Friday and the first night was amazing. I felt fresh and I was excited by the adventure. I love being out and challenging myself in the mountains.
"I was listening to music and there was no one else around. My head torch was lighting up my way with the light reflecting off the snow higher up and it felt fantastic."
Donnie was also grateful to his support team. He said: "I could not have done this challenge without the support of my wife Rachael, her mum and my parents, who assisted with food and motivation. My running friends Tom Owen and Andrew Murray also accompanied me for some sections."
The final descent, from the UK's highest mountain Ben Nevis, was completed with mixed feelings. Donnie says: "I hadn't been feeling good for a while and I was totally running on empty but then I ran with all my heart on the last section. I don't think I have ever run so fast over 400m as I did on that last part of the Ben descent.
"It felt incredible to finish and to find out that I had broken the record. I then fell flat on my face in exhaustion."
Donnie's Love of the Mountains
It is not all about racing and breaking records for Donnie, who hails from Skye. He says he loves the adventure of getting out into the Scottish mountains. He said: "After I left the Marines I moved back home to Skye for a bit and this is where I really got into mountaineering, playing in the Cuillins most weekends.I learned a lot from my mountaineering friends and I ended up joining the Skye MRT which was both challenging and rewarding at the same time."
"The obvious next step seemed to be running in the mountains and my first race, around 2009, was a 140-mile multi-stage event over the hills of Islay and Jura. From there I started to combine both sports, mountaineering and running, which involved walking up a Munro then running down. As I got fitter and better at trail running I was able to run more uphill and I gained more confidence in running technical hills."
Although now living in Edinburgh, the Cuillins are still Donnie's favourite playground. He heads to these mountains at least three or four times each year.
He said: "One of my favourite routes that I really like to run and climb when I get the conditions is Pinnacle Ridge up to Sgurr nan Gillean then run the ridge to Am Basteir before dropping off the back down a crack in the rock. I finish by running over Bruach na Frithe and down the shoulder to the Sligachan Hotel for a refreshing pint."
Donnie, who owns Get Active Running, likes to set himself personal challenges where there is an element of risk and failure. He said: "If it's not a proper challenge then I do not get enough motivation and excitement for the event. So when I set myself a challenge I try to push the boundaries of my own physical and mental capabilities because it's when I get out of my comfort zone that I find I have the most fun."
With this in mind, Donnie's plans for 2017 look likely to focus on the Alps. He said: "I hope to make a few trips to the Alps to race because I love running in the big mountains. I haven't chosen my races yet but you can be sure they will involve mountains because that is what I most love about being outdoors: Running in the mountains."