You've always been into the outdoors. How did you make the transition to cycling and become a professional mountain biker?
By accident (and big leaps of faith and lapses of memory!) I entered a race when I was 26 and realised that I was already pretty good because of my outdoor experience. When you make that kind of realisation, and can see yourself getting better and better at something, it's really hard to get off that conveyor belt of progression.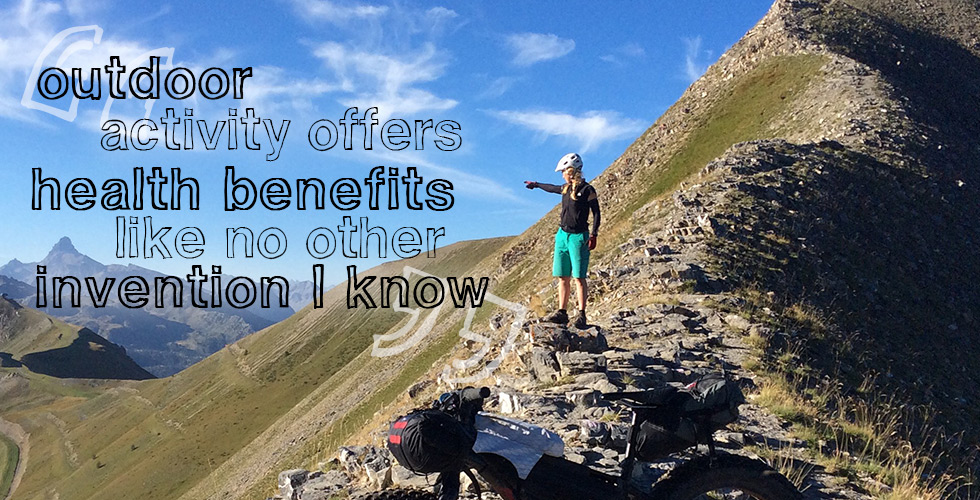 Tell us a bit more about Cycletherapy. Why do you think it's so important to encourage young people to get invovled in sport?
Cycletherapy is a project that works 1:1 with young people struggling within mainstream education for behavioural reasons. Riding bikes not only offers them the emotional regulating effect we all experience when exercising outdoors but also the chance to develop a meaningful, trusting relationship with an adult. The best conversations happen on the van ride home when serotonin levels are high post-ride. Outdoor adventurous activity offers mental, physical health benefits like no other therapeutic intervention I know.
Have you got any long-term projects in the pipeline?
Always. I am currently co-creating The Adventure Syndicate – a group of inspirational people who happen to be women and who tend to ride bikes to extraordinary degrees. More importantly, we are passionate about communicating the benefits of such adventure travel by bike and will do so via an online forum, a series of lectures and workshops and instructed bikepacking courses. I'm also establishing Cycletherapy in the central belt and training for the Tour Divide – a 2745 mile mountain bike time trail from Canada to the Mexican border.
How demanding is your training? Is cycling a full-time commitment for you?
It was when I full time racing. Eating, sleeping, socialising, work - they all came second to the training plan. Nowadays I still ride everyday but have a bit more of a balanced lifestyle. It's lovely to be able to ride for fun and with other people on big exploratory adventures and not always be worrying about my heart rate!
What tips would you give to somebody who wishes to take cycling to the next level?
Make a plan and commit to it. Be prepared to sacrifice a lot but stay connected to the people who love you. They will be the ones that make it possible for you to achieve your goals.
What was the most challenging ride you've done, and what was the biggest lesson you took from it?
Riding back to the UK from Andorra after racing in a World Cup felt pretty daunting because I'd never done anything like that before. Fatbiking the GR5 was more like the most challenging bike carry I've every done!
If you had to spend a day in Scotland cycling, where would you go and why?
I love the north west coast. When the weather is right, it's the best place in the world. It's why I live in Inverness. You can sit out of the rain and wait for a weather window then head over to Ullapool and ride offroad all the way down through Torridon to Applecross over high cols and on sandy beaches. There's nowhere else quite like it.