The Overland 500 Experience | Jane Chisholm
Day 4 on the Tiso Overland 500 gravel trail, I'm 310km from home on an Angus hillside and the self-doubt is creeping in... I have stopped for a rest and a reflection on what my purpose actually is on this Purposeful Adventure. What is my why? Well, I spend a few minutes attempting to video my thoughts in the gorgeous sunshine and I come up with this...
The Motivation:
It is true to say I want to inspire others but I also want to be a realistic role model. I am not a typical svelte, mountain goat of an athlete you see on the TV. I am just an average size 16 woman trying to do slightly more than average adventures in the hope that someone says - "Well, if she can do it, why don't I give it a try". I work with young people and want to be someone they can relate to, share the struggle and help them achieve successful adventures. I am also doing it for myself, to prove to myself I can. To regain some love for my "obese" body and show me that it is pretty damn awesome body being able to do over 100km and 1000m ascent of gravel riding every day.
So how did I get into this in the first place? Why the Overland 500? Well, I saw it pop up on social media and the association with Trash Free Trails grabbed my attention. I had already collaborated on a Trash Mob Academy project earlier in the year and liked the idea of an adventure which had a wider purpose. I also love being off roads, out in the wilds and exploring places I have never been before.
Fast forward to Day 1 and I am setting off from home - feeling a mixture of excited, anxious and fat. Greta - the gravel bike - is well prepared, I am very happy with the set up and she looks awesome! I, however, am nervous and contemplating the distance I have planned for myself. Even today's campsite seems a very long way…
The first stop is Tiso Inverness, a bit earlier to justify a trip to the cafe so I pick up the brevet card and head on my way along well known trails heading east. I have ridden these trails near my childhood home for years and it is a comforting start to the journey. Once I reach the Dava Moor however I won't be on a familiar trail again until I reach Glen Feshie 9 days later.
The Terrain:
The route covers a huge variety of trails from the flat tarmac of the former railway lines and canal paths to the rough, loose landrover tracks of the grouse moors. Some sections were fast gravel, like the forests of Aberfoyle and others were grassy fields - which by the way are very hard work! There were some hike-a-bike sections where the path is overgrown, and one section where I was waist high in nettles. I was even treated to some rooty, rocky singletrack (which the mountain biker in me loved) and then there was also a section of urban cycle path which appeared to be home to the local rave scene?!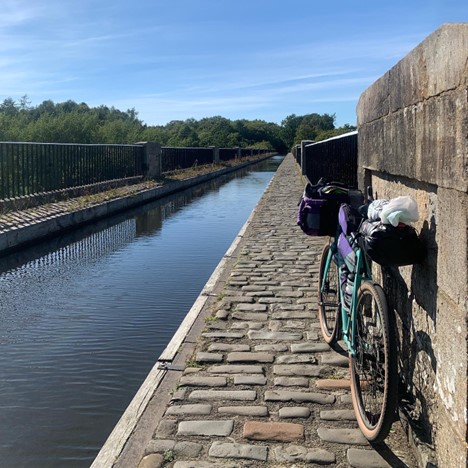 The Bike:
I opted to take Greta. Allan was on the short list, he's a hardtail, XC mountain bike who is my usual partner on bikepacking trips but I had a better luggage set up on Greta with more space to carry the weight on the bike rather than my back. Greta was also more suited to the tarmac sections with higher gear ratios and a new set of semi-slick tyres. There was only a couple of times I missed Allan's low gears and many times I was pleased Greta was accompanying me on the adventure.
The Kit:
I was asked if there was anything I took but didn't use. Fortunately, only the waterproof trousers and some bike repair tools. Since my first "bikepacking" trip way back in school when the name hadn't been invented, I have toured many times and learned at my own cost what I don't need to take. Despite the weather, which by the end of the tour was absolutely scorching, I still needed the warmer clothing overnight and when setting off. 10 days of forecast is never set in stone.
Other decisions I weighed up were tent vs. bivy and when you hear what happened on the morning of the final day you will understand why I went with the heavier, bulkier option of the tent. I also didn't have a stove or more than a day's supply of food at a time.
My phone also served as a fairly vital piece of kit. For someone who is often seen running through heather with a good old map and compass (okay "running" might be stretching the truth slightly), I was slightly nervous to rely on the mapping on my phone. I was using Komoot and for the longer, less complex stretches kept the screen off. In the towns and cities, however, it got difficult to keep the flow going without Mr Komoot speaking to me politely to keep me on route. I had two power banks, one which was also my light battery, but I cut it fine on a couple of occasions and ended up without a front light for the last couple of miles into Perth. This was despite a top up in the pizza restaurant in Dundee!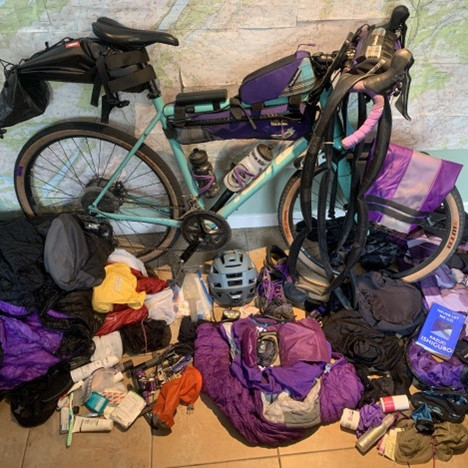 The Food:
On reflection, day 4 was a long day full of contrasts. It started in a quiet birch wood by a fast-flowing burn and finished under the bright lights of Perth… It was, however, supposed to finish in a community woodland near Scone…. Lunch was a spinach falafel wrap and a whole punnet of strawberries, all washed down with a litre of strawberry milkshake on the wall outside the COOP in Kirriemuir (a classic bikepacking location and one of many Coops I visited). Other than the first night when I rushed my shopping choices and ended up with a ham and cheese sandwich and a bag of Wotsits for dinner followed by a Biscoff rocky road for breakfast the next morning, I ate well. The route passes through villages and cities so amenities are never that far away, that includes some fine pizza restaurants and lovely cafes.
As I approached Scone, I noticed I was running low on batteries. My front light was on its last legs and then I saw it… the large road sign… "Perth 5". Cue the Premier Inn app! I booked a room for the night in the perfect location just off the route in the city centre and rolled down the hill and over the river into a cosy, comfy room with a shower and a plug socket!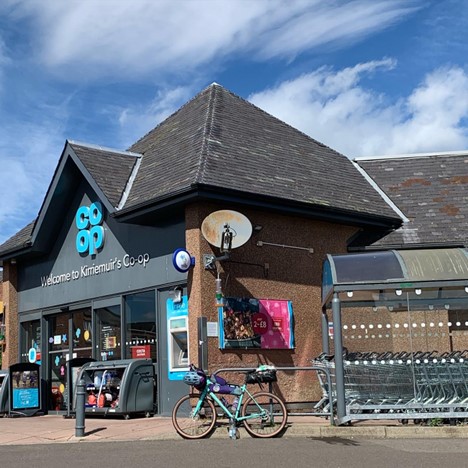 The Punctures & Repairs:
Day 4 was also the day of the first sidewall puncture. I dealt with it well. I've never fixed one before but I knew the principles and had the necessary kit. I didn't even need to take off the wheel. I dealt with the inner tube puncture first with a quick patch, then the tyre boot on the inside and a splodge of super glue and some duct tape on the outside. Job done!
Worrying about something mechanical going wrong is a valid concern for many would be adventurers. It's something that I am usually well prepared for and the confidence to handle a variety of situations is something that has come with practice. Surrounding myself with others who have taught me some valuable skills and passing these skills on to others, attending numerous workshops / courses and having to do repairs in vain have also given me plenty of learning opportunities. I have also now curated a fairly comprehensive (but very compact) dry bag of tools and parts.
Tool List: Inner tubes x 2 on enduro strap, puncture patches, tyre levers, chain lube, superglue, mini pliers, power links, spare brake pads, tyre boot, needle & thread, cable ties, multitool with chain breaker and valve key, pump, Swiss Army knife with scissors and tweezers, duct tape, elastic bands. Also sometimes carry a rear mech hanger, chain link tool, tubeless repair kit and CO2 pump.
The second side-wall puncture, same tyre, different side, occurred on the last day. The deja vu of the loud siss was very disheartening. At this stage I had company, my husband had taken the train to meet me in Aviemore. Trains being trains in Scotland, the only available bike space for Allan was on the 15:25 and, with hindsight, was probably a bit late in the day to be setting off on the final 60km. As I sat in the midges on the top of Carn na Lair at 599m above Inverness, then sun was getting low in the sky and once the second fix was done, we were treated to a stunning sunset before dropping into the cold cloud sitting in the Moray Firth.
As we got colder, and it got darker my wheel felt soft. Stopping to pump it up I failed to get the pump working. I still have no idea what I was doing wrong but eventually I decided to change the inner tube. I had dragged two spare tubes round the entire route and less than 10 miles from home here I was using them. The first, I broke the valve trying to pump up. By this point it was pitch dark and to save light battery I was doing my roadside fix by the light of a mobile phone. I was making plans for leaving my husband with my sleeping bag, Greta and finishing the ride with Allan then coming back for them as I pumped up spare tube number two. It was enough to get me home.
The Highlights:
It's impossible to choose a single highlight, but the area which surpassed my expectations was north of Glasgow. Following the West Highland Way from Milnagavie I met lots of other travellers who were keen to chat, some locals on a bike ride, some foreign tourists walking the route and a friendly guy just out picking up groceries when Greta caught his eye. I followed a number of long-distance waymarked routes after the WHW, The Rob Roy Way and Sustrans Route 7 through fabulous woodland and along almost empty roads. The Duke's Pass out of Aberfoyle was daunting but as I went into the "Granny Gear" the perfectly graded steepness never got too much and the descent was a joy. I think I may have shouted, "wheeeee…" on more than one occasion! And also - whoever named it Granny Gear clearly hasn't met many of the grannies I know - if I become half the women, with half the strength of my mum.
Another time I channeled this strength was over the pass to Glen Lyon, with Ben Lawers looming over me. It was another hot day and I was passed by a number of road cyclists, most of whom were supportive and impressed with my climb on a loaded bike. Like the tortoise, I later caught up with these hares at Bridge of Balgie Tearoom. The route continued north to Kinloch Rannoch, follwed by a boggy hike-a-bike to meet up with the A9 cycle route. After a short blast on the cycle path, I climbed up to the Gaick Pass - a very remote feel with plenty local wildlife (aka. midges). I took the singletrack section mostly on foot, as by this point in the day I was pretty tired and a mistake on this rocky path could lead to disaster. The next morning the local wildlife had gathered outside my tent, and this everyone, is why I opted for a tent…
If you fancy your own Purposeful Adventure, Trash Free Trails have plenty of ideas. You can also find out more about the Overland 500, including a link to the Komoot route on the Tiso website.