ROAD BIKE BUYING GUIDE
Whether you want to ride fast, ride far, or ride off the beaten track, a road bike is the best form of transport for covering ground at pace. However, with so many variations, materials and jargon floating around, how do you find the bike that's right for you? Here we look at the different styles of road bikes, and how to choose the right one to suit your needs.
CONTENTS
Types Of Road Cycling
All Rounder
Racer
Gravel
Cross
Sizing
Geometry
Considerations
Electric Road
Our Picks
Shop For Road Bikes
TYPES OF ROAD CYCLING
The first thing to decide is what type of riding you want to do. Are you aiming to race? Do you want to tour? Will you be seeking out back roads and rough trails? At the end of the day, virtually any road bike can be ridden on any bit of road, but depending on what you want to do most of the time might mean that a particular style of road bike would be more suitable than another. Let's have a look at a few:
ALL ROUNDER
This is your traditional road bike. It offers a great balance of weight, strength and comfort so you can ride fast and ride far. The typical road bike isn't suitable for non-paved surfaces, and isn't designed to be loaded with gear for extended tours. However, it's quite capable of everything from a road race to a sportive, short & fast training rides to 100+ mile epics. The riding position is designed to be efficient whilst still comfortable for long hours in the saddle, and the frame may feature technology to dampen vibrations to further increase comfort.
RACER
Whilst in essence very similar to the All Rounder, the Racer prioritises certain features. It will possibly sacrifice some strength for even less weight (making it even less suitable for rough surfaces), and it may include aerodynamic shaping to aid riding at higher speeds. The geometry (or fit) of the bike will also change, putting the rider into a more aggressive riding position. For an experienced rider, this can increase performance, but it is often at the expense of comfort. For a rider who does race, or values speed above all else and is willing to put the training in to become better, the Racer is ideal. It is the pinnacle of road cycling performance, but only really benefits those who work hard to increase their own abilities.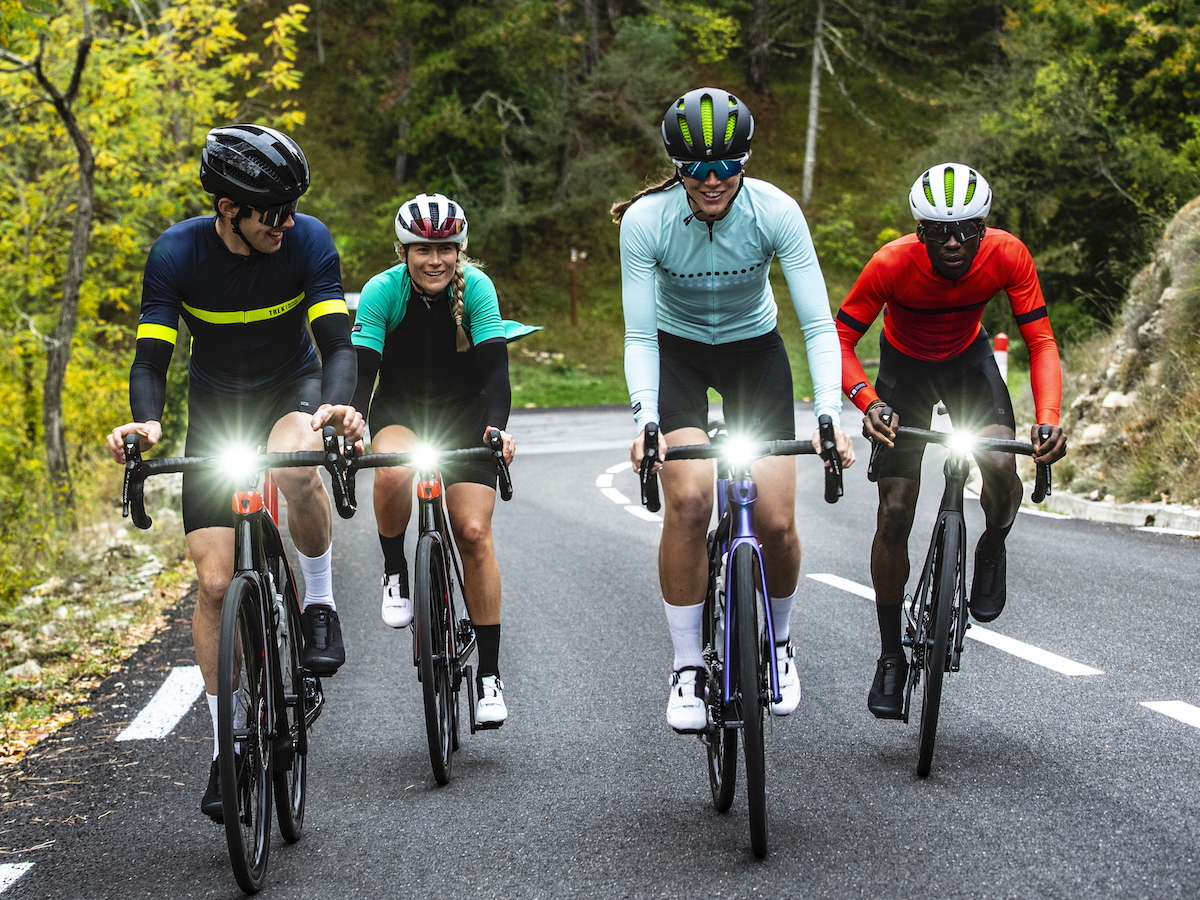 GRAVEL
There has been a rise in popularity recently of riding extreme distances over mixed terrain, in races like the Trans-Continental, and for pleasure under the term bike-packing. Gravel type bikes have been created to excel in this type of riding, focussing on providing comfort and efficiency over long distances, and versatility. The riding position is relaxed and features stable handling, while the frame will often feature mounts for various accessories like racks and panniers. The components on these bikes are also designed with more strength in mind and can handle some light off-road riding (fireroads, etc) thanks to larger volume tyres. Their versatility and toughness also make this style of bike great for regular commuting when you need a reliable bike day in, day out.
CROSS
Cyclo-Cross bikes look similar to road bikes but have a very definite purpose in riding fast off-road. While they can absolutely be used on the road, their combination of knobbly tyres and fast handling make them at home on tight and twisty off-road courses. Cyclo-cross is traditionally a type of racing, so pure Cross bikes are often quite unforgiving, especially after several hours of riding. They are also designed with performance in mind, so are less versatile than Gravel Bikes, though lighter. In previous years Cross bikes were adapted for commuting and pure road use but with the advent of Gravel bikes, they have reverted to being quite a specialist bike.
SIZING
All of our bikes listed online have a size guide included (based on the manufacturer's recommendation) which will give you a definite size for each model of bike. We can't list all the variables for every model of bike, so if you are at all unsure about sizing, give us a shout at hello@tiso.co.uk.
GEOMETRY
There are a lot of variables in the geometry of a bike that defines how the bike handles. We could write a whole article just on this but let's stick to the basics. Geometry refers to all of the angles and measurements that make up a frame. By varying these, manufacturers are able to create bikes with different attributes: some put the rider in an extremely efficient and aggressive position; some in a more comfortable and upright position; some make for stability and easy handling; some make for sharp steering and high responsiveness.
Typically, if you have decided on the type of road bike you want, geometry will be broadly similar between different bikes in this category. However, it's useful to have an idea why certain bikes feel different. Here are a couple of measurements to look out for: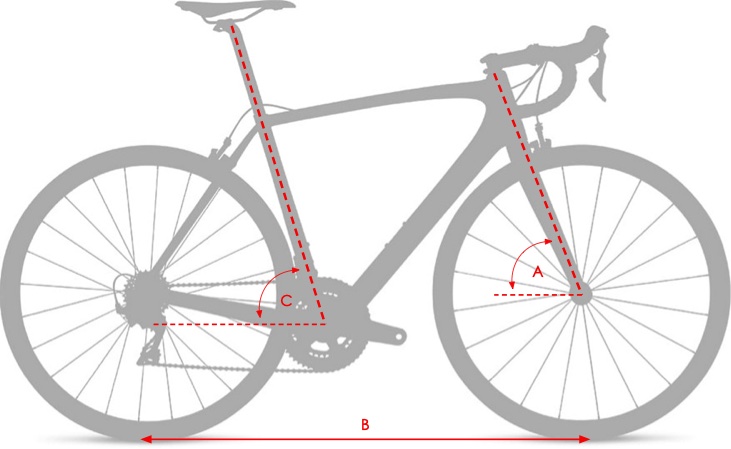 Head Angle - A
Definition – The angle of the head tube of the frame to the ground, typically between 75º to 65º
Effects – The steeper the head angle, the quicker the steering response. Racier bikes will likely have steeper head angles and thus sharper steering. Gravel bikes on the other hand will have slacker head angles leading to more stability and slower steering, a particular benefit for more challenging off-road riding.
Wheelbase - B
Definition – The distance between the point of the front tyre touching the ground, and the rear tyre touching the ground.
Effects – A short wheelbase makes a bike highly manouverable while a long wheelbase makes a bike more stable at high speed.
Seat Angle - C
Definition – The angle of the seat tube to the ground, typically between 65º to 80º
Effects – A steep seat angle puts the rider further forward over the pedals and cranks which leads to a more aggressive, and often more efficient, riding position. A shallower seat angle creates a more upright, and often more comfortable riding position, better for riding long distances.
Bottom Line: No one part of the geometry of a bike is worth more than the rest. A bike handles due to the combination of all the different measurements. However, it's useful to be aware of the current trends, and know why a gravel bike handles differently to a race bike.
CONSIDERATIONS
So, you've decided what type of riding you want to do. What else should you look out for? You could easily get hung up about every component on the bike, but let's look at some of the most important decisions:
Frame: The foundation of every bike, getting the frame right is key. Typically, frames will be made of steel, aluminium or carbon fibre. While steel has the capacity for being light and giving an excellent ride feel, it is not readily available on off-the-shelf bikes and is more commonly used on custom builds. Steel is very strong for its weight, repairable, and when made well, good at providing a lively and comfortable ride.
Aluminium frames dominate the market up to around £1,500. Aluminium is lightweight (typically lighter than steel) and robust, though gives a more harsh ride than steel unless the manufacturer has invested some time in adding some extra features like innovative tube shapes. Generally speaking, aluminium is a great material and will create a light and tough bike perfect for most riding.
Carbon fibre is the best technically performing material. It is lighter than steel and aluminium, it can be made to absorb vibrations yet be stiff in other areas so you get a supple ride with great efficiency and handling. The downside is that carbon fibre is more expensive (bikes £1,500+) and cannot be repaired very easily in the event of damage.
Other than your budget, you must consider what you really want out of your bike. If it is for pure road riding, carbon is the pinnacle. If you want to tour or ride in particularly remote regions, aluminium and steel are typically more robust.
Suspension: Suspension is not common on road bikes but you will see various systems like Trek's IsoSpeed which actively dampens vibrations. These features are mostly found on carbon frames and more expensive models and can provide substantially more comfort over rough roads.
Gearing: Most road bikes come as standard with what is known as compact gearing, which means two chainrings at the cranks and anywhere from 9 to 11 gears at the rear wheel. You will find some road bikes, and more gravel and cross bikes coming with 1x systems which use 1 chainring with a wide range of rear cogs. This system is simple, easy to look after, and works particularly well on gravel and cross bikes, though it is beginning to be found on traditional road bikes too. However, a standard two chainring setup will be more beneficial for standard road riding as it gives more gear options with smaller jumps between gears: this helps the rider maintain a steady cadence.
Brakes: The vast majority of road bikes now come with disc brakes rather than traditional rim brakes. Disc brakes offer better performance in adverse weather and provide more clearance for larger volume tyres and\or mudguards. Brakes will either be cable or hydraulically operated. Hydraulic is more powerful, more reliable and generally better, though more expensive. Cable is easier to maintain, though needs more looking after, and considerably cheaper.
Wheels: Wheels are one of the biggest components of a bike, and thus can have a startling effect on how a bike rides. A lighter wheelset means easier and quicker acceleration. Also consider the hub and rim: entry-level bikes will often use basic components here where higher end models may use a factory built wheel that uses less spokes, higher quality bearings, and makes for a stiffer wheel which aids handling and performance.
Tyres: As the main contact point of the bike, tyres are vitally important. All Round or Racer type bikes will have tyres of a width anywhere from 23C to 32C. The wider the tyre, the greater the volume, and the better the tyre is able to disperse impacts, meaning a wider tyre is more comfortable to ride. It also offers more grip as a larger patch of tyre is on the ground at any one time. However, thinner tyres are lighter and create less rolling resistance, and less air resistance too, and so are technically faster. Gravel and Cross bikes will have wider tyres up to about 42C, with or without a knobbled tread.
Tubeless: Another choice on tyres is tubeless. This technology removes the traditional inner tube from the wheel, using a liquid sealant to keep air in the tyre, and plug small holes made by thorns or debris. It isn't a fool-proof system, but it is very good. If you want high performance, it's well worth going tubeless as it will provide a better riding experience.
ELECTRIC ROAD
In the last 5 years, electric bikes have taken off in a big way. Advances in battery technology and more powerful motors mean that the current crop of electric bikes are astoundingly capable, enabling you to ride further and faster. So what should you look out for when choosing an electric bike? All the considerations listed above are still relevant, but there are a couple of additional things to look out for:
Battery: The battery is probably the single biggest consideration. The bigger the battery, the more range (this is measured in WH – 250-500WH is standard) but also, the more capacity a battery has the heavier it will be. You can often buy replacement batteries but these are very expensive (around £500) so getting it right when you buy the bike is key.
Motor: As the motor on most e-bikes is integrated into the frame, it's not something you can change further down the line, so getting it right when you buy the bike is important. All manufacturers use an on-board computer to control the power to provide a natural feeling, so the power comes gradually and not all at once. It's worth pointing out some different systems too: Cannondale use a motor built into the rear hub. This is a lighter system than the usual motor, and means the bike looks a lot sleeker without the enlarged tubes of typical electric bikes.
OUR PICKS
Here's a few of our favourite road bikes from across our range: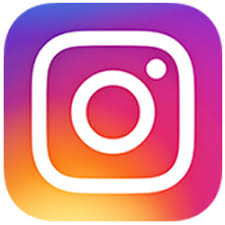 Share all your cycling adventures with us on Instagram! Follow along for the latest news, products, competitions and more
Alpine Bikes Instagram Home
Change Up A Gear
Alpine Bikes are proud to work alongside Trek Bicycles & Bontrager to bring you the biggest range of bikes, apparel and equipment in Scotland. Whether you want to test yourself on the road, feel the thrill of speed through the forest, or pack your bags for a big tour, we've got you covered. Pop into your local Alpine Bikes store to see the full range.
See More Trek