Top 10 Scottish Beaches
The sun is out, the temperature is soaring, it's the best time to be out adventuring. Unfortunately, Katy chose this week to complete her work experience in Tiso HQ... To soften the blow of being inside and missing out on all the vitamin D in the air, we asked her to pick Scotland's top ten beaches...
10. Rockcliffe Beach
Location | Dumfries & Galloway
Nearby | Threave Garden & Estate, & Broughton House & Garden | National Trust for Scotland
This small sandy beach is great for walking and many tourists come every year to visit. When the tide is low it can be almost a mile away from shore however can be as close as a few yards when the tide is high, so make sure you don't get caught out when the tide turns. Make a day or weekend in the area by visiting the stunning Threave Estate, owned by the National Trust for Scotland, famed for it's gorgeous gardens. For the adventurous, the 7Stanes mountain bike trails at Dalbeattie (and further along the coast at Kirroughtree) are well worth a visit.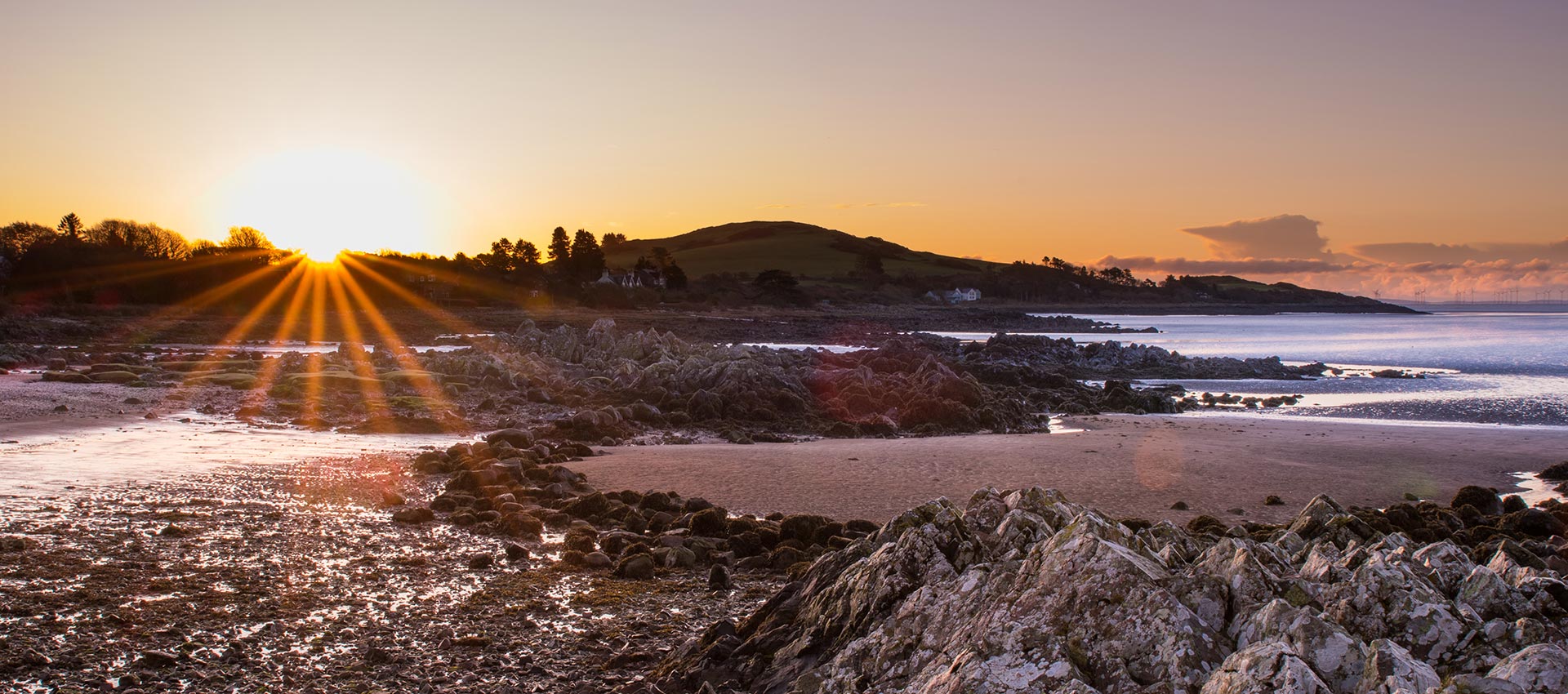 9. Calgary Bay
Location | Isle of Mull
Nearby | Eas Fors Waterfall
Calgary is on the North-West coast of the Isle of Mull in Argyll and Bute. It stands out in the area with its sandy shores and beautiful view. Make sure to keep an eye out for white tailed sea eagles; these remarkable birds have been spotted in Mull since 1985. Make sure to visit Tobermory and it's famous coloured houses while on Mull, and if it's been raining (it is the west coast of Scotland, after all) the Eas Fors waterfall can be very dramatic.
8. Elie Beach
Location | Elie, Fife
Nearby | Hill of Tarvit Mansion & Garden | National Trust for Scotland
Located in the East Neuk of Fife and only about 15 miles from St Andrews this picturesque sea side town attracts thousands of vistors each year with its long golden beach. There are also lots of water activities in the summer including canoes and paddleboards which you can hire. The chain walk along the nearby cliffs is a must-do activity (and not as scary as it sounds!). Finish your day with a trip to the Hill of Tarvit mansion for a bite to eat, a look at life in an Edwardian house, and a very unique game of golf.
7. West Sands Beach
Location | St Andrews, Fife
Nearby | St Andrews Town
You may recognise this beach from the epic opening scene of the film Chariots of Fire, and if you enjoy running, it would be rude not to have a canter on this beach. The long wind-swept sands offer fantastic views out to sea and back towards St Andrews with its distinctive skyline. West Sands is where our friends at the Polar Academy come to practice hauling sledges in preparation for the Arctic, and you've a good chance of seeing plenty of sports from volley ball to polo being played on this expansive beach. Head into the town for an amazing array of cafes and restaurants, and make sure to visit the castle, cathedral, harbour and many ancient university buildings to get a real flavour of the place.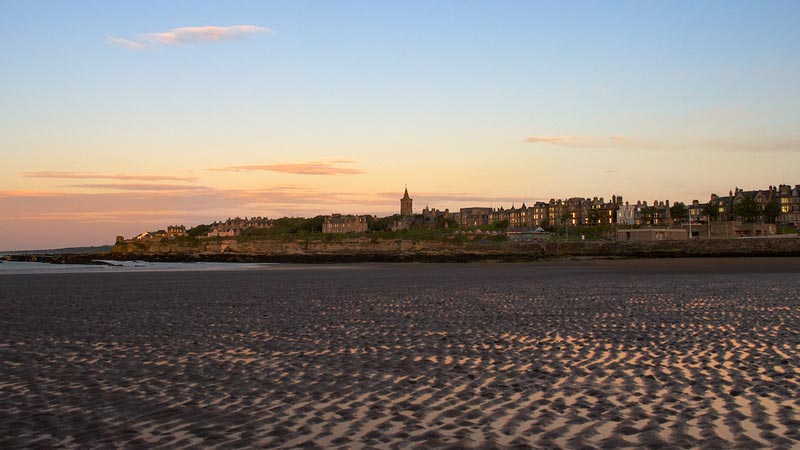 6. Scarista Beach
Location | Isle of Harris, Outer Hebrides
Nearby | The Outdoor Hebrides
These breath-taking beaches are located in the Outer Hebrides. With over 3 miles of light golden sand and bright turquoise water it can seem seem like another country but one step in the cold water will remind you that you're still in Scotland. With a wide selection of wildlife here don't be suprised to see eagles or seals in Scarista. Make the most of the trip to Harris by taking in the other Outer Hebrides and get a taste of these wild & remote islands. For the outdoor lovers, there are plenty of options for getting up close and personal with the landscape with a myriad of activities available on the islands.
5. Aberdeen Beach
Location | Aberdeen
Nearby | Golfing Aberdeen
One of Scotland's city beaches, it streches for 3km and is one of the best places in the country to see bottlenose dolphins in the summer. Further along from the beach is a former fishing village with quirky cottages along the harbour. If you're a golfer, you'll find plenty of links courses along this coast, and plenty of wind to pit your skills against!
4. East Beach
Location | Lossiemouth, Moray
Nearby | Culloden | National Trust for Scotland
About an hour and 30 minutes away from Inverness this beach is popular with surfers and water sport activities. Seals and dolphins are also fairly common in this area. The beach is popular for walkers due to its relativly mild climate, despite being on the North Sea coast. There's plenty of history in North-East Scotland, but perhaps none more vivid than Culloden. Heading back towards Inverness, stop in to walk the battlefield and discover the motivations and challenges that defined a divided country.
3. St Ninians Beach
Location | Shetland
Nearby | Shetland Wildlife Tours
One of Scotland's most incredible coastal sights is St Ninians Beach. You can set foot across one of the best sand tombolos (a section of sand joining an island to the mainland) in the world, meaning you can walk straight through the middle of the ocean. There's so much to do on Shetland, but you can't go wrong with a wildlife tour. Visiting species all year round make this a dream for the animal lover, with everything from orcas to puffins to be spotted.
2. North Coast of Iona
Location | Iona, Inner Hebrides
Nearby | Iona Attractions | National Trust for Scotland
Located on a small island in the Inner Hebrides off the west coast of Scotland, this beautiful white sandy beach with crystal clear water is stunning for long walks or relaxing by the sea. It is also amazing for photographers and wildlife spotters with dolphins, puffins and sharks all spotted here. The island is owned by the National Trust for Scotland and has a host of sights to see, including Fingal's Cave & Staffa, giant basalt columns that rise out of the sea. It's a truly stunning place for a visit, and the beaches are perfect for dipping your toes in the water.
1. Luskentyre Beach
Location | Isle of Harris, Outer Hebrides
Nearby | Harris Tweed Centre, Tarbert
It's back to Harris for our number one beach in Scotland. Luskentyre is found on the west coast of Harris (not far from Scarista). It is one of the biggest beaches on the island with miles of white sands and beautiful bright blue water. The area around the beach is very popular for hillwalking and cycling. If you know your literature, you'll recognise Luskentyre from Peter May's Lewis Trilogy, and Ian Banks' Whit amongst many others. Only by visiting this dream of a beach can you appreciate the beauty and atmosphere. There's a host of activities and sights to see on Harris, but you could do worse than discover the famous Harris tweed for yourself in nearby Tarbert.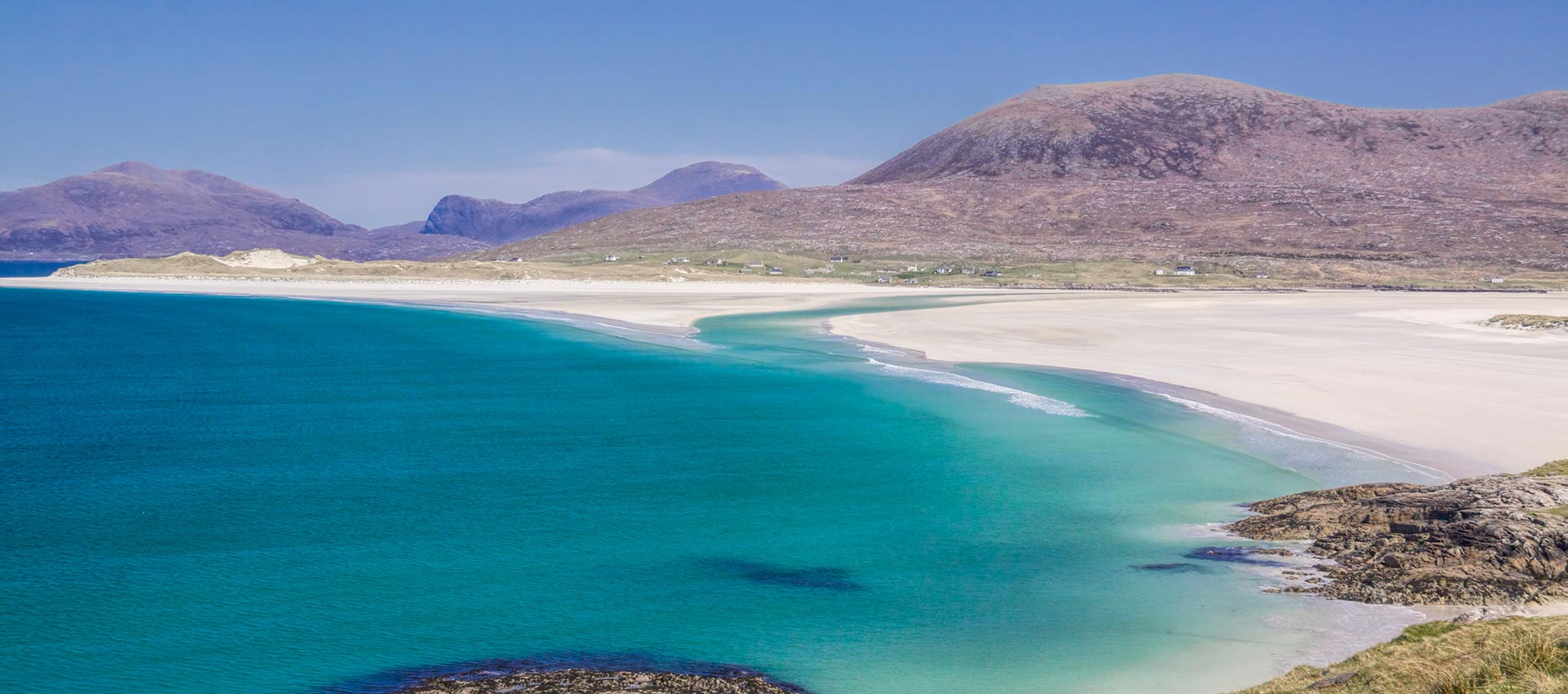 Thanks to Katy for putting together this list. That's our weekend plans sorted for the next month!
Camping At Tiso
We. Love. Camping.
Since Tiso opened its doors in 1962 we've been researching, testing & selling the best tents from the very best brands. It's the part of the outdoors we love the most. Pop into any of our stores to get expert advice from our knowledgable staff, and shop the best range of camping kit in the UK.
Photo by Rachel Keenan | rkeenanphotography.com | IG
See Our Camping Range