Bikepacking vs Bike Touring: What's The Difference?
'Bikepacking' is a term bandied about right now; it's certainly a la mode, but what does it really mean? To appreciate this niche-but-growing discipline in cycling, we need to head back to the 19th century.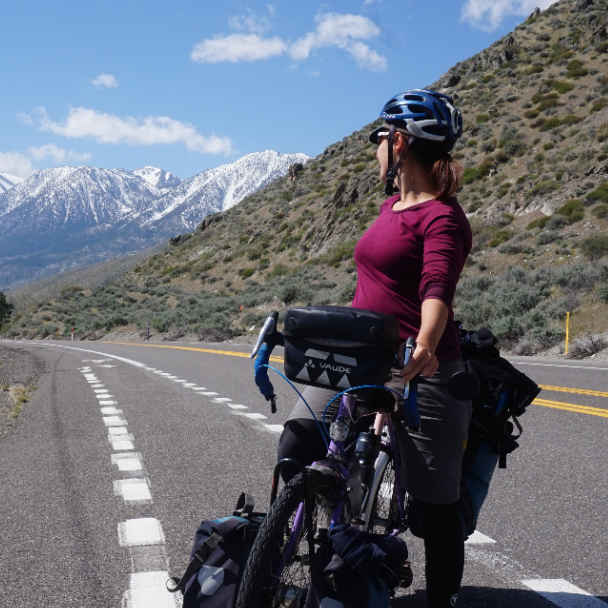 by Helen Langridge
Helen is a Digital Merchandiser for Tiso. She lives for exploring the world by bike, having currently cycled through 33 countries (and counting).
Victorian Liberation
'Bike touring' might be a more familiar term for some. It's all about exploring near or far, with your belongings on a bike. From the first commercially available pedal bicycles appearing in France in the 1860s, the popularity of cycling exploded as it revolutionised personal transport. it only took a decade for not only the technology to spread, but people to love bicycles so much you could join a club with the Cyclists' Touring Club was founded in Harrogate in 1878 (now Cycling UK). By the turn of the century, CTC membership reached 60,449. (Image source.)
Initially a hobby for the rich, the bicycle became liberating for both the lower middle classes and women as an independent mode of transport and with the evolution of clothing. In fact, the invention of the bicycle has been described as 'one of the most important events in human evolution' as it increased the distance potential romantic partners, thereby stimulating mixing of the gene pool. If your village was full of cousins and idiots, just cycle to the next one! Distances undertaken by bike increased rapidly and the first person to cycle a route around the planet was Thomas Stevens on a penny farthing from 1884 to 1886, followed not long after by Annie "Londonderry" Kopchovsky from 1894 to 1895.
But they were by no means alone; the 1890s saw a slew of world bicycle travellers. Thomas Gaskell Allen and William Lewis Sachtleben rode from "Istanbul to Peking" in 1891-1892 and wrote a fascinating account of their 15,044 mile journey. In their preface they briefly and unceremoniously describe their extra legs from Liverpool to Istanbul and then from Shanghai to New York, but their main descriptive focus is Asia. This is probably because most of their interactions were with people who had never seen bicycles before. With their set up (picture source), perhaps they were the first bikepacking pioneers and most certainly a more land-based than Thomas Stevens who took boats across a lot of Asia. Not that that's a criticism - he was on a penny farthing!
Meanwhile, the CTC in the UK was developing bike tourism quickly, producing the first cycling map in 1901 (though the right to cycle on bridleways and long-distance cross-country routes wasn't established until the Countryside Act in 1968).
Types of Touring
During the 1880s, a gentleman called John Wood first patented a bag specifically for bicycles in New Jersey. All modern pannier designs have been derived from this patent as they all follow the same principle: a bag hanging down the side of the wheel.
To this day, to use this set up, you'll need a pannier rack attached to your bike frame with bolts. Not all bikes will have this ability – most notably higher-end road bikes and some mountain bikes. It is convenient to divide bike touring into a few different subcategories, mostly being defined by how heavy or how far one travels:
Credit-Card Touring: carrying a minimum of equipment and clothing, but with plenty of money money to pay for everything else including meals and places to stay. One or two rear panniers.
Fully Loaded Touring: carrying everything a rider needs to be self-sufficient, including cooking equipment, food and shelter. Usually 4 pannier bags,a bar bag and perhaps a pack on the back (pictured below), maybe even a trailer.
Supported Touring: a rider has packed extra clothing and equipment but it is carried from stop to stop by vehicle. These are usually commercially sold bike tours but occasionally suffering spouses may "volunteer" for the job.
Of course, there'll be plenty more 'but what about' nomenclature we've not listed here but they're all variations on the same idea, and mostly take place on-road. And then there's bikepacking, which is where we find ourselves today and probably why you've clicked on this blog! To understand the need for bikepacking in the narrative, we've got to look at off-road cycling in the US of A.
What Is Bikepacking Then?
The first long distance USA bike tour was organised to celebrate the bicentennial founding of the United States. In 1976, 4100 riders set off from Astoria, Oregon on a journey to Yorktown, Virginia on a route now known as the TransAmerican Bicycle Trail. The organisers subsequently set up the Adventure Cycling Association based in Missoula, Montana. Many of these riders used a pannier set up to carry their equipment as the route was designed to keep people on good roads and pass through small towns.
Two thousand cyclists finished that ride cementing it as part of a growing movement of long distance riders. By the late 90s, long off-road bike races using mountain bikes were becoming popular. The big first two were the Great Divide Race (Canadian border to Mexican border through the Rocky Mountains) and the IditaBike (following the Iditarod dog sled race route in Alaska). As these routes cover rough ground, the traditional pannier set up starts to fail; bags will fall off and rack attachments will break. To problem solve, people started to make their own designs with waterproof compression bags and just strapping them to their bikes. Commercially available designs appeared from two sources: Jeff Boatman with Carousel Design Works in the Sierra Nevada, and Eric Parsons with Epic Designs (now known as Revelate Designs) in Anchorage.
In the Sierra Mountains Times, Jeff Boatman said, "With my lightweight system it opens a door to a whole new world of riding possibilities because you no longer have heavy racks and bulky panniers to get in the way and you don't have to tow a trailer behind you like an anchor. You can really go lightweight and preserve the riding experience. I can ride trails and still hop over logs or ride like I normally would on a short-day ride."
(Image Source: Revelate Designs)
"I started by wearing a small backpack and strapping some of my ultra-light backpacking kit to my mountain bike and then riding into the high country," he recalled. "But after breaking the hardware on the rack in the middle of the backcountry and trying to deal with that I realized there had to be a better way. So in about 2004 I started building bicycle packs that allowed me to ride in the high country in a lightweight style with more performance than I would have with racks, panniers and trailers. It basically evolved out of my use of those systems and finding their shortcomings and then applying an ultra-light ethos of simplicity, integration and reduced mechanical complexity to a bicycling perspective."
After an accident, Jeff had to slow down and turned his ideas and tinkering into a business – Carousel Design Works. In 2007, the winner of the Great Divide Race was using one of Jeff's products. Eric Parsons began Revelate Designs at around the same time, in the same way; he made his bags for himself and then for others.
The most basic, and perhaps most common, set up is thus:
A saddle pack: A bag attached to the saddle rails and seatpost.
A handlebar pack: A bag attached to the handlebars.
A frame bag: A bag taking up either part-of or all-of the internal triangle of the bike.
A top tube bag: A small bag afixed to the top tube of the bike at either the handlebar end of the seatpost end.
Then there's plenty of additional points you can fit a bag: your front forks, under the down tube, at the stem etc. Companies such as British brand Apidura are now considered one of the most well designed and forward thinking companies in the market and have a solution for most problems.
Is bikepacking a fad? We don't believe so. With its origins in racing, it was only natural for more and more bikepacking races to spring up across the world and even a pandemic hasn't been able to stop them (though participants are less international). These ultra-cycling races are characterised by being solo and unsupported, though riders can buy commercially available food and accommodation.
Every year there's a new ultra-distance bike race, but here are some of the more well-known:
The Tour Divide: A 2008 development of the previously mentioned Great Divide Route covering the length of the Rocky Mountains from Alberta (Canada) to the Mexican Border. It's 4400km long and mostly off road.
Trans Am Bike Race: A race following the TransAmerica Bike Trail created by The Adventure Cycling Association in 1976. It's 4300 miles long and stays as true as possible to the original route.
Transcontinental Race: A road route usually between 3200 – 4200 km long across Europe. The first edition started in 2013 by Mike Hall and the route changes every year. Participants must pass through checkpoints, but their route between is their own.
Highland 550: The UK's most well-known off-road race taking in 550-ish miles of the Scottish Highlands. Designed by Alan Goldsmith as a training route for the Colorado Trail Race, it is now a route both raced and toured by those wanting to test their moxie.
Silk Road Mountain Race: Starting in 2018, the SRMR covers 1700km across the mountains of Kyrgyzstan, predominantly off road. With large distances between refuelling points and the risk of inclement and extreme weather, it's quickly become one of the toughest races on the calendar.
So, 'bikepacking' is differentiated from 'bike touring' by its lightweight ethos, 'direct to the bike' baggage style and has its origins in off-road racing. This style of bike travel is now used both on and off road and choosing it over the more traditional set-ups comes down to personal preference in equipment volume, type of bike and speed.
But it's not just about racing, so where will bikepacking go in the future? It's difficult to say but more and more people touring by bike for long periods of time are starting to adopt more of a 'bikepacking' style so as to enable more adventurous routes, ride lighter, with the potential to do bigger daily miles. In the early days you might have been confined to travelling in tweed and wool, with waxed cotton bags, leather shoes and a heavy canvas tent. But with the advent of advanced technical fabrics and lightweight kit, so much more can be squeezed into a much smaller set up, allowing for the sort of freedom that bikepacking provides. It's become a race to see who can make the lightest everything. The pannier has a use that'll never die out, from touring with all the additional comforts that can be stuffed in, to bike commuting and utility cycling (both increasing in popularity again as cities become safer with improved bike infrastructure).
Tiso is your one-stop shop for all things bikepacking. We have everything you could wish for across our departments: camping, clothing, bikes and bags. Get ready for a summer of local adventures on your bike with the best brands in the business including Apidura, MSR and Endura. However you choose to travel and explore by bike, just be sure to have fun!
If it's a rainy day or you just can't get out right now, head over here for our Top 10 Ultra-Cycling Documentaries to whet your appetite for all things adventure.