Why We Commute by Bike
Today, we are writing about something that we at Tiso and Alpine Bikes feel strongly about. Something that we truly believe can change the world - ditching your car, for your bike. We want to highlight reasons why choosing your bike over your car is a great idea and we have our passionate pack of cycling commuters here to tell you why.
Every day we ride our noble steeds through the city, over the hills, along the bike paths, hopping over potholes. We do it so we can get from A to B, car free. On our commuting adventures we are outside, with that soft cyclist wind on our faces, embracing life. As we pedal with our feet, our minds relax. Some of us are listening to music, some listening to the sounds of the city and some of us listening to an audiobook. Our commuting adventure is personal to us, but we all share one thing in common - when we arrive at work, we feel fresh.
Cycling to work gets us outside, gets our blood pumping and gives us moments in solitude. Commuting starts our day off right. Surprisingly, people who commute by bike make up only 2.7% of commuters in Scotland and 4% in England so it seems that only a small (but mighty) portion of the population are experiencing the benefits of cycling to work. With schemes such as Cycle2Work we did think this percentage would be higher so it is sad for us to see this statistic. One of the main reasons people are put off by the idea of commuting by bike is their perceptions of how safe it is. The majority believe that cycling on the road is unsafe and therefore would not try it themselves. An unarguably valid reason, however, cycling to work is not particularly unsafe in comparison to its counterpart methods of transport. According to sources there are around 10.5 million cycle trips for every cyclist fatality and a pedestrian is more likely to be killed by a car than a cyclist is.
Although many of us here at Tiso and Alpine Bikes commute on two wheels simply because we love cycling, we in turn are looking after our bodies and our minds as we make our way to work. Commuting by bike is great for our health, and there are a tonne of studies out there to support this statement - it is linked with a 45% lower risk of developing cancer and a 46% lower risk of cardiovascular disease, compared to commuting by car or public transport. And for our mind? Cycling just 30 minutes per day has proven to increase cognitive function such as coordination, inhibition, memory, processing and reaction time; and overall well-being with respondents reporting an increase in self-rated meaningfulness of life and change in self-efficacy, both associated with lower levels of depression in adults.
Unlike driving, cycling causes negligible harm to others through pollution. In fact, a study of Stockholm found that if drivers who travelled short distances by car switched to commuting by bike (with journeys less than 30 minutes), there would be overall lower emissions of vehicle generated air pollutants and thereby lower exposures to the general population, so much so that more than 449 years of life would be saved annually.
We get it, switching up your regular daily routine from jumping in the car to on the bike can be daunting, especially if you have never commuted on two wheels before, but the benefits of choosing your bike over your car can be tremendous!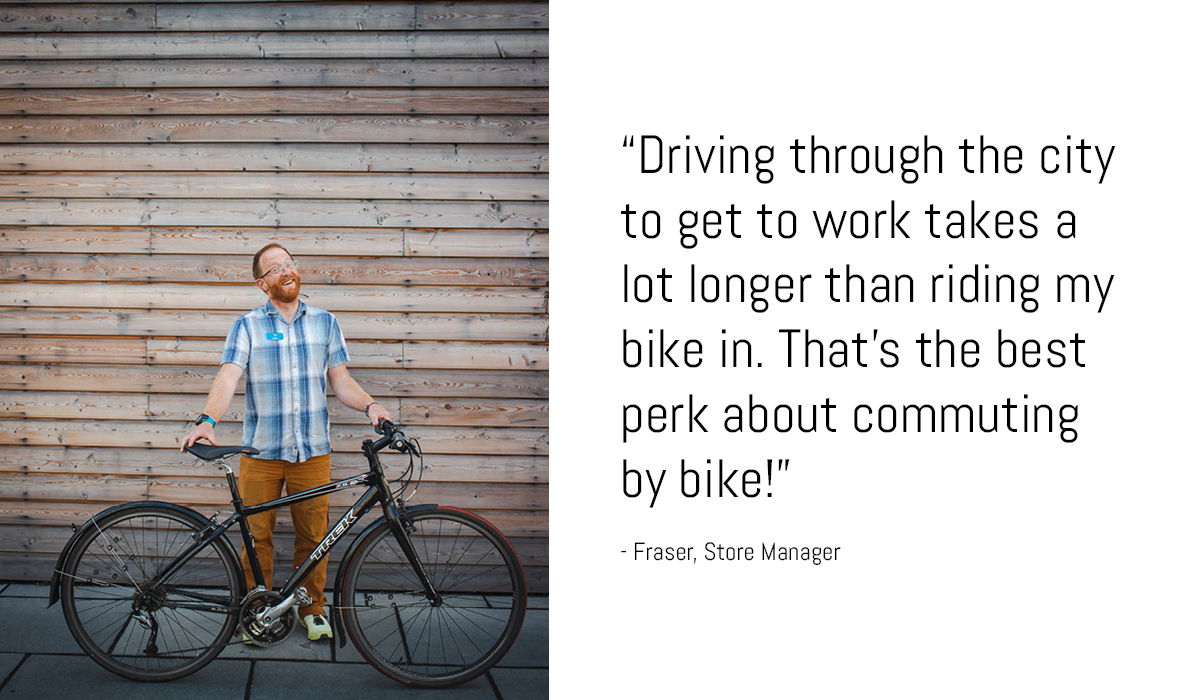 It helps to be prepared for your commuting adventure, but once you have the kit your journeys will become effortless. We recommend having the basics nailed to keep safe on the roads: helmet, lights, reflectors, hi-viz, a bell and a puncture repair kit and if you want to step up your level of comfort: mudguards, pannier rack and bags and cycling specific clothing.
We are keen to get more people choosing to commute by bike and the more people who do it, the safer cycling becomes - the 'safety in numbers' effect. If you have any questions, or just want to hear about our experiences as cyclists, you are welcome into any of our Alpine Bikes stores for a chat. So come on then, kit up and join the pack!
To learn more about commuting, Cycling UK has some great information to help get you started.