Step Up To Wild Camping | 5 Places to Pitch up in the Wilds of the UK
Fancy a camping adventure but don't want to pitch up to a noisy and crowded campsite?
Wild camping is a brilliant way to experience the incredible natural areas the UK has to offer. Sleeping under canvas, watching the sunset and waking up naturally as the morning light touches your tent is such a powerful way to reconnect with nature.
In the UK, you have the right to wild camp on Dartmoor or in most parts of Scotland, for other areas around the country, you will need to gain the landowners permission. It is important to abide by a few clear guidelines, arrive late, leave early, pick a spot at least 20 minutes from the nearest road or building and absolutely, leave no trace.
We have put together our 5 top recommendations for beginner friendly wild camping locations from the bottom of England to the top of Scotland!
Isle of Tiree
Location // Inner Hebrides, Scotland
Top Pitch // Gott Bay
Nearest Town // Scarinish
The Isle of Tiree, in Scotland's Inner Hebrides is thought to be the sunniest place in Scotland. A four hour ferry journey from Oban on Scotland's West Coast takes you to this pristine, remote island which is extremely popular with surfers and windsurfers.
Wild camping is free on the Isle of Tiree for people travelling on foot, bike or kayak. It is advised that camping groups are kept small and only stay on one place for up to three nights. On the Isle of Tiree, there are stricter rules for campervans and motorhomes. You will need to book your van onto a croft site in advance of your stay on the island. More information about booking a croft site can be found here.
Gott Bay on Tiree's east coast is a large sandy bay facing south east. This is a brilliant place to spend the night and then watch the sunrise over the bay the following morning.
Dartmoor
Location // Devon, south-west England
Top Pitch // Yes Tor
Nearest Town // Okehampton
Dartmoor National Park in Devon is a brilliant location for a first wild-camping experience. Thanks to an ancient by-law, wild camping is allowed on most parts of open moorland.
Check the wild camping locations map for exact areas where it is okay to camp without land owners permission.
Dartmoor National Park is covered in weather scorched ancient granite outcrops called tors, there are 160 of these tors scattered all over the moor. Yes Tor, one of the highest points on the moor is a brilliant location when the weather is kind. For more sheltered camping locations head to Dinger Tor or Bellever.
Galloway Forrest
Location // Scottish Borders
Top Pitch // Loch Enoch
Nearest Town // Glentrool
The Southern uplands is often bypassed by people heading straight to the highlands, but the Galloway National park, just across the Scottish border is a beautiful place to pitch up for a night or two.
This area was actually the first in the UK to be designated a Dark Sky reserve, the lack of light pollution makes this a star gazers paradise.
Dotted with several small islands, and a sandy shoreline Loch Enoch in the heart of the Galloway Forrest is a brilliant place to spend the night.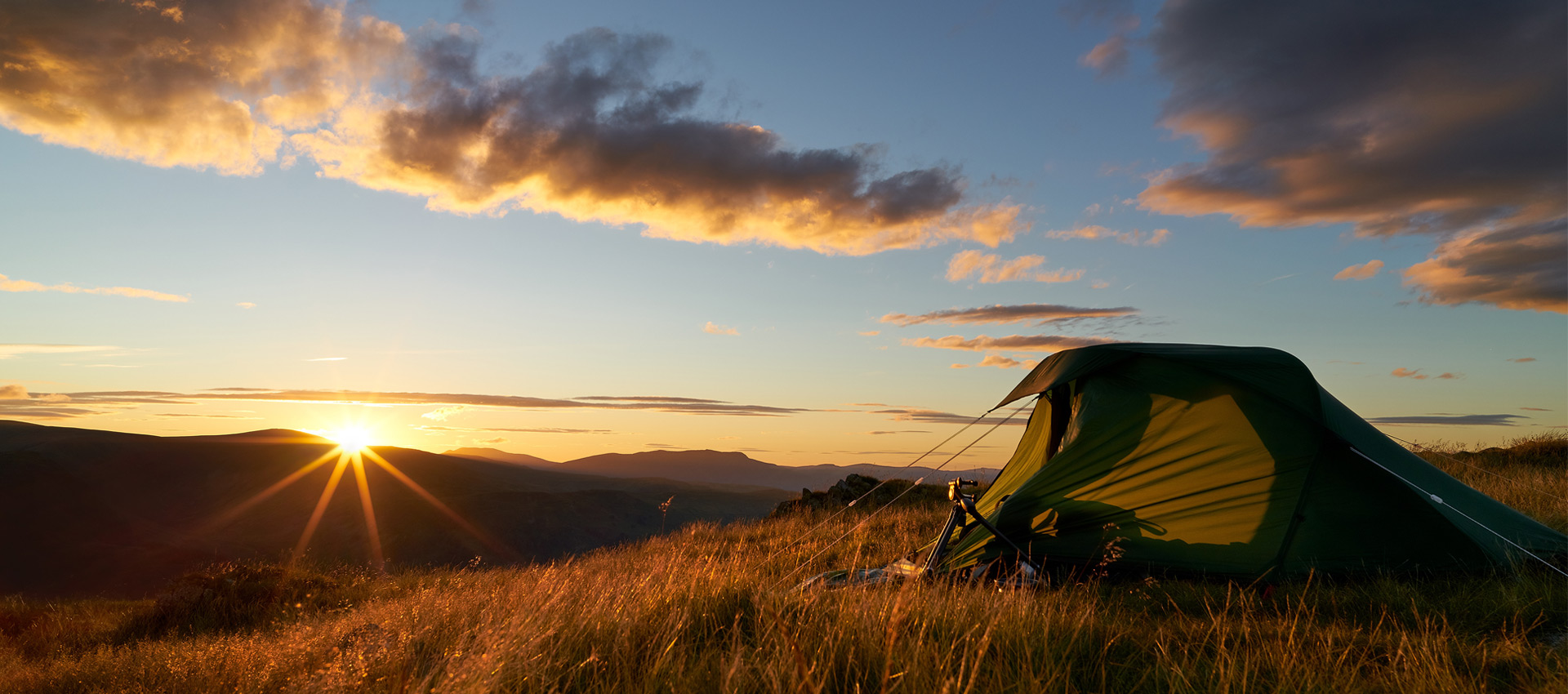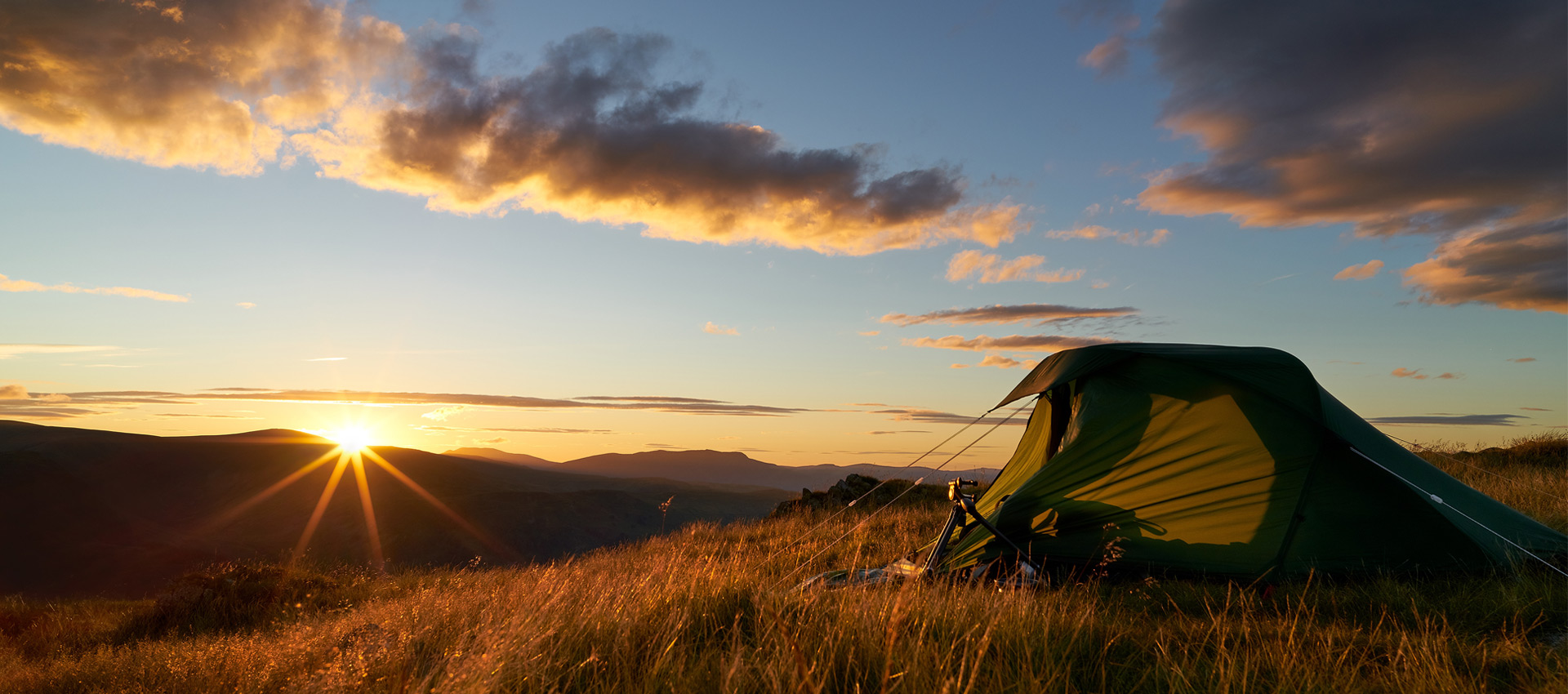 Lake District
Location // North West England
Top Pitch // Sprinkling Tarn
Nearest Town // Keswick
The Lake District in north west England is one of the most famous and popular hiking areas with the UK.
Wild camping in the Lake District can be permitted within certain regulations. These include, setting up camp late, departing early, leaving no trace and also camping above the highest fell wall, around 450m.
One of our favourite wild camping locations in the Lake District is Sprinkling Tarn. This tarn is located in a great position for tackling England's highest peak, Scafell Pike. Sprinkling Tarn can also be used as a stop off during the Lake District traverse from Ambleside through to Keswick.
Glen Etive
Location // Near Glencoe
Top Pitch // Alongside the River Etive
Nearest Town // Fort William
Glen Etive is the more peaceful wild camping alternative to its famous neighbour, Glencoe.
The entrance to the Glen is guarded by the impressive Buchaille Etive Mor, as you turn off the main Glencoe road into Glen Etive there are many great spots for wild camping.
Follow the single track road as it winds through the Glen, keeping your eyes peeled for the numerous deer who roam the valley. There are a number of great camping spots on the flat ground close to the River Etive.
During good weather spells, Glen Etive can become a very popular wild camping destination. It is especially important to leave no trace and respect this beautiful environment. It is also wise to be prepared to head to another location if the Glen appears too busy.