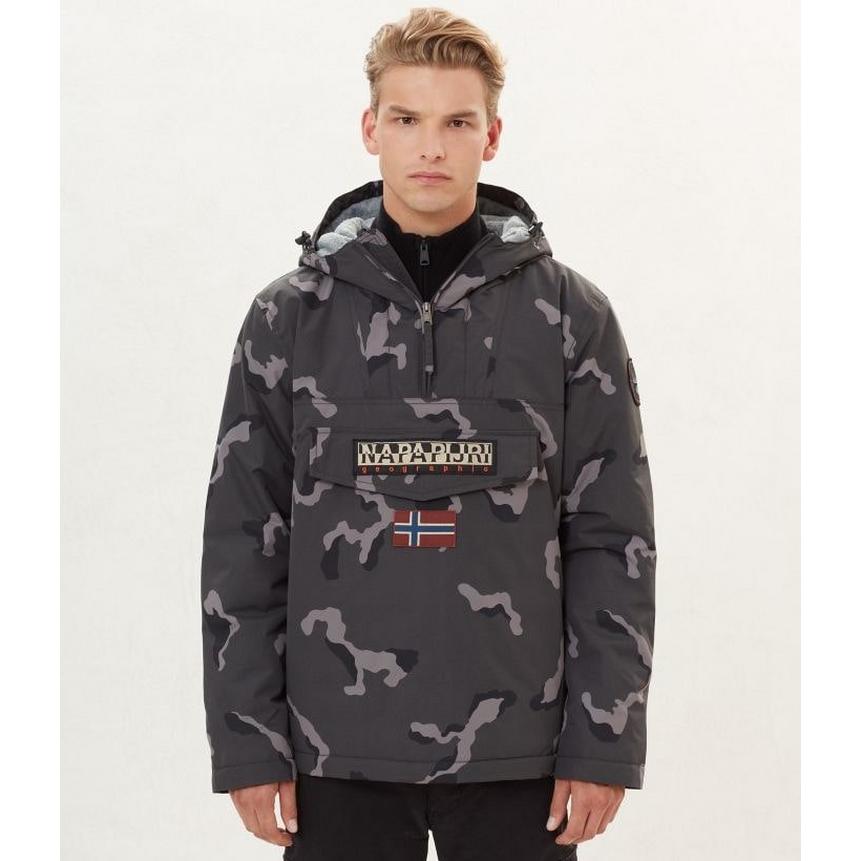 Everything You Need to Know About the Napapijri Rainforest Jacket
Every brand has a cult product that they're highly renowned for and when it comes to Napapijri, it's their Rainforest Jacket that gets everyone talking.
A cool, casual but also highly practical pullover anorak-style coat, the Rainforest Jacket is a best seller for a number of reasons and today we're going to be looking at all the elements of this jacket that make it so popular.
The Concept
For men, women and children, the Napapijri Rainforest Jacket is designed to be a versatile and inclusive jacket for all. Made to ignore trends, seasons and other factors that usually dictate how a jacket is constructed, the Rainforest jacket prioritises practicality and quality to create a design that is ideal all year round, for all occasions.
Available in a variety of colours and materials to please everyone but all with the same trustworthy and iconic design, the Rainforest Jacket can fit into your wardrobe in so many ways, whether you're a big adventurer or not.
The Materials
You'd think a jacket with this much talk around it would be made using a complex combination of unique fabrics to achieve such great performance but that's where you're wrong. The Rainforest Jacket is quite simply made with 100% polyamide.
A common and easy to source fabric, polyamide is a synthetic fabric, usually containing fibres of nylon, hence it has such great stretch and durability.
Polyamide is known for being resistant and robust when used in a number of different ways, hence it is such a perfect choice for the Rainforest Jacket. Known officially as a 'Nylon Ottoman Fabric', the material used to make these jackets is PFC free but also coated to offer better weather protection.
The Shape and Fit
Best known for being a comfortable, relaxed fitting anorak, the Rainforest Jacket has a number of built-in features to the fit that ensures it is going to provide the best possible weather protection as well as comfort.
Elasticated trims are combined with inner cuffs and adjustable hem, all of which means you get a custom fit with your individual jacket as it will naturally adjust to your shape, as well as being manually adjusted at the hem.
The Rainforest Jacket also has taped seams which are designed to keep bad weather at bay and keep you warm and dry inside the jacket.
The Features
One thing that makes the Rainforest Jacket such a best seller is the abundance of features hidden in what looks like such a basic design.
As well as the above elements that make the fit of the jacket so customised, this jacket also boasts a whole array of other features that make it so practical and handy.
The hood is an essential part of the weather protection this jacket offers and with advanced hood regulation, you get a comfortable fit with this hood and the best guarding against the elements possible.
A side zip fastening and half zip down the front make the Rainforest jacket super easy to throw on and the ventilation eyelets mean you'll stay the ultimate temperature once you're wearing.
Underneath the iconic badge on the front of the jacket is one of the key features that everyone recognises this jacket for – the pouch-style pocket.
This generously sized central chest pocket has a zip fastening to ensure everything inside is protected as best as possible while the flap covering makes the whole jacket look super smart.
The finer details of this jacket bring it all together and we're sure anyone who has treated themselves to a Napapijri Rainforest Jacket will agree when we say they're worth every penny.
Shop the Napapijri Rainforest Jacket and more clothing items from the brand at Tiso today!