A Beginners Bothy Guide
What are Bothies?
A shelter, cottage or hut located in wild and remote sections of the Scottish Highlands, providing overnight basic accommodation.
Bothies are an important part of Scottish outdoor culture and have offered shelter, comradery and solace for thousands of outdoor enthusiasts since their recreational use began in the 1930's.
Best of all, bothies are completely free to use! Free accommodation in remote and stunning locations, sounds too good to be true? There's only one rule to bear in mind - leave the bothy as you found it. Don't expect too much in terms of comfort, this is no glamping trip. Bothies are very basic accommodation, with next to no facilities. Generally don't expect more than a weather proof, empty shell with a fire place and if you are lucky, sleeping platforms and some basic furniture.
How to use Bothies?
If you are planning to overnight in one of the countries bothies you will need to carry all the equipment you would usually take on a camping trip, plus candles and fuel for the fire place.
Drinking and cooking water can be taken from a nearby stream, but remember, if you have concerns about its quality, boil the water first or use purification.
When visiting one of the more popular bothies it is advised to carry a lightweight tent or bivvy bag. You can use the cooking and communal areas of the bothy but retire to your own personal space.
Bothy Etiquette
The Mountain Bothy Association (MBA) run close to 100 bothies all across the UK, with the vast majority being in Scotland. These bothies are free to use, open to everyone and are maintained by the generosity of MBA members and the wider outdoor community. The MBA have a pure mission statement:
To maintain simple shelters in remote country for the use and benefit of all those who love wild places.
Bothies work on and rely on shared trust, it is worth keeping in mind some basic bothy etiquette when planning a trip.
1. Respect Other Bothy Users
Leave the bothy clean and tidy with dry kindling for the next visitors. Be considerate to other users and don't overcrowd a bothy.
2. Respect the Bothy
Report any damage to the MBA. Don't vandalise, ensure fires are completely extinguished, and close all windows and doors when leaving the property.
3. Respect the Surroundings
Use the spade provided to bury human waste, well away from the bothy and the water supply. Don't cut live wood or damage estate property.
4. Respect the Estate
Observe restrictions, for example during stag stalking season or lambing time. Remember bothies are available for short stays only.
5. Respect number restrictions
Because of overcrowding and limited facilities bothies shouldn't be used for groups of 6+ or for commercial groups.
Giving Practical Support
Maintenance of decades old buildings in remote locations is a challenge but users can give practical help by observing and reporting what they see on a bothy visit.
MBA Maintenance Organisers (MO's) are dedicated and many visit several times a year, but it can be months between visits and prior knowledge of problems helps before they set out.
The MBA therefore welcomes reports about problems in bothies, including reports that everything is OK. Guidance on what to look for is given on the MBA website, together with a Report form and the addresses to which it should be sent.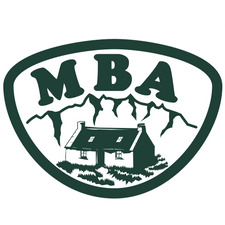 Visit the Mountain Bothies Association website to find out more about how you can help preserve bothies for future adventurers
Mountain Bothies Association