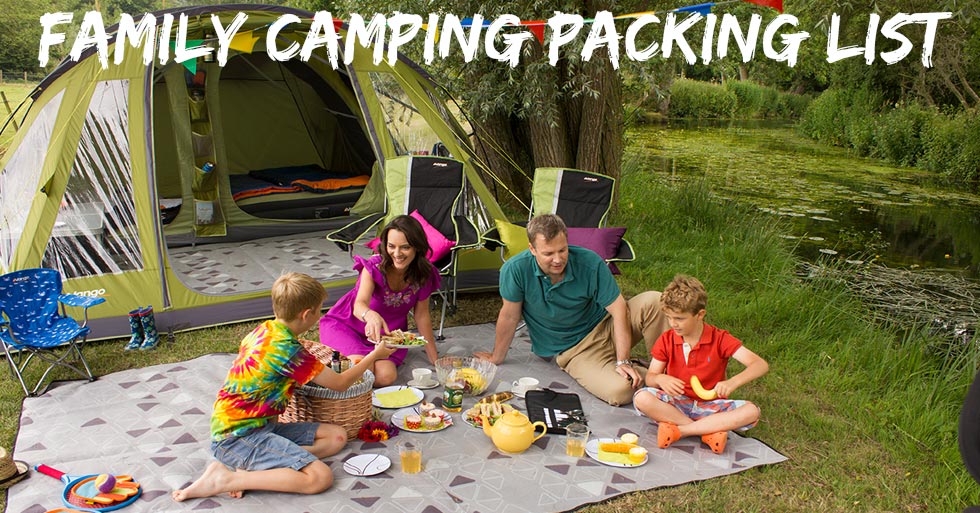 Camping holidays are perfect for all the family, and ideal for channelling the inner adventurer in any little one, camping trips promote team work and create quality family time.
But what do you need to take? Packing all the essentials is key to keeping all the family happy, so we've gone through our extensive range of camping equipment, and picked out all the things we consider key pieces of kit for family camping trips.
Use this blog post as your camping trip kit list, so you can check off the items as you've sorted them, and once you've crossed them all off, you're ready to go!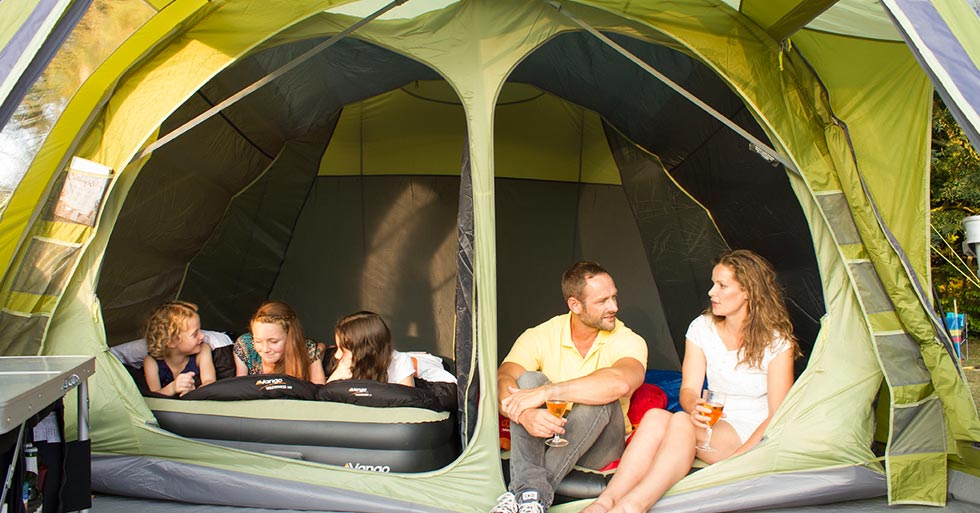 Essentials:
Tent – an obvious one, but you need to choose wisely depending on the amount of people you need it to sleep, the amount of communal space you need and how long it will take you to pitch.
Sleeping Mats – getting a bad night's sleep can be all part of the fun on a camping trip, but if you need your slumber, then a sleeping mat will help to ensure to you get the best night's sleep possible, adding extra padding and comfort to your sleeping area.
Sleeping Bags – each member of your party will need their own sleeping bag to ensure a good, warm night's sleep. Tiso have both adult and children sleeping bags, for all seasons, so everyone can have the right one for them.
Collapsible Chairs – we consider these an essential as we don't expect anyone will want to sit on the floor to eat their dinner and socialise the whole trip. We wouldn't recommend taking chairs if you're on a walking trip as that is extra things to carry, but if you're driving to a campsite, lightweight, compact folding chairs are key to making the living space of your tent more welcoming.
Camping Stove and Fuel – If you're staying on a campsite, there may be cafes and restaurants you can visit, but we doubt you'll want to do that for every meal, so taking a camping stove with fuel gives you the option to cook in the comfort of your own space. We also think that outdoor cooking is all part of the fun of a camping trip.
Pots and Utensils – If you are going to attempt to do your own cooking, you'll need camping pots and pans to use over the stove, as well as utensils to cook and eat with and plates and bowls to eat from. You'll also need to pack drinkware such as plastic or disposable cups.
Lanterns or Torches – campsites are notorious for being dark, so packing lanterns or torches are essential for keeping your area safe. We'd especially recommend extra lighting if you're camping with kids. If you're taking lighting, we'd recommend battery powered lanterns and torches, and taking spare batteries.
Long Lasting Food – many campsites will be located near shops where you can get food as and when, but if you're going for the full outdoor living experience, or you're staying where there is no access to retail stores, you'll need to pack enough long lasting/dry food to last your trip. We recommend our specialist camping food, but tinned goods and dry ingredients are also good options.
Variety of Clothing and Footwear – clothing and footwear for the family is a whole other packing list, but this is just a reminder that you need to sort that too! Both warm and cool clothing is key to cover you for all weathers, as well as waterproof and comfortable footwear.
Toiletries and Medication – again, this is a separate packing list but we'd always recommend packing SPF products and insect repellents when camping, as well as your own towels.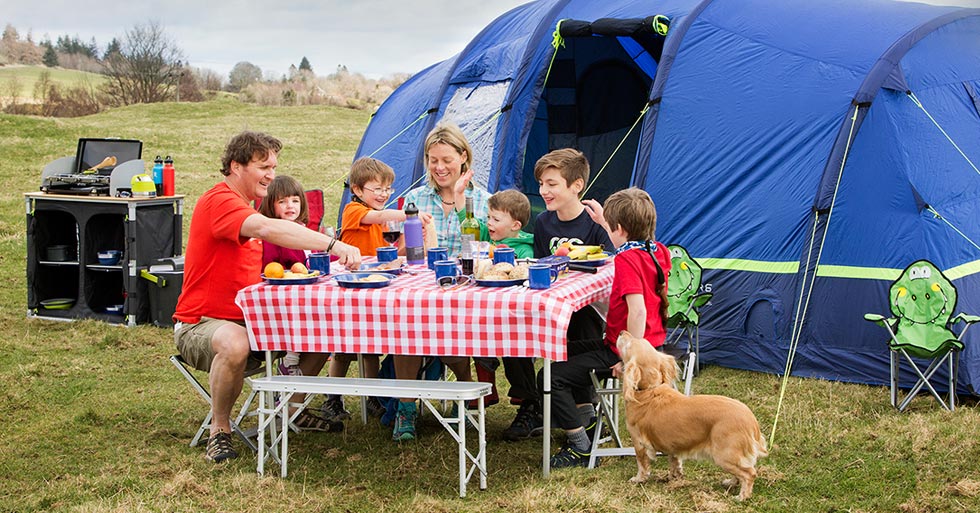 Optional:
Blow Up Mattress – an essential for some, a luxury for others, a blow-up mattress can be seen as a premium version of a sleeping mat and therefore it isn't technically an essential. Although not key, blow up mattresses can be great for longer trips and tend to ensure a better night's sleep.
Tent Repair Kit – we hate to be the pessimists, but you may want to be safe rather than sorry and pack a tent repair kit. The British weather can be unpredictable, and although all the tents at Tiso are put through all possible testing to ensure their strong and weatherproof, tents do endure injuries, so having a tent repair kit can help avoid your camping trip being cut short.
Child Carrier – this is more an idea for the days out, as often with camping trips, the day time activities involve being in the outdoors and a lot of walking, and if you've got little ones in the family, you may want to go for a child carrier if they're the right age, it tends to make life easier.
Backpacks/Rucksacks – people will often choose to pack their things into a rucksack for a camping trip, but if you haven't, you may want to pack one. Great for taking on day trips, rucksacks and backpacks from Tiso are breathable, lightweight and comfortable to wear, and we've got ones to suit all the family.
Camera – camping trips create great memories for all the family, so capture them by packing a camera. Many adults will have a smart phone with a great quality camera nowadays, but if you choose to go for the more traditional approach, packing a camera is key. If you fancy yourself as quite the videographer, or are planning some adventures on your trip, a GoPro is a great investment.
Power Pack/Portable Charger – one of the greatest appeals of the outdoors for many people is being disconnected from the electronic world, which means no access to plug sockets to charge devices, but if you intend to stay online during your family camping trip you may want to charge up a power pack or portable charger before you leave and take that to keep your devices alive while you're staying out in the open.
Washing Up Bowl/Tea Towel – we know it sounds like we recommend you take everything but the kitchen sink, but we actually suggest you take that too. Well, we'd recommend packing a cheap plastic washing up bowl and tea towel if you plan to cook while you're away. If you're cooking on a stove in the outdoors, you'll want to reuse the pots and pans, so having a cheap washing up bowl with you means you can get them clean and ready to go again in no time.
Toys/Cards/Games – if you're camping with kids, you may want to get them to pack some of their favourite toys and games to bring with them for entertainment in the evenings. A pack of cards and outdoor toys such as a football or badminton set can be great fun for all the family in the evenings, or for a day staying at the tent.
So, that is everything we can think of that you could need for a family camping trip. If you think of any other key things we've missed off, or you found were useful when you camped, then leave it in the comments!
To make your life even easier, most of the products mentioned in our packing list are available to buy on the Tiso website, so check there for all your camping essentials!
Remember to tag your camping adventures with #mytiso! Happy Camping!