How To Choose An Insulated Jacket | Down Vs Synthetic
When the temperature drops and it's getting too cold for a fleece but not cold that you need a winter parka, an insulated jacket will keep you cozy. Whether you are looking for an everyday autumn winter jacket or a means to survive your next expedition, deciding between down or synthetic insulation is one of the most important decisions you'll have to make.
The type of insulation directly influences the warmth, weight and the price of an insulated jacket. Both synthetic and down variations have their pros and cons when it comes to performance and comfort.
There is a general misconception about down insulation; many people believe that it is the outer feathers of a bird – the type you may pick up on the beach or in the park with a sharp spine and plenty of colours.
However, down is the layer of feathers that sit closet to a bird's body and usually comes from duck or geese. These feathers have evolved over thousands of years to provide the most effective way to trap and hold air – which creates a highly efficient thermal layer By using down in garments, it ensures that your body heat stays put and is not lost to the surroundings. By weight, down it is not rivalled by any natural or synthetic equivalent.
You'll find that most down jackets use goose down but rising costs from a manufacturing point of has seen some manufactures shift to duck down. Rest assured that both goose and duck down go through the same performance and testing powers and you'll be guaranteed that you will get a high-quality jacket. You'll find that products made with goose down are typically more expensive as they can reach a higher weight to fill power ratio.
What Is The Fill Power Of Down Insulation?
Fill power refers to the fluffiness (loft) of down. Jackets with a higher fill power reflect the quality of the down and its ability to trap warm air as well as providing more warmth for less weight.
The fill power is calculated by how many cubic inches one ounce of down fills with a standard weight. For example, a premium goose down jacket with a fill power of 850 (such as the Arcteryx Men's Cerium LT Down Jacket) takes up 850 cubic inches of space per ounce, whereas the Rab Microlight Alpine Down Jacket has a fill power of 750, occupying 750 cubic inches of space per ounce.
The advantage of the higher fill down is that it requires less down to reach a certain temperature as-well as fill a space (or baffle). Less down means a lighter product. A lighter product is easier to compress and pack. Down is also incredibly durable and so you will expect that it will retain its warmth for decades.
A common criticism of down is that it has a propensity to clump together when it is wet. The consequence of this is that you can lose warmth. Technology has developed to try to mitigate this effect using water resistant treatments. However, it's always best to keep your down jackets dry by adding a waterproof layer on top.
What Is Synthetic Insulation?
Synthetic insulation, as the name suggests, is typically made of synthetic materials - polyester and other variants. Jackets made with synthetic insulation are favoured for their friendly price point and their all-round performance. A synthetic jacket will also stand up to wetter conditions (something that down jackets struggle to do) and is also quick drying. Unlike down jackets, synthetic insulation is hypoallergenic (gentler on sensitive skin).
The long and short of synthetic insulation is down to two distinct filling varieties: Short strand microfibers such as Primaloft One and continuous filaments, such as Primaloft.
What Is Short Strand Synthetic Insulation?
Synthetic jackets filled with short stand fibres tend to be less than two inches in length and are densely packed to help prevent heat loss. The advantage of short strand synthetic insulation is that it can feel and act in the same way that a down insulation will (compressible, flexible and soft). However, short strand insulation can lead to cold spots in the jacket and are not as durable as other synthetic variations
What is Continuous Filament Insulation?
Synthetic jackets filled with continuous filaments are long continuous strands of fibres. They are generally thicker and interlock, meaning that they tend to be stiffer and less compressible than the short stand versions. However, jackets with this type of synthetic insulation are more durable and tend not to suffer from cold spots.
Which Insulated Jacket Should You Buy?
The verdict? Down and Synthetic Jackets both have their advantages and disadvantages. Think about what your trip entails: What will the weather conditions be? How much weight do you want to carry? How much do you want to spend? Once you have found the right insulated jacket for you, it's time to get out and explore.
Down Insulated Jackets
Men's Microlight Alpine Down Jacket | A real highlight of the Arc'teryx winter range, the Cerium LT is the definitive down jacket. A lightweight Arat 10 nylon shell is durable and allows the jacket to be packed down quickly and easily into a very small pack size. The 850-fill power natural down insulation offers excellent warmth to weight, and isn't treated with any chemicals.
Women's Rab Axion Pro Jacket | The Women's Axion Pro Jacket is built from durable recycled Pertex® Quantum Pro ripstop nylon with midi-baffle stitch-through construction. While the fabric's weatherproof coating helps increase the jacket's external water resistance, internally the 700 fill power P.U.R.E recycled down is combined with Nikwax® hydrophobic treatment to retain its loft for maximum warmth.
---
Synthetic Insulated Jackets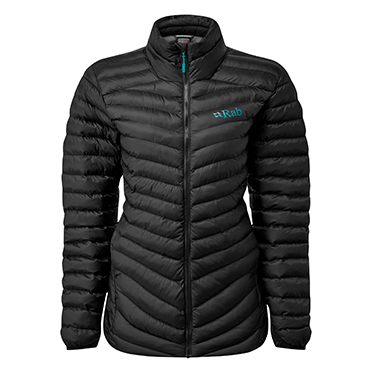 Women's Rab Cirrus Alpine Jacket | With fully recycled fabrics and insulation, the Women's Cirrus Alpine Jacket is a synthetic insulating layer for all-weather multi-activity mountain protection. The soft and lightweight recycled 30D Pertex Quantum ripstop nylon shell uses a tightly woven down-proof structure with a DWR lining for robust wind and weatherproofing.
Men's Rab Cirrus Flex Hoody | The Rab Cirrus Flex hoody is a lightweight and versatile insulation piece filled with synthetic Cirrus™ 3M Featherless insulation.The Cirrus Flex hoody is designed for movement, the Thermic™ stretch fleece side panels allow great freedom, flexibility and of course breathability. Perfect for higher intensity adventure activities.
---