Testing The Peltz Nomic Ice Axe In Chamonix
Tiso Aviemore team member, Scott Grosdanoff took to Chamonix to review the Petzl Nomic Ice Axe. 
Heading to the Alps
This winter I had a trip planned to the Alps for a week of winter climbing, while preparing I quickly realised that it was a great time to update some of my winter kit. The big question was – what ice axes would I take with me? I needed to choose one pair of axes that I would be prepared to climb anything with. This could be steep water ice, mixed alpine routes or dry tooling. In the end, the answer was simple. I wanted to try the new Petzl Nomics!
After a delayed flight and just 4 hours of sleep, I was on the Aiguille du Midi cable car with my new Nomics strapped to my bag, ready for their first touch of rock and ice. Having heard that certain alpine routes were in good condition, my climbing partners Tim Miller, Jamie Skelton were as keen as I was to get on the infamous route, Beyond Good and Evil. 

The First Test
With my first swing into solid neve the Nomic felt completely natural. There was no adjustment needed to make up for overly steep pick or head angles, the handle felt comfortable and warm in my hands.
The T rated pure ice pick was so easy to sink into ice I had trouble getting it back out at times even without the added pick weights. On the thinnish ice smears that made up the crux corners of the route, the Nomic was precise and could be easily trusted when pulling on the bottom and upper handles. After 9 pitches of superb alpine mixed I was already in love with my new Nomics, they felt like a natural extension of my limbs.
After a Poco Loco burger, a few pints and changing weather conditions we headed to Rive Gauche in search of Scottish winter style mixed climbing among beautiful water ice lines in the Argentiere Glacier.
After a quick ski tour approach, we headed for Bringing Home the Bacon which followed an excellent fault line through a mostly blank looking wall. I instantly regretted not brining the pick weights for the Nomics that are tapered for slotting into cracks but soon found the nomic torqued and slotted their way upwards with no trouble at all. The thin and dry style of the crag was a pleasure to climb, there was no snow clearing or spindrift to deal with as we are accustomed to in Scotland. The ice pick was excellent on thin rock and turf hooks seating nicely and the inset handle kept my knuckles from bouncing against the rock.
Dry Tooling
After a few days of mega snow and tree skiing I wanted to try the Nomic on some steep dry tooling routes and headed to L'usine to give them a taste of steep limestone.
Still using the pure ice pick the nomics felt excellent on deep drilled slots, the head of the axe is often engaged against the rock allowing for bigger reaches. Hanging on the handle was comfortable especially on the upper grip, the rubber molding is perfectly grippy to climb on using just a thin glove. After warming up on a few routes I wanted to try the Nomic on one of the more photogenic lines of the crag.
The Verdict
As the week progressed the weather became too warm to get on any steep water ice. Fortunately, that that means the Nomics have unfinished alpine climbing to do, there are some long ice routes on the cards. After spending a week relying on the New Nomic I can truly say they are the best all round ice climbing tool I have ever used. From plunging on snow approaches to steep mixed climbing and ice axe arresting on long bum slides, they out preformed any other ice axe I have tried.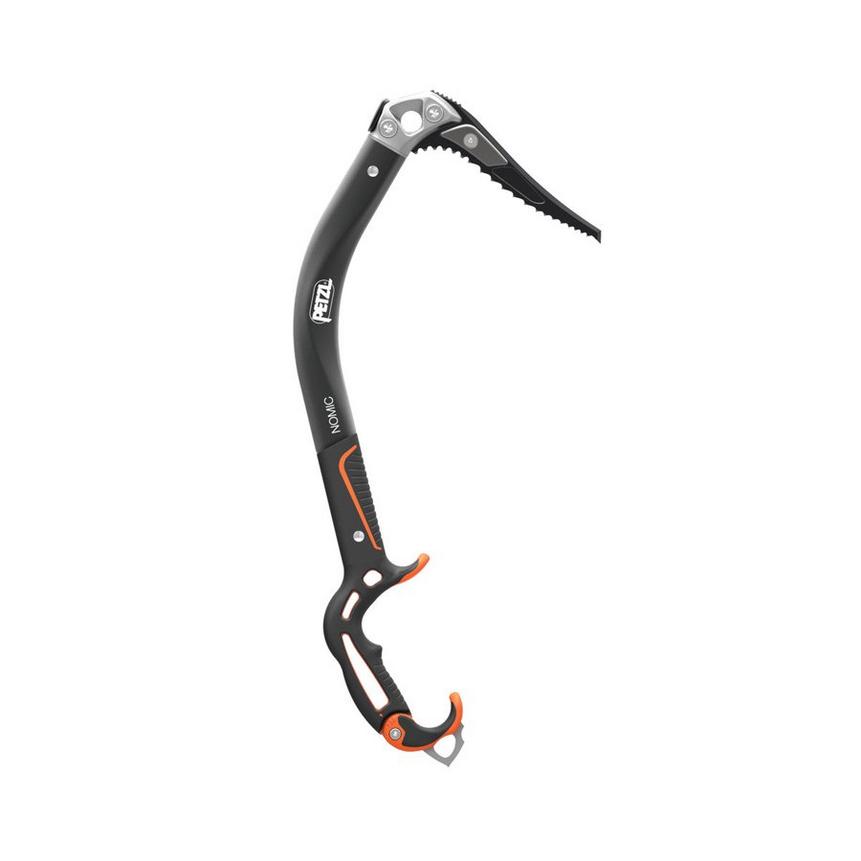 £240 • Great All Rounder
---
Best suited for:
Alpine
Mixed
Scottish Winter
Dry Tooling