What's in your cycling tool kit?
We've all been there – cycling along blissfully enjoying the wind in our hair and the sound of tyres on tarmac. Then suddenly – a disconcerting rattle or the bursting sound of a puncture. Do you have the right tool kit in your bag to get you back home or is it a phone call for a lift?
It's very easy to neglect a tool kit when your bike is running smoothly. But no matter how far you'll ride from home you should have at the very least, a few essentials to get you out of a sticky situation on the side of the road.
Road Ride Tool Kit
This can be a commute to work or a weekend ride; the type of ride that keeps you on tarmac. We'll call this list the bare minimum you need to carry that gets you home.
Saddle Bag: The easiest way of carrying your essentials on any bike, a saddle bag attached to your saddle and seat post to secure everything in one place and out of the way.
Shop Saddle Bags
Spare Inner Tube, Tyre Levers & Pump/Co2: A puncture is the most likely thing you'll face out on the road, so you'll want to be able to replace the tube to keep you on the move and repair the puncture with more time once you're home. Of course you'll need the tyre levers and mini pump to get the tyre off, back on and reinflated again.
Shop Inner Tubes
Shop Tyre Levers
Shop Pumps
Tubeless Plugs: While tubeless systems are becoming increasingly popular among roadies, they're not a fail-safe way of avoiding a flat tyre. If you're running tubeless, you'll need to be sure to carry some plugs with you to seal up any larger holes, and a pump to get you moving again.
Shop Tubeless
Multitool: Your bike is covered in bolts of different sizes that can wiggle their way loose over time. It's good practice to do checks on some of the more obvious ones (such as your seat post or stem bolts) from time to time but taking a multitool with you means you can do this on the fly if needed.
Shop Multitools
Any brand/frame specific tools: Perhaps your wheel's thru-axle needs a specific shaped key to loosen (looking at you Whyte). Without this, there's no way you're going to fix that puncture if you can't get the wheel off.
Chain Breaker & Chain Links: You'll need these if your chain breaks. Since they're pretty small and lightweight, you'll not notice if you'll have a few and never use them, but you'll be grateful for them if you need them.
Shop Chain Breakers
Personal ID: In the event of an accident on a solo ride, be sure to have your ID on you with any medical information that's relevant.

MTB/Gravel Ride Tool Kit
When gravel or mountain biking, you might be a bit further from a road or your car so you'll need to be able to fix your bike enough to get you back to civilisation, possibly over rough ground. So this list includes everything in the 'Bare Minimum' list, plus:
Puncture Repair Kit: A spare inner tube is in our 'bare minimum' kit above, but what will you do if you puncture your spare tube too? You might need to do a trailside repair, and for that you'll need a puncture repair kit. There's a bit of a knack to repairing an inner tube, so best to give it a try at home because there may not be signal for you to learn from YouTube in the mountains.
Shop Puncture Repair
Multitool with chain breaker: Some multitools are more useful than others, so consider upgrading yours to one which includes more than allan keys.
Rear Hanger: All it takes is for one rock to be in the wrong place at the wrong time and your rear mech can be hanging at the totally wrong angle. The only fix is a new hanger which thankfully you'll have you've done your research and you're prepared!
Zip ties & Gorilla Tape: Not everything can be fixed properly trail side, but it can be taped back together to limp home. You might be surprised at when this can come in handy.
Various bolts that fit your frame: These fellas can come loose at any time, especially if you don't check them regularly. Even if it's a spare bolt for your cleat, you'll be very grateful of spares when you realise one has disappeared into the bush.
Bikepacking/Bike Touring Tool Kit
The joy of bikepacking or bike touring is about getting away from the world, seeing remote locations and exploring across multi-day rides. To stop yourself from being stranded, you might want to consider an even more in depth tool kit. Of course, this depends on how remote and how far you're going, but consider all of the above, plus:
A Thorough Tubeless Repair Kit: To be prepared in any event.
Tyre boot: For when the hole in your tyre is too big to seal. While some companies sell these, anything can work that's strong enough. Cut up plastic bottles or a £5 note have been known to work well. This is where the Gorilla Tape (or electrical tape) in the MTB/Gravel list comes in handy.
Grease: Longer multi-day rides might require more comprehensive maintenance and grease will keep you running smoothly.
Shop Bike Grease
Leatherman: Sometimes you might just need some pliers. The Leatherman has it all!
Shop Leathermans
Spokes & Spoke Key: Spokes aren't invincible and they can break. Do you know what to do in this eventuality?
Shop Spoke Key
Brake Pads: This level of spare parts is only really relevant to those travelling long distances over a long time, but having spare pads with you will keep you safe if you're a long way from a bike shop and your current set fail.
Pedal wrench: Particularly relevant if you're travelling by plane, you'll need to be able to pack your bike down and this includes removing your pedals.
Shop Pedal Wrench
Rag: Who wants to get their hands mega dirty without a way of wiping them clean? Very few people. A rag can also act as a filler in your tool kit to reduce rattle.
Needle/Thread: Ultra distance, self-sufficient cyclists often have stories of sewing their tyre back together to get out of a pickle, so one to consider on longer adventures.
Spare cables cut to length: Like the spare brake pads, this is one for the longer adventure. Cut them to length before you leave to reduce faff on the road.
Chain lube: A simple, yet very important part, of a multi-day adventure tool kit. A chain squeek will drive you mad over time (believe us).
Shop Lubricants
Personal Tool Kit
Your personal tool kit should include ways of taking care of yourself. Afterall, if you're not able to pedal or walk, then you really aren't getting home easily!
First aid kit: What's in your first aid kit will be country specific – if you're riding in Australia, consider a compression bandage in case of snake bites, or if you're in Canada consider bear spray. Even on a multi-day road ride, it might be worth taking some plasters to cover nicks and cuts you might get from repairing your bike. No one wants blood on their frame!
Sunscreen: Be sensible - wear sunscreen.
Phone & Money: There'll be times on any bike ride where you can't fix the problem on your own, so you should always carry a phone and money with you to get you home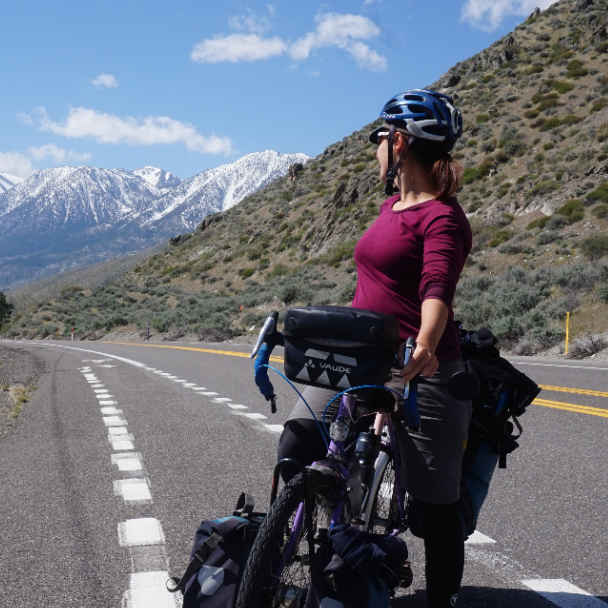 by Helen Langridge
Helen is a Digital Merchandiser for Tiso. She lives for exploring the world by bike, having currently cycled through 33 countries (and counting).