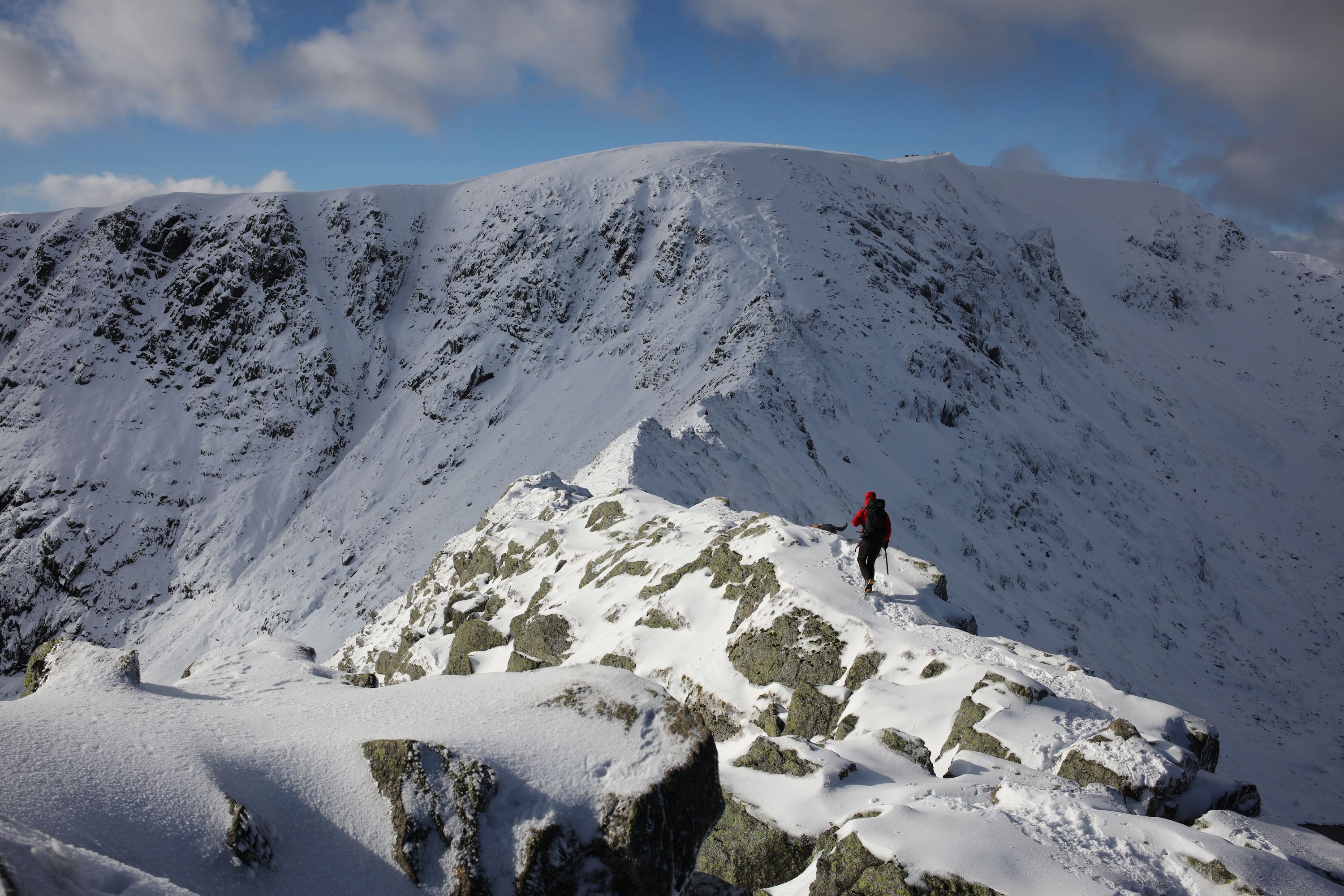 Step Up To Mountaineering | 5 Winter Routes For Beginners
The only things better than the mountains in beautiful summer weather is the mountains covered in a blanket of pure white snow.
Winter walking provides a great feeling of remoteness, but stepping up to slightly more challenging routes brings a whole new level of excitement and satisfaction. Fortunately, the UK has dozens of routes for virtually all levels of walkers, scramblers, climbers & mountaineers. This is our top 5 pick for beginners.
Please note, winter walking and mountaineering requires specialist kit & knowledge. While these routes are certainly on the easier-end of the technical scale, they still need to be treated with respect. If you're unsure if you have the skills & equipment, we highly recommend seeking an outdoor instructor to gain the necessary skills before venturing out alone. With regards equipment, once you have the skills & knowledge, visit one of our stores for expert advice on the right kit, or to hire the essentials for your trip.
Tarmachan Ridge
Location // Meall nan Tarmachan, South-West Highlands
Grade // Easy
Ascent // 780m
Experience // Perfect first foray into winter mountaineering
Getting to the summit of Meall nan Tarmachan is pretty straight forward thanks to a high level start, but the summit is where the fun really begins.
The ridge heading westwards towards Beinn nan Eachan is a lovely undulating traverse taking in a few tops, and with good weather, provides amazing views and the thrill of exposure that comes from ridge walking. The arete at Meall Garbh is the narrowest point of the traverse but very manageable for competent walkers.
Continue on south-west passed Beinn nan Eachan to the bealach before Creag na Caillich. Descend south-east from the bealach to find the easy track back to the start.
Striding Edge
Location // Helvellyn, Lake District
Grade // Grade I
Ascent // 900m
Experience // Competent mountain walker
Helvellyn is the third highest summit in England and features a beautiful corrie protected on both sides by Striding & Swirral Edge. This circuit forms a great day out at any time of year, but a covering of snow really brings it alive.
Striding Edge is typically tackled on the ascent to Helvellyn, and features a great combination of notches, pinnacles & steps to negotiate. The technicality is just enough combined with the exposure to make this a really great traverse. While there are options to traverse a little under the crest of the ridge, if the conditions permit, it's worth staying on top to get the full experience.
Descending from Helvellyn goes via Swirral Edge, which doesn't have the reputation of Striding Edge but is no less tricky in winter. This circuit of Red Tarn is a fine mountain day out and ideal for aspiring mountaineers to gain experience.
Aonach Eagach (the other one)
Location // Stob Ghabhar, West Highlands
Grade // Grade I
Ascent // 1,240m
Experience // Some winter walking experience required
Unlike the Aonach Eagach ridge in Glen Coe, this namesake lies a few miles south and offers a shorter & easier route that's a great introduction to Scottish mountaineering.
This route is typically approached via Stob a' Choire Odhair, a straight forward ascent to get you warmed up. The route becomes interesting on the approach to the ridge with a steep ascent on the east side of Stob Ghabhar's mighty coire. While steep, this ascent isn't technical, and it brings you to a nice plateau to re-group before tackling the ridge itself.
At only 100m or so in length, the ridge isn't long, but its pyramidal shape requires careful foot placement as you climb up & down rocky steps. In deep snow there can be cornices here, and with the exposure to either side, it's not an area to be complacent on. However, in good weather it's a lovely traverse and leads nicely on to the final surge to the summit.
Horns of Alligin Traverse
Location // Torridon, North-West Highlands
Grade // Grade I
Ascent // 1,200m
Experience // Substantial mountain experience
Beinn Alligin is a striking looking hill in the wild North-West, set among the grandeur of Torridon. As far as mountaineering goes, this is a must-do route.
The three Horns of Alligin form a classic winter route; not too technically difficult, but with substantial exposure. This route is also quite committing, there being no particularly easy escape routes other than continuing or re-tracing your steps, so pay close attention to the weather and your abilities. Once reaching the summit of the first Horn, a tricky descent over steep steps leads you straight to the next Horn and another rocky ascent. Repeat this process to gain the summit of the third Horn before continuing round the ridge to Ben Alligin's highest peak, Sgurr Mhor.
Continuing on this ridge gains another summit of Tom na Gruagaich in a fine mountain day out. With stable winter conditions, the Horns of Alligin are a true joy.
Carn Mor Dearg Arete
Location // Ben Nevis, West Highlands
Grade // Grade I
Ascent // 1,500m
Experience // Substantial mountain experience & stamina
The CMD arete is probably the best known classic winter route in Scotland. At Grade I, it's not too difficult but scores big on views and thrills.
Firstly, to do justice to this route, it will be a big day, so be prepared. The climb to Carn Mor Dearg is straight forward, if long, but leads to one of the finest ridges in Scotland. A substantial length of pyramidal rock with exposure, and views, on both sides winds it way south-east round to Ben Nevis. Technically, it's not too tricky, but you can't help but feel elated when on the ridge.
A final push at the end of the ridge leads to the summit of Ben Nevis, and completes probably the best walking ascent of the UK's highest mountain. Descending is straight forward, though as always, take care near the summit of Ben Nevis to avoid its notorious gullies. In all, this is a top winter day with and a real challenge, both mentally and physically. If you can complete this route comfortably then a whole load more winter ridges and routes will be open to you in future.
Equipment Hire
For over 20 years we've been hiring out winter equipment so you can get out in the hills safely. Whether you're just starting walking in winter, or looking to take on some challenging ridges, if you've got the knowledge, we've got the kit. Contact us to hire crampons, ice axes, winter boots & helmets from only £20/day.
Available in all Outdoor Experience stores.
Photo by Rachel Keenan | rkeenanphotography.com
Find Out More