Outdoor Trouser Buying Guide
Whether you're hiking eight Munros or popping out for an afternoon woodland stroll, investing in a good pair of outdoor trousers is crucial to ensure that you get the most out of your adventure. Staying comfortable and protected from the elements when in the outdoors is essential, and, especially as winter rolls in, it's just as important to focus on your bottom half as it is your top. There's a lot of options out there, and it can often seem a bit overwhelming – but it doesn't have to be! That's why we've put together this comprehensive trouser buying guide to help you decide on the right pair of outdoor trousers for your needs.
Why Do I Need an Outdoor Trouser?
We often overlook a good pair of trousers when investing in outdoor kit, but they shouldn't be underestimated. Traditional trousers like jeans or tracksuit bottoms – made with materials like cotton or synthetic materials – can often lack the comfort, fit, and technical properties needed to cope with strenuous activities and adverse weather conditions. Cotton tends to absorb moisture quickly, can lack stretch and restrict movement, and can often lead to chafing and skin irritation, which is particularly uncomfortable on long or technical hikes.
Outdoor trousers can transform your entire adventure with features that will allow you to stay outdoors for longer. They're designed to provide superior comfort and mobility, and many will help regulate your body temperature with breathable materials. Outdoor trousers will often provide a degree of water resistance, with some offering full waterproof protection. They're durable too, made with fabrics that protect against the scrapes and scratches that inevitably occur when out exploring – so they're well worth the investment.
Things to Consider When Purchasing an Outdoor Trouser
Comfort/Fit
The fit of an outdoor trouser will vary considerably depending on the type of trouser you select – classic walking trousers are usually straight leg, waterproof trousers tend to be baggier, whilst softshell trousers are typically slim fitting. When searching for the right outdoor trouser, simple things like making sure they fit well around the waist and leg are essential to ensure that you're comfortable and not having to think about your clothing whilst out exploring. You might want to keep an eye out for adaptable elements like built-in belts and adjustable cuffs, which can considerably improve the fit. Everyone has their own preferences, so it's useful to try a few pairs of trousers on to find the fit that's right for you.
Stretch/Mobility
Closely related to comfort and fit is the level of stretch in the fabric and features that will improve mobility. If you're facing steep and technical hills, you'll want to have maximum freedom of movement. So, if hiking or climbing is what you have in mind, it's important to consider the stretch of the fabric, and perhaps additional features such as a gusseted crotch and articulated knees which allow for greater mobility.
Weatherproofing
An important aspect of outdoor trousers that make them stand out against traditional trousers is their ability to protect against the elements. From fully waterproof over-trousers to quick-drying and water-repellent technical trousers – you'll need to consider the weather conditions that you plan to explore in.
Breathability
Breathability is another important aspect, especially if you're heading outdoors in warmer months or partaking in particularly strenuous activities. Look out for breathable fabrics and ventilation zips which increase air circulation.
Durability
Most outdoor trousers will be designed with durability in mind. But if you're looking for something that can withstand excessive wear, ripstop fabric and reinforcements on high impact areas could significantly increase your trousers' lifespan.

Features and Technologies: Explained
Articulated knees: Trousers bent at the knees to move easier with the natural bend of your knees, increasing mobility.
DWR finish: Stands for durable water-repellent finish. This is a water-repellent coating added to garments during production that allows water to bead off and increases breathability.
GORE-TEX: A membrane technology that offers full waterproof protection.
Gusseted crotch: Extra fabric in the crotch area allows you to stretch legs further, increasing mobility.
Internal gaiters: A gaiter is a fabric guard that covers the gap between your trousers and walking boots, typically used in wet weather conditions. These are usually sold separately but can sometimes be attached internally to (usually more hardwearing) trousers.
Moisture-wicking fabric: A technical fabric that draws sweat and moisture away from the body, usually made of polyester or nylon.
Ripstop fabric: Woven fabrics using a reinforcing technique which makes them resistant to rips/tears.
UPF rating: Garments with a UPF rating help to protect the skin from sun, with the rating indicating how much of the sun's UV radiation is absorbed by the fabric..
Zipped vents: Allows you to zip down sections of the trouser to circulate air and aid with ventilation.
Types of Outdoor Trouser
Walking
Walking trousers are a technical and durable alternative to your standard trouser or tracksuit bottom and are specifically engineered to perform well during outdoor activities such as hiking. If you're heading out for a walk, casual trousers like jeans might be suitable for shorter distances. Any walk longer than around 3 miles would benefit from a pair of walking trousers to ensure maximum comfort and protection from the weather.
Look Out For...
DWR finish for weather protection
Breathable, moisture-wicking fabrics for temperature regulation
Stretch fabric/articulated knees for freedom of movement
UPF (ultraviolet protection factor) ratings
Ripstop fabric reinforcements for durability
Zipped vents for additional ventilation
Tiso's Top Picks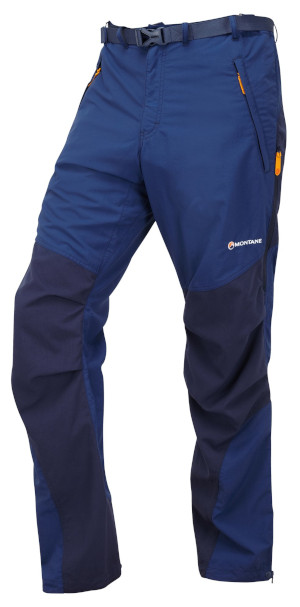 Montane Terra Pants: Montane offer a variety of walking trousers, but their bestselling Terra Pants really stand out. These durable lightweight 4 season, multi-use trousers tick all the boxes, with water resistance, articulated knees, and breathable vents.
Waterproof trousers keep you dry when out exploring. There are two main types of waterproof trouser: next to skin trousers that can be worn as a normal trouser (perfect if you know in advance that the conditions are going to be unfavourable), or over trousers – a waterproof shell trouser that you can pack away to pull over regular trousers/leggings in case the weather takes a turn. It's worth bearing in mind that the performance of a waterproof trouser/over-trouser will vary greatly depending on their intended use. Lightweight and packable waterproof over-trousers that are designed for use in emergencies will be far less durable than a pair of heavy-duty trousers designed for a full day of hiking in wet and wintery weather conditions.
Look Out For...
Waterproof protection - look out for membrane technology like GORE-TEX or Pertex
Taped seams to keep water out of stitch holes
Breathable fabrics to aid ventilation
Side zips to pull on and off without removing footwear (predominately found in over-trousers)
Tiso's Top Picks
Mountain Equipment Saltoro Pants: These high-quality waterproof over trousers are designed for all day wear and lined with GORE-TEX for guaranteed dryness.
Berghaus Over Trousers: Berghaus offer a wide range of waterproof trousers, primarily over-trousers. From the GORE-TEX Paclite designed to stuff easily into your pack, to the budget-friendly Deluge Pant, you'll be sure to find something to suit your needs.
Rab Kinetic 2.0 Pants: The Kinetic 2.0 Pant is a highly waterproof yet comfortable next to skin trouser. With a hydrostatic head rating of 20,000mm, these trousers are guaranteed to keep you dry in the most torrential of downpours.
Made from highly technical materials, softshell trousers provide a highly weather-resistant and breathable alternative to traditional trouser fabrics while providing incredible stretch and increased comfort. Softshell trousers are usually highly durable and abrasion-resistant, meaning they'll withstand scrapes and scratches.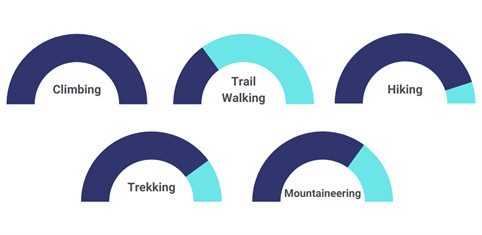 Look Out For...
High-stretch materials
Articulated legs and a gusseted crotch for greater freedom of movement
Tailored, close fit for fast paced activities
Durable Water Repellent (DWR) finish
Quick-drying and windproof fabric
Insulated properties for additional warmth
Tiso's Top Picks
Mountain Equipment: Mountain Equipment are experts at making durable softshell trousers for highly technical activities. Check out the Ibex Trouser for men and the Chamois Trouser for women.
Rab Torque Pants: Classic softshell trousers offering unique technologies such as Vapour Rise™ moisture-wicking lining, and high stretch Matrix ™ shell fabric.
Montane : Montane offer several high-quality softshell trousers, particularly for women. Keep an eye out for the Tucana Mission Pants, and the Ineo Mission Pants, which have a fleece lining
Trekking
Trekking trousers are a designed for high performance and durability on long hikes and multi-day trips, with a range of highly technical features.
Look Out For...
Reinforcement to stitching and high impact zones such as the knees and rear for durability
Durable water repellent (DWR) finish
Stretch fabric for freedom of movement
Breathable materials
Hidden pockets and belt loops for practicality
Tiso's Top Picks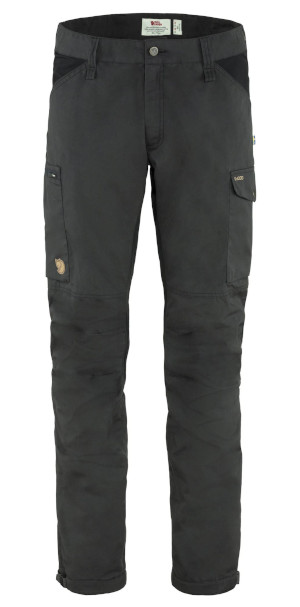 Fjallraven: Fjallraven truly lead the way with high quality trekking trousers. Check out the Vidda Pro Trousers for men and Kaipak Trousers for women, both made with Fjallraven's durable and weatherproof G-1000 fabric.
Haglofs: Another Swedish brand making similarly high-quality trekking trousers. Check out their Fjord Pant and Rugged Mountain Trousers (both for men).
A good pair of leggings should be a staple in any outdoor lover's wardrobe. Highly versatile, they can be worn as a baselayer underneath trousers for additional insulation in the winter months, or simply on their own in spring and summer.
Look Out For...
Second skin fit
Thermal insulation in winter months
Elasticated waistband for comfort
Concealed pockets
Sweat-wicking materials
Tiso's Top Picks
We offer a wide range of leggings at Tiso: from hillwalking brands like Montane, Berghaus, Rab and The North Face, to activewear brands like Adidas Terrex and On. If you're looking for a baselayer legging to provide additional warmth in the winter months, check out brands like Icebreaker, Sprayway or Kari Traa.
Convertible
Ideal for unpredictable weather, convertible trousers zip off at the knee to create shorts when you start heating up. Convertible trousers are particularly useful for travelling or multi-day treks when you need to keep your pack light but want to be equipped for every eventuality. They could also be a great option if you're looking for something versatile and wearable the whole year round.
Look Out For...
Lightweight fabrics
Durable water repellent (DWR) finish
UPF (ultraviolet protection factor) ratings
Stow pocket for trouser legs
Tiso's Top Picks
The North Face: Check out the Exploration Trousers range from The North Face for a durable yet lightweight convertible trouser with UPF 50 sun protection.
Winter Mountain
Engineered for multi-day excursions and long days summiting high peaks, winter mountain pants are the most hardwearing of all outdoor trousers. Made with highly durable materials and thick insulation, a good pair of mountain trousers will ensure you're kept warm and dry at any altitude.
Look Out For...
Water resistant fabrics
Good quality insulation for warmth
Internal gaiters for protection and warmth
Adjustable braces for security
Reinforced kick strips for crampon durability
Tiso's Top Picks
Mountain Equipment: If you want a hardwearing pair of mountaineering trousers made to last, look no further than Mountain Equipment. Check out the G2 Mountain Pant (Women's) and the Karakoram Mountain Pant (Men's) for durable trousers guaranteed to keep you safe and warm on the mountain.
Everyday Active
If you're heading outdoors but won't be participating in anything as strenuous as a hike or long walk, casual trousers would be a suitable choice. A range of outdoor brands offer everyday ranges with added technical features, which are just as suitable for walking the dog as they are for heading into town.
Tiso's Top Picks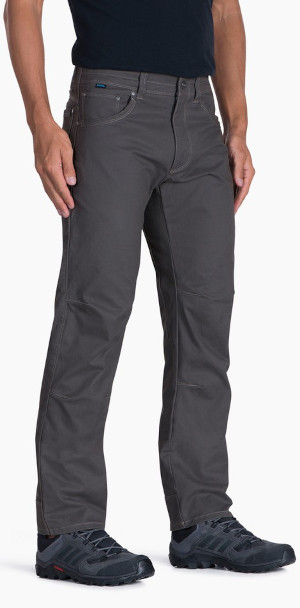 Kuhl: Kuhl offer a range of trousers that look like a standard cotton trouser yet have several technical features. The Free Rydr range features a gusseted crotch, articulated knees, and reinforced pockets and cuffs.
Duer: Duer perfectly merge fashion and outdoors with their range of technical jeans and trousers. The No Sweat Pant features breathable sweat-wicking fabrics, whilst the Performance Denim range offers reinforced stitching and superb stretch.
Getting the Most Out of Your Trousers
Taking care of your trousers is essential to ensuring that they last. Make sure you wash your trousers according to the care instructions, and that the DWR is reproofed when necessary. You can pick up some cleaning and proofing products for your trousers and other outdoor clothing items here.