Tiso Edinburgh team member Gavin Robbins shares memories from last summer's hike in the troll-inspired, credit card friendly mountains of the Lofoten Islands, Norway.
Norway: home of trolls, thunder gods and very expensive beer. Where understatement is an actual language and public toilets are clean enough to bivy in! This was the destination for my 2015 summer trip.
Why Lofoten? For many a reason, but primarily for the midnight sun. Lofoten sits just inside the Arctic Circle and during the summer months, the sun literally never sets. You get to watch it bob up and down in the sky like some celestial being's yo-yo. Combined with some of the most stunning mountains you could ever have the privilege to walk amongst, it makes for a very rare and remote setting.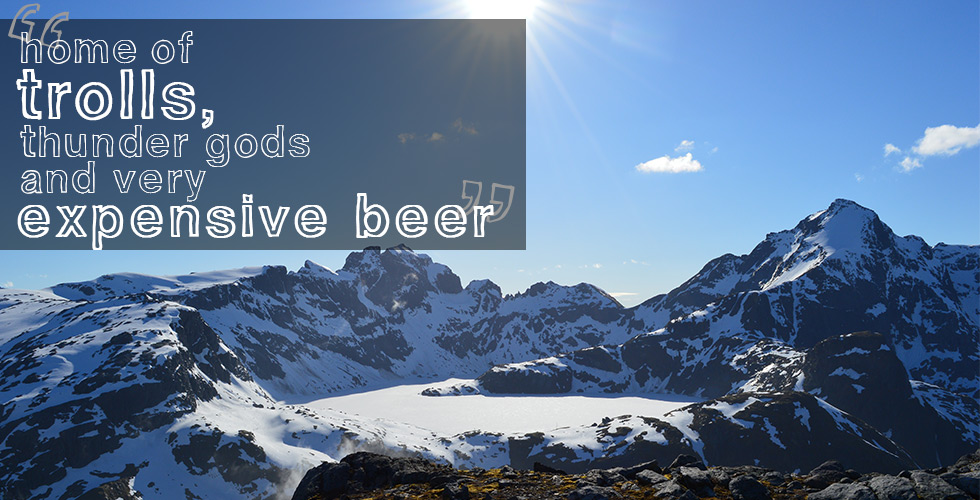 I was going with my good friend Lukasz, who had been the previous year and convinced me to come. As he wasn't into hillwalking at the time, he still had much to explore… as did I. So on a wet and dreich night in Edinburgh, we met at Milnes Bar for a couple of pre-flight drinks, our plane not leaving for Oslo until after 9pm.
We arrived in Oslo and settled in for the night, as our connecting flight to Bodo wouldn't be until the next morning. I have slept in a number of airports and I'm afraid to say Oslo could be the most uncomfortable one yet! But at least they have 2 police officers doing rounds every half hour, so at least you feel pretty safe. Up early the next day we grabbed our flight and were off to Bodo, a reasonable-sized marine town on the north of Norway. This is where you can catch the ferry to Moskenes. It's a nice enough wee town with decent sized shops, so we were able to pick up all the fresh produce we needed for our trip. And at Norwegian prices, I highly recommend buying as much as you can before you go!
Our ferry arrived and took about 4 hours to cross. You get to see the massive mountains behind Bodo as well as all these little tiny broken up islands along the way. Some even have houses and electricity and you simply can't imagine how these things are maintained! Others are so low in the sea they would easily disappear if it raised a mere foot.
Arriving in Moskenes, everyone departed and headed off on their own travels. We seemed to be the only two heading to the south of the island. There is a good road running throughout but we were walking everywhere. You can get a good 1:50,000 scale map of the island, with most of the main walking paths on it, although it's not quite as good as our OS maps…
We had 7 or 8 summits we wanted to hit, ranging from 550 meters to 1029 meters and approximately 130km to travel to do it. With 8 nights and 9 days to complete it, it was a fairly decent challenge. I'm pleased to say we achieved all but one summit, as there was a lot more snow than anticipated and would have required axes and crampons to get to the top. Even the locals remarked at how much snow there was for this time of year! Be advised that when planning the routes on the map, it really doesn't do any justice to how steep these mountains are. So stick to the paths – there's usually one up every summit, even if there are a few chained sections to help you along.
During our walk we saw stunning ridges (some only a couple of feet wide in places, so hope you're good with exposure!), huge fjords, massive peaks coming straight out from the sea and an unreal amount of curing fish (a local favourite!) The best way to describe it – we thought – was like Torridon on steroids. We stayed up high on snowy plateaus and down low in mountain huts (no key to get in, but big enough porches to chill out and relax and cook on). We saw a hobbit house and we managed to re-enact a scene from the Lord of the Rings as well as getting in a little climbing on some sea boulders.
This place is truly worth a visit. There are so many different walks for all grades of walkers and climbers, and a couple of towns and campsites dotted about make it easier if you aren't into wild camping. Plus, the locals are extremely nice. One of the best benefits is that it simply doesn't matter what time you plan your route for – you'll always have enough light to achieve it! Note: sunglasses essential.
I won't bang on about all the kit we took and used, but I would like to put an emphasis on the tent, as it was our trusty home for the entirety of the trip and was unbelievably unwavering! The MSR Elixir 2 is a perfect all-round tent. It is incredibly spacious inside and has 2 porches, ideal for those mornings when you want a little room to get your gear on. It's fully geodesic and we didn't even need to peg it down for the first three nights. It stood up to (I would reckon about) 40/50 mph winds at 2000 feet and is nothing but a treat to pitch. Fair enough, it does weigh around the 2.5 kg mark, buts that's only 1.25 each… Nothing too strenuous, all things considered.
So without a doubt get yourself over to Lofoten for the midnight sun… and if you can't make it there, find somewhere else to watch it! It's so worth the trip.
Share the landscapes that inspire you and we'll feature you on our social channels! Get involved using the #mytiso hashtag on Facebook, Instagram and Twitter.