MOUNTAIN BIKE BUYING GUIDE
Mountain biking is one of the best ways to enjoy the outdoors. A mountain bike can take you virtually everywhere – uphill, off road, in the forest, in the hills – and more besides. They're super fun, and great for your physical and mental health. But how do you decide on the bike for you? Have a read through our guide to see the considerations when buying a new mountain bike.
CONTENTS
Types Of Mountain Biking
Cross Country
Trail
Enduro
Sizing
Geometry
Considerations
Electric MTB
Hardtail Picks
Full Suspension Picks
Shop For Mountain Bikes
TYPES OF MOUNTAIN BIKING
Not all mountain bikes are equal, and riding off-road contains a large variety of terrain which means some bikes are better on some terrains than others. Largely this boils down to how technical the terrain is. Trails which are smooth and easy to ride suit different bikes to those which are full of obstacles like rocks, roots, drops and so on. Here's a simple breakdown of the different categories.
CROSS COUNTRY
Cross country (XC) is generally characterised by riding on well surfaced trails. This could be forest fireroads or it could be singletrack trails, but by and large the obstacles encountered will be up to an intermediate standard. The technicality doesn't have anything to do with distance however, and some cross country style trails will take you far into the hills.
XC bikes are characterised by aiming to be lightweight and efficient. The geometry (see below) puts the rider in an efficient pedalling position to make climbing uphill as easy as possible, and components (like tyres) are chosen to provide good rolling speed rather than maximum grip. For the average rider, XC style bikes are suitable for up to red graded trails.
XC Bikes typically feature:
Hardtail or Full Suspension Frames
100-120mm Suspension Travel
29" Wheels
Lightweight Materials
TRAIL
Trail riding is your do-it-all category. They bikes are comfortable doing large amounts of climbing and distance, like XC bikes, but also more capable on descents and more challenging terrain. A typical trail bike should be able to handle both black graded trails and long XC rides equally well.
Holding the middle ground, trail bikes allow efficient climbing with better descending characteristics than cross country bikes. They will be more robustly built than XC bikes, featuring components like dropper seatposts and chunkier tyres, with more suspension travel. Geometry is in the middle to provide a good all round riding experience.
Trail Bikes typically feature:
Hardtail or Full Suspension Frames
120-150mm Suspension Travel
27.5" or 29" Wheels
ENDURO
Enduro riding is named after the racing format which prioritises downhill performance but still requires considerable climbing. Enduro bikes feature slack geometry, longer suspension travel, and burlier frames and components. These style of bikes are designed to excel on some of the most technical trails in the world. This downhill prowess does come at the expense of climbing ability, with the bikes being heavier and typically harder to ride uphill.
With longer suspension and bigger tyres, endure bikes are heavier than trail bikes, but more assured when on rough terrain. Geometry is slacker than a trail bike which aids in downhill performance at the cost of climbing efficiency.
Enduro Bikes typically feature:
Full Suspension Frames
150-180mm Suspension Travel
27.5" or 29" Wheels
Strong materials and components
When choosing a bike, deciding what type of riding you really want to do is the first step. Broadly speaking:
Cross country if you prioritise the physical training and exploration opportunities of riding off road
Trail if you want a bike that does everything very well
Enduro if you want a bike that prioritises downhill performance and you want to ride challenging descents
SIZING
All of our bikes listed online have a size guide included (based on the manufacturer's recommendation) which will give you a definite size for each model of bike. We can't list all the variables for every model of bike, so if you are at all unsure about sizing, give us a shout at help@tiso.com.
GEOMETRY
There are a lot of variables in the geometry of a bike that defines how the bike handles. We could write a whole article just on this but let's stick to the basics. Enduro bikes have a geometry that prioritises stability at high speed and on rough, steep terrain. This means that whilst they ride uphill OK, you won't be setting any records, and longer distances become more of a chore on an enduro bike.
On the other hand, cross country bikes absolutely excel at long distances and routes with lots of climbing. The geometry puts the rider in an efficient pedalling position, but it does mean on difficult, steep, or technical terrain, the bike can become a little skittish.
If you have decided on the type of riding you want to do, the geometry of bikes in that category will be broadly similar, but it's good to have an idea why certain bikes feel different. Here's a couple of aspects to look out for: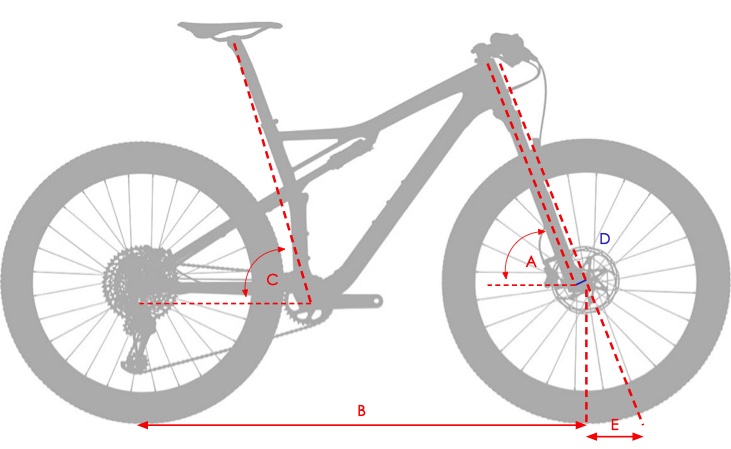 Head Angle - A
Definition – The angle of the head tube of the frame to the ground, typically between 70º to 60º
Effects – The steeper the head angle, the quicker the steering response. On an XC bike fast steering is, broadly speaking, fine. However, for riding more technical trails and steeper descents, that fast steering can cause instability, and so trail and enduro bikes have slacker head angles.
Wheelbase - B
Definition – The distance between the point of the front tyre touching the ground, and the rear tyre touching the ground.
Effects – A short wheelbase makes a bike highly manouverable while a long wheelbase makes a bike more stable at high speed.
Seat Angle - C
Definition – The angle of the seat tube to the ground, typically between 65º to 80º
Effects – On long travel bikes with a large wheelbase, it can be difficult to get your weight over the front wheel for climbing on steep trails. A steeper seat angle help bring your weight forward to provide a more efficient climbing position.
Offset (D) & Trail (E)
Definition - Offset is the distance the front axle sits away from the steering axis (D). Trail is the distance from the steering axis to the contact patch of the front tyre (E).
Effects – This is one for the experienced mountain biker. A longer offset results in a shorter trail, which makes for quicker steering. A short offset results in a longer trail which makes for slower steering, but more stability. There is a growing trend for shorter offsets, especially on 29" wheeled bikes, which in combination with other geometry factors helps generate stability.
Bottom Line: No one part of the geometry of a bike is worth more than the rest. A bike handles due to the combination of all the different measurements. However, it's useful to be aware of the current trends, especially with higher end bikes.
CONSIDERATIONS
So, you've decided what type of riding you want to do. What else should you look out for? You could easily get hung up about every component on a bike, but let's look at some of the most important decisions:
Frame: Choosing between a hardtail or a full suspension frame is the first choice. Hardtails are generally lighter, easier to maintain (as they have no moving parts), and cost less. Full suspension frames though offer far better traction off road, both for climbing and descending, allowing you to push harder on rough terrain, and providing more confidence. However, bear in mind that if every other component on the bike was the same, a full suspension bike will cost about £750 to £1,000 more than the equivalent hardtail. So, which to choose? If you're starting out, a hardtail offers great value, good performance and help you learn skill and technique. Just bear in mind if you really get the MTB bug, you may in time want to upgrade to a full suspension bike.
Suspension: The more suspension travel you have, the more capable the bike will be on steep and rough downhill trails. Conversely, the less suspension travel you have, the lighter the bike will be and the better it will be able to climb and cover long distances. Higher end suspension units offer more adjustments to finer tune your handling preferences. It's also worth looking out for the diameter of the stanchions of the fork (the sliding tubes) – wider stanchions offer more rigidity and strength. A typical trail bike will have a fork with around 140mm travel and 34 or 35mm stanchions. Suspension units are expensive to buy separately, so if you are swithering between two bikes, consider the suspension units as these are less affordable to change.
Materials: Most of our bikes will either be made from aluminium or carbon fibre. Aluminium is a good, robust material and offer good value and long life. Carbon is lighter, stiffer (good for pedalling efficiency) and considerably more expensive. For maximum performance, carbon is the way to go, but aluminium frames are still very good – there are plenty of enduro racers who ride aluminium frames so it really isn't a problem. Aluminium is probably a bit more able to handle a lack of maintenance, so if you know you're not able to give it plenty of TLC, aluminium may be the best choice.
Wheel Size: Currently there are two main wheel sizes on mountain bikes – 27.5" and 29". Each have their own advantages.
27.5"
The smaller diameter allows quicker handling & fast turning
They're lighter
They're stronger
29"
The large diameter rolls easier over obstacles
Holds more momentum and carries speed better
Generally speaking, if you want the fastest bike, it'll probably have 29" wheels. If you want a bike that is fun and handles perfectly, try 27.5".
Gearing: Many mountain bikes now have what are called 1x drivetrains. This means there is one chainring connected to the pedals and gears at the back (up to 12). This setup is clean, reliable and easier to maintain than traditional setups with two or three rings at the cranks. 1x systems don't have as big a range as a traditional system, but for most people, they are a must have.
Brakes: Virtually all mountain bikes have hydraulic disc brakes which provide controlled braking in most conditions. One thing to look out for is the size of the disc (or rotor). A bigger rotor allows more powerful braking, especially important on a heavier bike like an electric bike. Also, for enduro bikes and electric bikes, consider the number of pistons in the brake. Two piston brakes are standard, but a four piston brake offers more power and control.
Cockpit: For maximum control, a wide handlebar matched with a short stem works really well to give you direct and controllable steering. For XC riding, you may not need as much width and may want a little more length in your setup for better efficiency.
Dropper Seatpost: A dropper post allows you to raise or lower the saddle at the push of a lever on your handlebars. Dropping the saddle height is useful for descending, allowing you to get your centre of gravity lower. For climbing, you need the saddle higher to make pedalling easier and use the full length of your legs. A dropper post allows you to change saddle height on the move, very easily.
Tyres: As the main contact point of the bike, tyres are vitally important. A lightweight XC tyres will feel fast but might not offer as much grip as you would like on wet, muddy trails. Conversely, a grippy tyre may feel slow on easy terrain. Fortunately tyres are easy to change but it's worth considering upfront as a good set of new tyres could easily cost £80 or up.
Tubeless: Another choice on tyres is tubeless. This technology removes the traditional inner tube from the wheel, using a liquid sealant to keep air in the tyre, and plug small holes made by thorns or debris. It isn't a fool-proof system, but it is very good. If you plan on riding technical terrain, it's well worth going tubeless as it will allow you to safely run lower pressures which will provide more grip.

ELECTRIC MTB
So, you've decided what type of riding you want to do. What else should you look out for? You could easily get hung up about every component on a bike, but let's look at some of the most important decisions:
Battery: The battery is probably the single biggest consideration. The bigger the battery, the more range (this is measured in WH – 500WH is standard) but also, the more capacity a battery has the heavier it will be. You can often buy replacement batteries but these are very expensive (around £500) so getting it right when you buy the bike is key.
Motor: As the motor on most e-bikes is integrated into the frame, it's not something you can change further down the line, so getting it right when you buy the bike is important. Whilst most systems are broadly equal at any given price point (in terms of performance) it's worth singling out Bosch units. As a large worldwide manufacturer, Bosch systems have excellent engineering and support, with UK service centres able to give you peace of mind that your purchase can be kept whole and in perfect working order for the life of the bike.
OUR PICKS - HARDTAILS
Here's a few of our favourite hardtail MTBs from across our range:
OUR PICKS - FULL SUSPENSION
Here's some of our favourite full suspension bikes from across the range: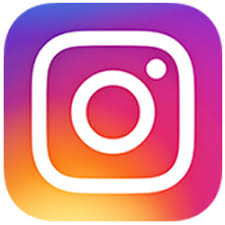 Share all your cycling adventures with us on Instagram! Follow along for the latest news, products, competitions and more
Alpine Bikes Instagram Home
Change Up A Gear
Alpine Bikes are proud to work alongside Trek Bicycles & Bontrager to bring you the biggest range of bikes, apparel and equipment in Scotland. Whether you want to test yourself on the road, feel the thrill of speed through the forest, or pack your bags for a big tour, we've got you covered. Pop into your local Alpine Bikes store to see the full range.
See More Trek