Alpine Bikes team member and mountain bike mad Craig Hudson takes us behind the scenes on one of the 24 hour MTB classics: the Fort William Relentless British Champs.
THE PREP
A race like this takes years of prep. But in the 12 months beforehand, I use marathon-style MTB events to build stamina and race speed. This also gives me a positive mental attitude of my speed readiness for this end of season Relentless race.
My specific training tends to focus on body weight HIIT in the house in the mornings before I ride to work. I also add interval training on the spin bike when I get time, plus long (sometimes 12 hour) stints in the road saddle to get used to constant effort. This lets me know how my body reacts to nutrition and timings.
As I lead up to a big event, I usually complete at least 2 x 40 mile rides to work per week, plus 20 miles the other mornings, which involves finding big hills and riding up and down them (like the Crow Road or Tak Ma Doon road in Kilsyth). In the 2 weeks prior to the race, I'll slow my speed down to keep the legs going on moderate distance rides, then stop 2 days prior. The stop is mainly to conserve energy and eliminate any injury risks, which wouldn't heal in time.
THE KIT
My bike for this race – and the upcoming 2016 season – is actually aluminium, not my favoured carbon. Although I love the agility that carbon offers due to its lighter weight, the Trek Superfly has such a good frame that it just made sense. During the British Champs, it handled everything the course threw at it with ease, feeling fluid over the rock garden sections which I'd always dreaded.
The gloves I took with me are the Endura Strike glove for waterproofing, and the Bontrager race windshell glove for dry spells. As it happened, the rain never came that hard so I managed to keep the Bonty gloves on for most of the race. They have a thin enough material on the fingers to get a good trip and dexterity with the brakes, and my hands weren't numb at all.
Clif Bars have been fantastic with me over the years by providing all my race nutrition. My favoured ones are the gel shot blocs, as they come out of the pack in neat, square tabs of jelly. Just slide it into the cuff of your tights and use as you need (without having to dig through your rear pockets). If I need a bigger hit, I have Clif Bar gel sachets with caffeine. Although a little thick in texture, they offer a great energy boost.
I also had an extra man in my pit team. Between Scott Morrison from my Alpine store, to my friend Darius Gillies, I would have all my nutrition and mechanical issues covered. Shout outs also go to Exposure Lights and Scottoiler.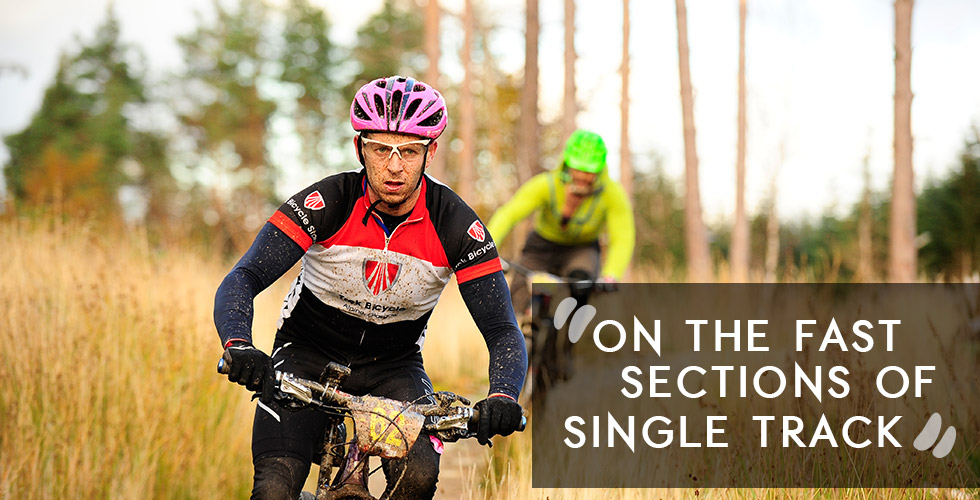 THE RACE
12 noon. Bang! We started. As usual, there was a busy and fast start up the fire road to help separate the riders. I got myself some clear space here (which is always my plan before I settle in). So far, the bike was doing great. Far better than the £1200 price tag had a right to be doing, to be honest! So I was happy with that.
Night fell, and I was holding a steady position with none of the usual cramps (all thanks to my lads keeping me fed with my homemade arancini balls). However, lighting became a problem as some of the batteries got their chargers mixed up. One some occasions, we only had one light working.
2am brought my one technical problem. I snapped my chain on the final descent to the finish area. I had to use my head torch to fix it. Unfortunately – half way through this – both my lights failed. This was not good; I knew I had to do it in the dark. A kind racer stopped and lent a hand to get me going, then stayed behind me while I ran and rode my bike back to the start so Scott could sort me out properly.
This stop took a while as we struggled to find lights in my stock that had a satisfactory charge. Darius ran down to the pits to speak kindly to the exposure guys, who gave me a big light (an awesome six pack MK6). Immense! Just using it as a handlebar light had such a spread that I didn't need a helmet light! And that was not even at full power…
The last few hours were upon us now and light had started appearing. I pushed for a few laps to see where I could get to before I looked at times, laps and positions. My position at just before 9am was ninth, so I put in another lap and this was enough to cement ninth place. British Champs done. Happy days.
THE SECRETS
Pit secrets? Keep my crew happy and comfortable. As long as I supply them with food, drink, seats and warmth then my job is a lot easier. As for keeping myself going through the darkest, hardest time of the race, I tend to find singing helps. Unfortunately that means singing 'The Sun Will Come Out Tomorrow' at full pelt. It always gets a wee smile from the frozen marshals and lifts myself and other riders as we exchange places. I'd say that the small hours of the morning are where the race is won and lost.
A wee treat that helped a lot was arancini balls. I'd discovered them a while before, so had the opportunity to experiment with them in advance. BBQ chicken breast in the middle, arancini rice mixed with grated feta cheese, then a breadcrumb coating, all cooked in chicken stock to add salt. A great mix of salt, protein and high carb in a small ball of rice. I made a dozen of these in advance as they can be kept and eaten without reheating. No cramping at all this year with these bad boys…
Also… do not sleep! It is too hard to motivate yourself to get back up and push to make up that lost time, and your muscles get really cold which risks injury. The best tip is just to keep those pedals moving! Pain is only temporary whereas the results last forever. I have a tattoo on my arm which I find works a lot for me. It reads 'it's always too early to quit, success is just around the corner'.
Have you ever done an endurance MTB race? What are your top tips?