Walking Socks Buying Guide
The walking sock - it's often considered more of an accessory than a necessity, but is perhaps the most underrated piece of kit we own. The sock you choose to wear is just as important as the boots on your feet, and can truly be the difference between an enjoyable hike and a miserable one. You spend a lot of money and time picking out the right walking boots, so why make them less comfortable with the wrong sock choice? Just like walking boots however, there's no one size fits all when it comes to selecting a sock - you'll need to think about different factors like your activity, intensity, climate, and footwear. Keep reading to find out why walking socks are so important, and which type of walking sock is the best fit for you.

Are walking socks necessary?
The short answer to this question is: yes. You've probably picked up a pair of thick socks from the supermarket before thinking that they will do the job, but a high quality walking sock will do a lot more than just keep your foot warm. Walking socks help to protect your feet from blisters and discomfort, regulate your foot temperature if it's too hot, and improve the fit of your walking boot if it's a little roomy.
1. Protect & support your feet:
There's nothing worse than being out on the trail for a couple of hours and starting to feel a niggle on your heel or toe, and you just know that you're going to spend the next week limping around because of a blister. Your choice of sock can either cause or prevent a blister, so it's important to make the right choices when it comes to fit, thickness, and materials. Having cushioning in the right places and wicking materials to prevent moisture will ultimately help your feet to thrive whatever activity you are doing.
2. Temperature regulation:
Did you know that your feet produce 200ml of moisture each day when at rest? Imagine how much this could increase if you're walking all day and your feet start to heat up. The correct sock fibre choice can drastically increase the percentage of moisture escaping out of your footwear, making for a much more pleasant and comfortable day out, whilst preventing nasty blisters. In contrast, if conditions are cold, your socks are key to making sure that your feet stay warm.
3. Improving the fit of your walking boot:
A walking sock can improve the fit of your footwear, particularly if you are in between sizes or have an especially shallow or flat foot. Excess room in your footwear can lead to foot migration and rubbing, causing blisters and an overall uncomfortable hiking experience. Adding volume by upping sock weight can make sure that your foot is filling up the boot and prevent rubbing. But be careful - going too thick with a walking sock can have the opposite effect and can cause additional pressure. At Tiso, we offer free boot-fitting consultations to make sure that you're selecting the right sock for your foot and boot. Pop along to a store at your convenience - our team are always more than happy to help. To find out more about how socks can help with the fit of your walking boots, check out our video:
Jargon Buster: Common Features Explained
Cushioning: Different socks offer different levels of cushioning depending on their end use. Cushioned areas are more padded to offer more protection on different areas of the foot. Most cushioning will be found at high impact areas like the heel and ball.
Accelerator channels/Mesh venting: Allows air to flow through the sock more freely for a cooling effect, preventing moisture build-up.
Flat toe seams/Seamless toe: This minimises the prominence of a seam across the toe box, preventing rubbing and blisters across the top of your toes.
Y-Gore Heel: A heel pocket stitched in the shape of a Y, designed to hold your heel for a much better fit and to eliminate bunching.
Wicking: If a sock has wicking properties, it means it will move moisture (sweat) away from the foot, so that you stay fresher for longer and keep your feet dry to prevent blisters.
Elasticated arch: Provides some support to the arch of the foot for improved comfort and stability, especially for those with a flat foot.
How should walking socks fit?
Finding the right sock fit is more difficult than you may think - if they're too loose and start causing friction then you run the risk of blisters, and if they're too tight they can cut off circulation and create pressure points. Follow these top tips to make sure you get the right fit with your socks.
1. They should be skin tight, but not overly tight - any baginess at the heel or toe means they are too big (the heel cup should line up with the heel of your foot).
2. Don't go by your shoe size, always measure the length of your foot. Some people will size up in shoes meaning your socks will be too big.
3. Always try your socks on with the shoes or boots you will be wearing them with to make sure that they are the right thickness and don't take up too much room.
4. The height of the sock should finish just above your footwear - if it's too short it will rub the ankle or your footwear will rub against your leg, and if it's too long then your feet may overheat. Crew socks are the best height for standard walking boots.
5. All socks should feature an elastic stretch at the top so they hold up and don't fall down.
6. Layering two pairs of socks can be useful if your feet are prone to blisters, or if you are in between shoe sizes.
How thick should walking socks be?
The cushioning of a sock will give you an indication of how thick and warm it will be. The cushioning of the sock you wear should depend a) on the weather and conditions, and b) on the nature and intensity of your planned activity.
Ultralight socks or liner socks have no cushioning and are designed for use either on their own in hot climates, or underneath a cushioned hiking sock for additional protection or warmth. Liner socks effectively wick moisture away from the feet, keeping them dry and fresh for longer. You may also want to use a liner underneath a thicker wool sock to reduce friction and help prevent blistering, as friction will occur between the two socks rather than between your skin and the sock.
Light (half cushion)
Lightweight walking socks feature cushioning on the heel, ball, and toes of the foot, and are usually designed for hot climates to keep your feet cool. Because of their lighter cushioning, they're more suited to casual walks and easy trails than all-day/multi-day treks.
Medium (full cushion)
Medium weight walking socks will usually feature cushioning all the way around the foot with additional cushioning on the ball and heel. This is the perfect all round sock for your average three season hiker - highly versatile for both warm and cool conditions and multi-day treks.
Heavy (full cushion)
Heavy weight socks are typically used in the winter for cold weather hiking and mountaineering, and are highly cushioned. They can also be used as a boot filler to improve the fit of your boots if they need more volume. If you find you're not using them much, they're also great to take with you camping for some extra warmth.
The thickest type of walking socks you can buy, extra heavy walking socks are made for long mountaineering trips in the most extreme environments.
Material Guide
A lot of people don't know that blisters are often the result of excess sweat and moisture, which is usually caused by the materials our socks are made of. Many walking socks contain a blend of natural and synthetic fabrics to balance out the benefits of different materials. The most common materials are:
Often used in baselayers due to its ability to wick moisture and natural odour resistance, New Zealand-originating merino wool is an excellent sock material. It's also much less itchy than regular wool due to its fine construction.
Alpaca wool is another fine knit wool, which is extremely insulating but also silky and soft against the skin. It is also highly durable and wicks moisture well.
Wool is an incredibly warming material that retains heat when wet, so is often used in cold weather and mountaineering socks. As a rule of thumb, the higher the wool content, the warmer the sock. It can lack stretch so is often combined with synthetics materials to give it more elasticity.
Cotton scores points on the comfort scale for everyday socks, which is why some socks will contain a cotton blend. But it's generally not the best material for more strenuous activities because it can retain moisture and doesn't manage heat effectively. Some socks will contain combed cotton, a process in which cotton is treated before it is spun into yarn for an even softer feel.
Synthetic materials like polyester, nylon and elastane often offer better structure and durability when compared with natural materials, in addition to wicking and quick-drying properties. Such materials include Coolmax for wicking and Lycra for adding stretch and maintaining shape.
Waterproof socks will keep your feet dry regardless of the weather, and are usually made with a three-layer system of a waterproof membrane sandwiched in between two knitted layers - making them slightly thicker than your average light to midweight walking sock. Check out Sealskinz for a range of high-performance waterproof socks.
Activity Guide: Which Sock When?
Best weight: Medium
Best material: Merino blend
Our verdict: A medium-cushioned merino blend sock is pretty much guaranteed to see you through a long hike in most conditions. If it's going to be particularly hot, opt for a lighter cushioning, and if you're heading out in the winter either pop a liner underneath or go for something a bit thicker.
We recommend: Bridgedale Merino Comfort Socks
Best weight: Light
Best material: Cotton blend
Our verdict: If you're just going for a casual stroll, a lightweight cotton blend sock is unrivalled in terms of comfort. If you're upping the intensity and plan to stay out all day however, consider stepping it up a thickness level.
We recommend: Stance Ultra Tab Socks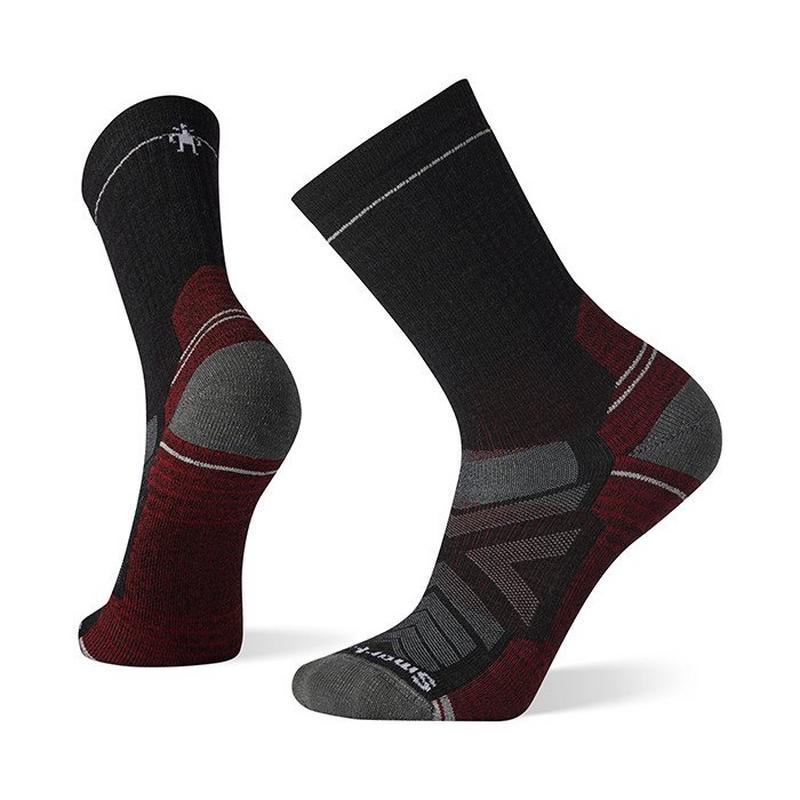 Best weight: Light-Medium
Best material: Synthetic or merino blend
Our verdict: Backpacking or trekking for extended periods of time will definitely allow your feet to work up a sweat. Opt for a light or medium weight sock depending on the climate and conditions, and it might be useful to pack a few different weights if you have the space. Selecting a sock with anti-odour and wicking properties will keep your feet fresh for longer and prolong time between washes - think merino wool or synthetics with antimicrobial treatments.
We recommend: Smartwool Hike Light
Best weight: Heavy-Extra Heavy
Best material: Wool blend
Our verdict: Keeping your feet warm is essential when you're exploring some of the world's coldest climates. Heavy cushioning is crucial for keeping your feet protected, and a sock with high wool content will make sure they are kept warm even if they get wet.
We recommend: Vicuna Antarctica Alpaca Wool Socks
Best weight: Ultralight-Light
Best material: Nylon blend
Our verdict: Weight should be kept to a minimum when you're trail running, and that includes with your socks. Minimal cushioning will allow you to connect with the ground, but provide you with some protection in the most vulnerable areas. Look for a sock with a high nylon content for durability to cope with high impact, combined with a wicking material like merino wool or polyester.
We recommend: Bridgedale Sport Ultralight T2
Now you're an expert in outdoor socks, it's time to get out there without worrying about sore feet! Making the right sock decision shouldn't be difficult, you simply need to consider what you'll be doing, and where you'll be doing it. If you're going to be using your socks in varied environments, it might be worth investing in a few different pairs to suit your needs. And remember - always try your socks on with the footwear you'll be wearing them with. If you're still unsure what the right socks are for you, pop down to a Tiso store for a professional boot fit - find your local store here.