When To Replace Your Walking Boots | Expert Advice | Tiso Blog
Whether you've been bagging Munros, braving the Scottish weather on the West Highland Way, or just taking the dog for a walk on a Sunday afternoon, taking care of your walking boots and making sure they're in good shape is essential for any adventurer.
We've got some top tips to help you work out when it's best to send your boots for repair, or when to splash out a little and buy a replacement pair. We all have a pair of boots that have seen us through thick and thin, but they won't last forever!
Here at Tiso, we want to help our customers find the perfect pair of boots for their outdoor adventures, from the inspirational to the everyday. We have staff in all of our stores with the knowledge and experience to give you the perfect fit, and the right products to maximise the life span of your boots.
From the heel to the toe lining, wear and tear can gradually affect the way your boots protect your feet from the elements and the terrain.
1. Sole Damage
The most common place for wear and tear damage on boots is the sole. Despite the huge range of sole components and materials in modern walking boots, weekend walks and scenic hikes can still slowly degrade the material.
Most people walk with a slightly uneven gait, where pressure is applied unevenly across the sole when walking. This can abrade localised areas of the boot more quickly. Even if you have an even gait, the sole can begin to wear away over time. We advise you to check the depth of tread on your sole, and if it's looking like it's wearing away more quickly than expected, then it could be a sign that you need to bring them in for repair. When the sole begins to wear, the softer material of the midsole can become exposed and this can lead to the integrity of the sole breaking down, it is also much haeder to resole a walking boot once the midsole is exposed.
Check for signs of cracking or breaking on the sole as this can show significant damage. Soles can be replaced fairly easily, but midsoles are more difficult to repair.
2. Heel Lining
Protective and cushioning lining in the heel of the boots, and around the ankle can also slowly be rubbed down with daily walks. It's a good idea to keep an eye on the material in this part of the boot. If it looks like the colour is starting to fade, and you can see the material thinning, the boots will be showing the signs of wear.
When the heel wears down, the shape of the boot can also be affected, meaning that the ankle support or fit are altered leading to potential blisters. Grit under the insoles can be a cause of the wearing of the heel lining, so have a check under any removable parts of the boot after cleaning. Completely worn out heel lining can lead to the boot losing their Gore-Tex or waterproof protection.
3. Toe Lining
Similar to the heel, you can see or feel the obvious signs of wear on this part of the boot. When the lining becomes torn, as well as losing waterproof ability, the toe lining can rub against your foot and cause chafing. Left unrepaired, your next walking adventure could end with you being very uncomfortable.
If there's a lot of wear around the toes, it's best to replace rather than to try and repair, as making changes to the toe lining can alter the fit. The outer of the boot around the toe box can also be a common area for wear. You can also do the 'flex test' on the toe of the boot to see if the leather or fabric is thinning at any particular stress points.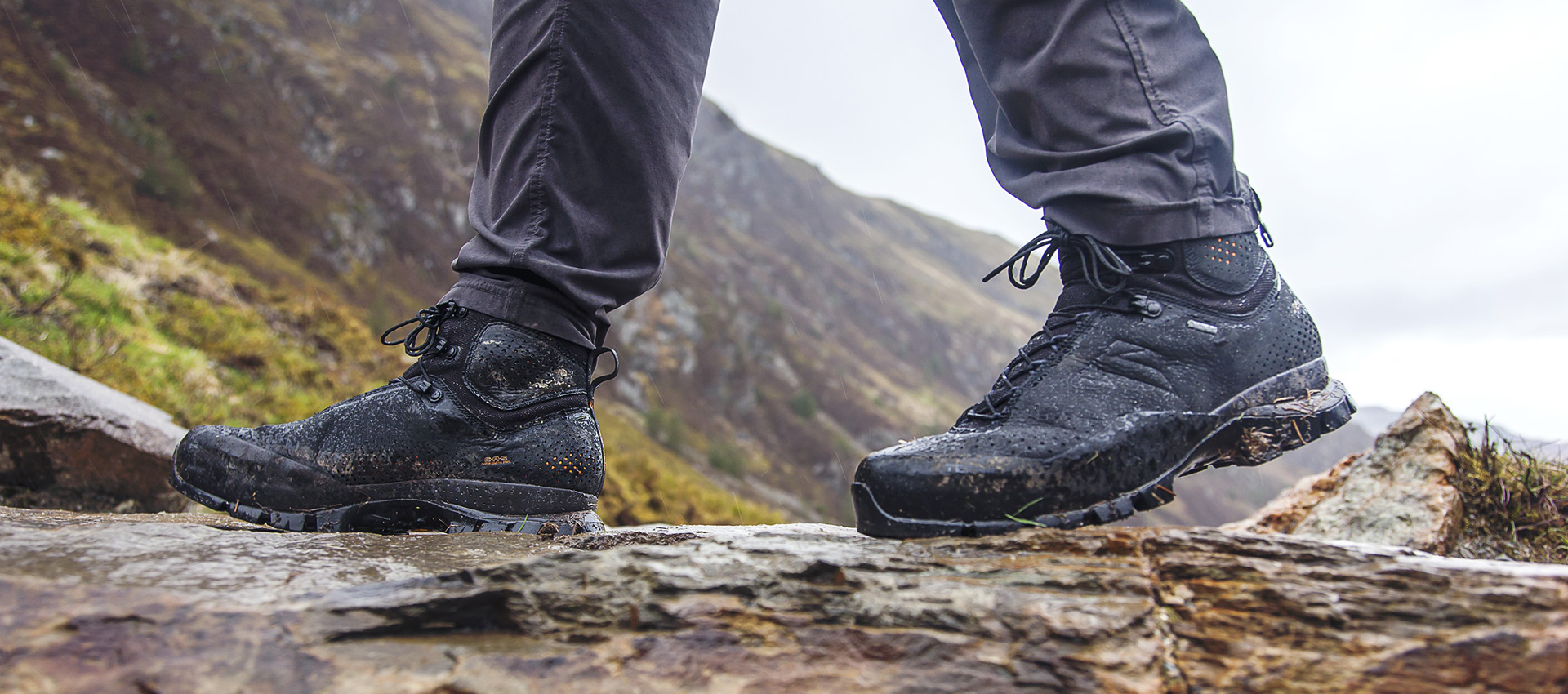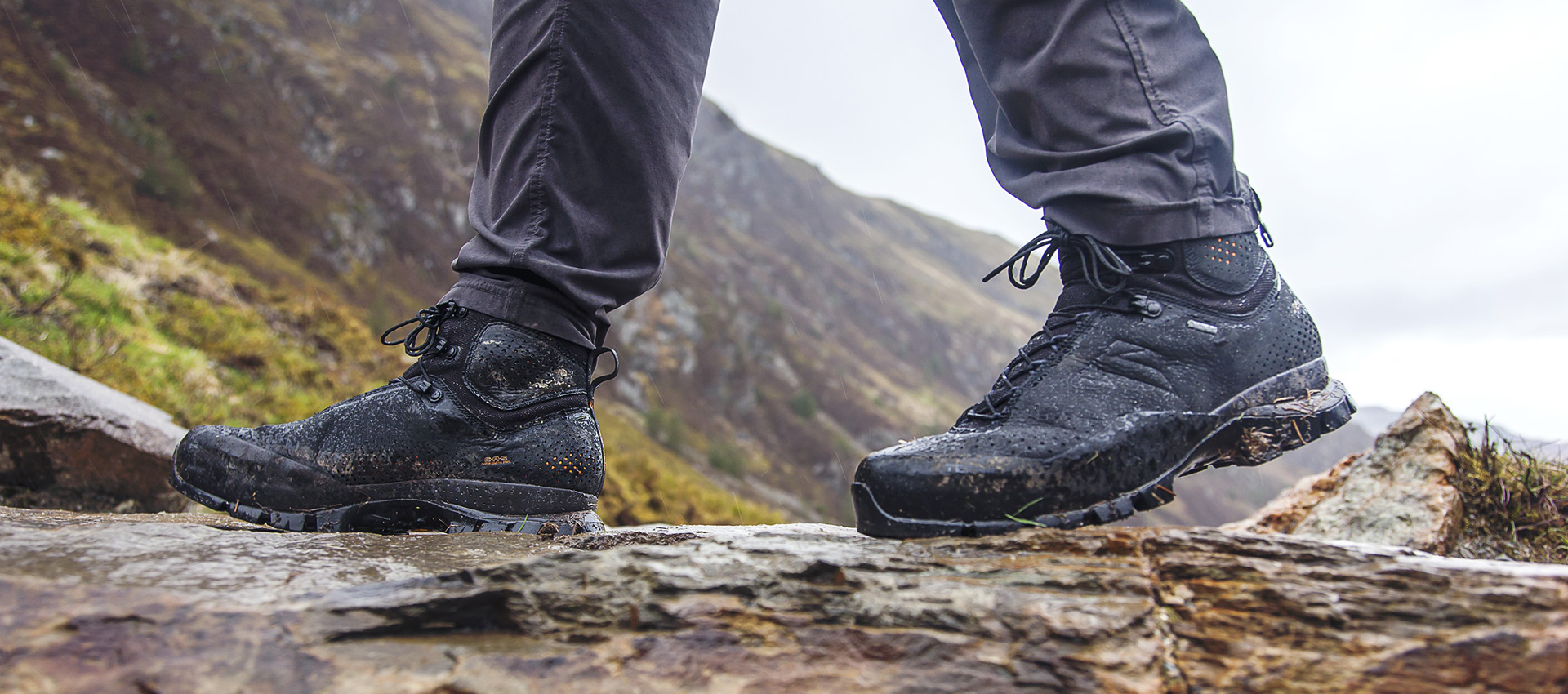 4. Heat Damage
If you wear your boots regularly and get them wet, which is often the case on Scottish adventures, then you need to make sure that you clean your boots properly and leave them to air dry naturally. Direct heat sources such as radiators or fires, can cause the leather or fabric to crack and become less stable. Again, this can affect the durability of the boot, and can lead to tears in the waterproof membranes. You will notice heat damage if the upper part of the boot looks faded, or stained after drying.
5. Incorrect Aftercare
At Tiso, we'll always try to give you advice about maximising the lifespan of your boots when you buy them from our stores. This can include which waterproofing or polishing extras to buy, how to keep them clean, and what to do if they start to look worn. We offer a range of repairs in store, as well as a variety of products to help keep you boots looking as fresh as the day you bought them.
It's a common misconception that any waterproofing product will work for all boots. There's a range of products specifically designed for leather and fabric, as well as different ways to apply this to the boot. We'd advise you to check the types of waterproofing products to use on your boots, and also to check how much to use. It can be more damaging to use too much waterproofing product than not to protect them from the elements at all! Leather can become damaged when harsh chemicals are used on them, so avoid detergents when cleaning your boots too!
6. Other Minor Wear
As well as the five main things to look out for with your boots, damage to; eyelets, laces, stitching and overall shape can have an impact on how comfortable a boot is when walking or climbing. Use your judgement, and if something looks like it could do with being replaced, then that's probably the right thing to do. It's better to be safe.
All of our stores boast qualified footwear specialists who are there to ensure you get the right boots for your feet. The later in the day, the better when trying on boots – it will mimic the swelling that occurs when walking. Ensure your boots fit snuggly around the heel and ankle, but leave ample room to wiggle your toes and curl them without restriction.
When you first try on your boots don't worry about a little heel lift of a few millimetres; as the boots break-in and mould to your feet, this will decrease and disappear. A boot which is too large can, if necessary, be adjusted with a thicker sock, volume reducer or footbed insole, but a boot which is too small will cause blisters and discomfort and can never be made to fit. Boots can be stretched and tweaked by our expert staff to give a better fit. Even the way the boots are laced can have a dramatic impact on their fit.
We take pride in our expert store staff, and as a part of Tiso's Footwear Guarantee, we're able to provide a professional boot fitting service, as well as great recommendations, advice, expert boot care information & much more.
Everyone is different, and everyone who comes into our stores have different needs from their boots. Aspects such as care, usage and terrain can all play a role in how quickly boots can become worn down, if you're unsure, pop into one of our stores.
Tiso currently offer the following repairs either in store, or from our head office:
Re-sole: £69
Heel Lining Repair: Provided By External Repair Company - £25
Eyelet Repairs: Quote Upon Inspection
Stitching Repairs: Quote Upon Inspection